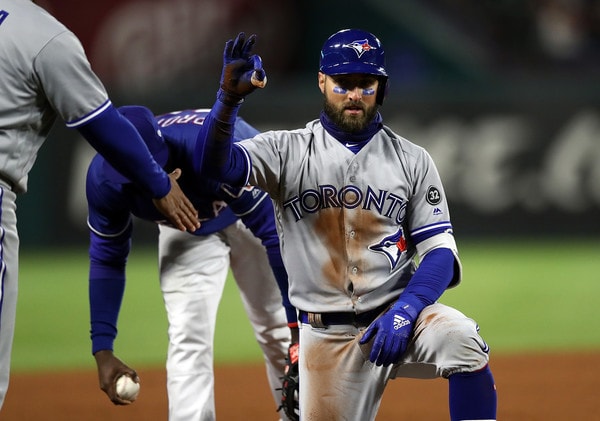 Tonight's game represents the first game in an eighteen games in eighteen days stretch, as the Yankees will not enjoy another day off until May 7. Will it allow the team to round into form, as players can finally (hopefully) get used to a consistent schedule? Or will it be as draining as most stretches of this nature can be? Either way, this stretch – and this series with the Blue Jays – feels a bit more important than one may've expected a couple of weeks ago.
The Last Time They Met
This represents the first rematch of the season for the Yankees, as these teams kicked-off the 2018 season together. They split the series two games apiece, with the Yankees outscoring the Blue Jays 17 to 15. A few notes:
Giancarlo Stanton had a hell of a debut in the season opener, going 3-for-5 with a couple of home runs and 4 RBI in the Yankees 6-1 victory. It feels much longer ago, doesn't it?
Tyler Austin got in on the two home run game action in game three, when he took Marco Estrada deep twice.
Aaron Judge made his first (and only to-date) start in center in that third game, picking up one putout on one chance. By Baseball-Reference's all-encompassing fielding metric, his performance was good for -131 runs of value over 1200 innings.
Tyler Clippard earned the win for the Blue Jays in game four. I think that was the most upsetting part of the entire series.
Check out Katie's Yankeemetrics post for more fun facts.
Injury Report
Josh Donaldson and Kendrys Morales are both on the disabled list, but will be eligible to return during this series. The former's timetable remains up in the air, though. Troy Tulowitzki is still out due to surgery to remove bone spurs from both feet, and isn't likely to be back until June.
Their Story So Far
The Blue Jays are 12-5 with a plus-38 run differential, and are currently on a four-game winning streak. They are one of many teams that have enjoyed an extended break, as they had back-to-back-to-back postponements from Saturday through Monday. And that last game was in the Rogers Centre, which had rain and snow issues despite the roof being closed. It really seems like Mother Nature isn't ready for baseball just yet.
Interestingly enough, former Yankees Curtis Granderson (167 wRC+) and Yangervis Solarte (168 wRC+) have led the way for the Blue Jays offense in the early goings. Though, to be fair, their offense has been fairly stout overall.
The Lineup We Might See
Injuries to Donaldson and Morales have forced manager John Gibbons to be somewhat creative with his lineups, but it has worked out well enough so far. He employs a strict platoon in the leadoff slot, so we'll probably see this deployment against CC Sabathia and Jordan Montgomery:
Steve Pearce, DH
Teoscar Hernandez, LF
Justin Smoak, 1B
Yangervis Solarte, 3B
Russell Martin, C
Kevin Pillar, CF
Aledmys Diaz, SS
Randal Grichuk, RF
Devon Travis, 2B
And we'll see Curtis Granderson leading off against Sonny Gray and Luis Severino.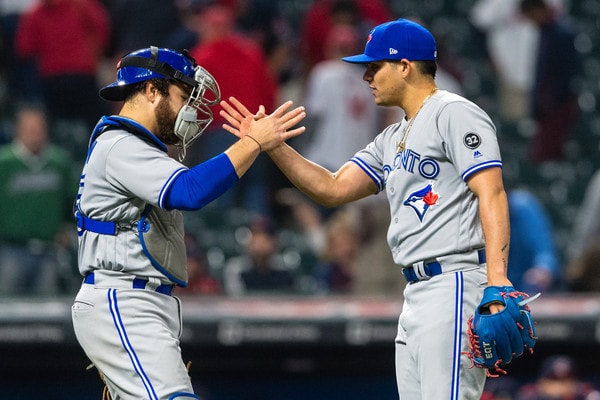 The Starting Pitchers We Will See
Thursday (6:35 PM EST): LHP CC Sabathia vs. RHP Aaron Sanchez
The Yankees hit Sanchez pretty hard in the second game of the season, scoring 4 runs on 8 hits and 4 walks in 5.2 IP. His run prevention numbers improved in two subsequent starts, and he was less hittable – but he has issued 11 walks in 19.2 IP overall, and his velocity dropped by over 2 MPH in his last start. He only threw 36 IP last year, so it's not surprising to see him struggle a bit out of the gate, but the dip in velocity bears watching.
Last outing (vs. BAL on 4/10) – 8.0 IP, 3 H, 1 R, 5 BB, 4 K
Friday (7:05 PM EST): RHP Sonny Gray vs. RHP Marco Estrada
Estrada has been dealing with back spasms since the season began, and had to have his second start pushed back a few days as a result. There's no indication that he'll head to the disabled list just yet, but he didn't look good his last time out and he's coming off of the worst full season of his career. None of that stopped him from picking up the win against the Yankees on March 31, though, and he was dominant against the Rangers on April 6.
Last outing (vs. BAL on 4/11) – 4.0 IP, 6 H, 4 R, 3 BB, 5 K
Saturday (1:05 PM EST): LHP Jordan Montgomery vs. RHP Marcus Stroman
Stroman has struggled mightily in his first three outings. He has a 7.98 ERA heading into this start, and he has allowed 28 baserunners (18 hits and 10 walks) in 14.2 IP. The Yankees scored 4 runs in 5 innings against Stroman earlier this season, in what was his best start thus far.
Last outing (vs. CLE on 4/13) – 5.0 IP, 9 H, 4 R, 2 BB, 5 K
Sunday (1:05 PM EST): RHP Luis Severino vs. LHP Jaime Garcia
The Yankees missed Garcia in their first meeting with the Blue Jays, as he's serving as the team's fifth starter. And he's essentially been the prototypical fifth starter thus far, going at least 5 innings in each start, and allowing no more than 3 runs in any outing.
Last outing (vs. KCR on 4/17) – 5.0 IP, 8 H, 3 R, 1 BB, 5 K
The Bullpen
Toronto's bullpen has been stellar so far, pitching to a 2.22 ERA in 56.2 IP. The group has 56 strikeouts against just 12 walks so far, and ranks third in the majors in WPA. Closer Roberto Osuna is a perfect 5-for-5 in save opportunities, and has yet to surrender a walk or run in 8.1 IP. Ryan Tepera has been serving as the team's fireman, and has done quite well; that last bit can be said about most everyone, though, as Aaron Loup is the only reliever with an ERA above 2.89.
Who (Or What) To Watch
Kevin Pillar's defense in center is a sight to behold, and is a default 'must watch' for any game involving the Blue Jays. The potential to see as many as six former Yankees in a game on Sunday is kind of intriguing, too.