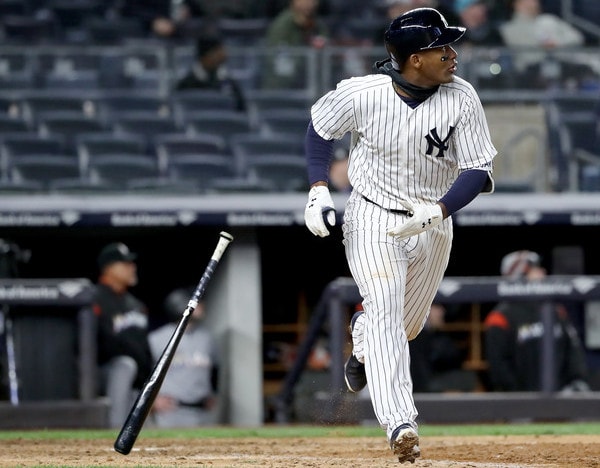 Although they've yet to fire on all cylinders, the Yankees have been the best offensive team in baseball in the early going this season. They lead baseball in runs (135), runs per game (6.14), home runs (36), and wRC+ (126). Their eight games with 8+ runs scored are the most in the league. Just wait until Giancarlo Stanton gets going.
One reason the Yankees have been so great offensively this year: Miguel Andujar. He was supposed to start the season in Triple-A to work on his defense, but Brandon Drury's migraines pushed Andujar into everyday duty at the big league level, and he's hitting .295/.313/.607 (144 wRC+) through 22 games. Andujar currently ranks 11th in MLB in extra-base hits (12) and 201st in plate appearances (64).
Given how things have gone lately, it can be easy to forget Andujar started the season in a 3-for-28 (.107) funk, and there were calls to send him down and play Gleyber Torres at third not that long ago. Andujar has since gone 15-for-33 (.455) with eight doubles, one triple, and three homers in his last eight games, and that includes last night's 0-for-4. There are 223 players with at least 60 plate appearances right now. Some Andujar ranks:
Hard Contact: 41.2% (51st)
Zone Contact: 90.5% (41st)
Chase Rate: 36.7% (89th)
To put it another way, Andujar has combined Adrian Beltre's ability to make contact in the strike zone with Aaron Judge's hard contact rate. That's really good! Andujar also chases out of the zone as often as noted hackers like Maikel Franco and Freddy Galvis. That's not so good. The fact his strikeout rate sits at 17.2% is a testament to his bat-to-ball skills. His 3.1% walk rate leaves a lot to be desired.
Drawing walks has never been Andujar's forte. He's up there to swing a la the pre-2018 version of Didi Gregorius. Andujar owns a 6.1% walk rate in nearly 2,500 minor league plate appearances, and while minor league walk rates can be fickle, that number does reflect his tendencies as a hitter. His contact skills allow him to be a low strikeout/low walk hitter rather than a high strikeout/low walk hitter.
Given his season to date, it's only a matter of time until pitchers make the adjustment to Andujar, and start trying to get him to fish for pitches out of the zone. That's what happened to Starlin Castro. He came up and had instant success, but once pitchers stopped challenging him in the zone, his performance started to stagnate. Right now, Andujar is still seeing plenty of pitches in the zone. Look: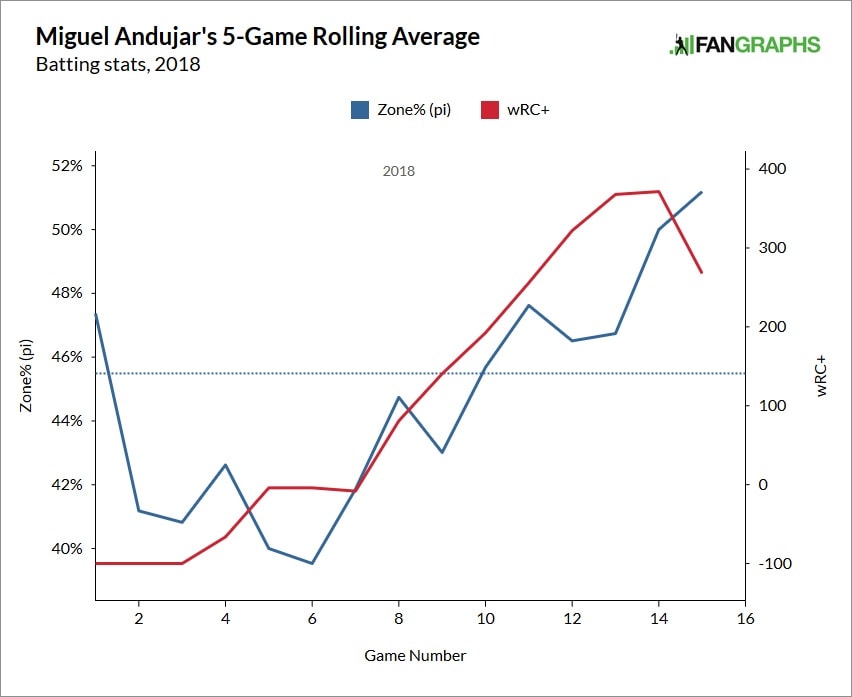 Part of that is the fact Andujar is still an unproven rookie, so pitchers are challenging him, and another part of it is the fact he's hit with a lot of runners on base so far this season, especially lately. It's tougher to pitch outside the zone when there are ducks on the pond and you're risking a really big inning. Right now, Andujar is seeing plenty of pitches in the zone. The longer he continues to hit like this though, the fewer pitches in the zone he'll see.
By no means am I expecting Andujar to turn into Aaron Judge (or Aaron Hicks!) when it comes to plate discipline. That's just not who he is as a hitter. He's going to swing and swing a lot, and because he makes so much contact, he's going to do damage. My hope is Andujar can trim his chase rate a bit. It's sitting at 36.7% right now. The MLB average is 28.8%. Getting the chase rate to something closer to league average could pay big dividends.
For now, everything Andujar is doing is working. I think his at-bats have been strong despite that chase rate, and when he's getting something to hit, he's not missing it. As pitchers and the league begin to adjust, Andujar will start seeing fewer pitches in the zone, so developing a bit more plate discipline is the next step in becoming a consistently above-average hitter.