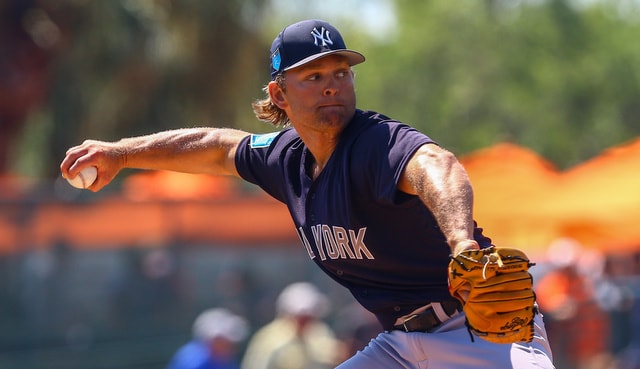 Earlier this week, at Triple-A Scranton's media day, right-hander Chance Adams confirmed he pitched with a bone spur in his elbow late last season. He then had offseason surgery to remove it. The Yankees never did announce the surgery, though that isn't uncommon for a non-40-man roster player.
Adams, 23, had a 2.45 ERA (3.70 FIP) in 150.1 innings at Double-A Trenton and Triple-A Scranton last season, though he struggled down the stretch, allowing 13 runs in his final four starts and 22 innings. He didn't have a good Spring Training at all (4.2 IP, 9 H, 6 R, 6 R, 3 BB, 1 K, 2 HR). Here's what I wrote in our farm system preview:
Larry Rothschild recently told Brendan Kuty that Adams' arm strength wasn't quite where the Yankees hoped it would be this spring, and hopefully that's just a "he threw by far the most innings of his career last year and is taking a little longer to get to full strength than expected" thing and not a "he's out of shape" or "he's hiding an injury" thing.
So I guess it was a "he's hiding an injury" thing, though in this case, Adams and the Yankees were only hiding the injury from us. It's not like he tried to pitch through discomfort this spring and didn't tell the Yankees. The bone spur could definitely explain last year's fade and the tough spring. For what it's worth, Adams told Conor Foley he "didn't really think about" how it impacted his pitching.
The good news is Adams is healthy now — he'll start Opening Day for the RailRiders on Friday — and there was no structural damage in his elbow. You never want a pitcher to have surgery on his arm, but getting a bone spur removed is fairly routine. They go in, take it out, and it's done. I ranked Adams as the No. 7 prospect in the farm system. Hopefully he stays healthy this year and gets back to where he was before the bone spur.