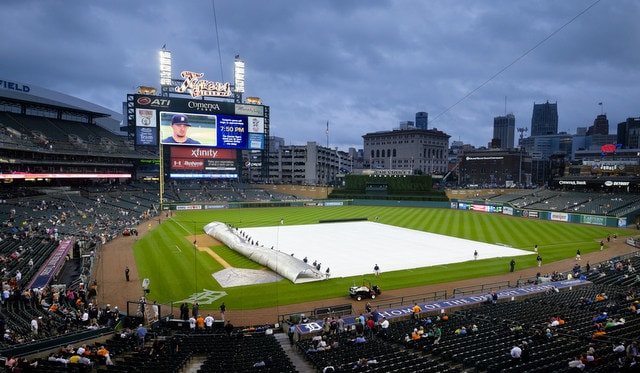 Even with a win mixed in, the three-game series in Boston did not go well. The Red Sox made it crystal clear they are the best team in the AL East right now. Will that be the case at the end of the season? We'll see. Right now though, the Red Sox are undeniably playing better than the Yankees. It was obvious these past few days.
The Yankees are now in Detroit for a three-game weekend series and it very well might turn into a one-game series. Maybe even a five-inning series. There is rain the forecast later tonight, and once it starts, it's not supposed to stop until sometime Sunday night. For real. It's going to be cold and rainy all weekend. Not great, but what can you do? Here are tonight's starting lineups:
New York Yankees
1. LF Brett Gardner
2. RF Aaron Judge
3. DH Giancarlo Stanton
4. SS Didi Gregorius
5. C Gary Sanchez
6. CF Aaron Hicks
7. 1B Neil Walker
8. 3B Miguel Andujar
9. 2B Ronald Torreyes
LHP Jordan Montgomery
Detroit Tigers
1. CF Leonys Martin
2. 3B Jeimer Candelario
3. 1B Miguel Cabrera
4. RF Nick Castellanos
5. DH Victor Martinez
6. C James McCann
7. LF JaCoby Jones
8. SS Jose Iglesias
9. 2B Dixon Machado
RHP Mike Fiers
Like I said, the weather is going to suck this weekend. The internet tells me the rain is supposed to start around 9pm ET, and once it starts, it's not going to stop for a while. Make sure you have a lead after five innings tonight, boys. Today's game will begin a little after 7pm ET and YES will have the broadcast. Enjoy the game.
Injury Update: CC Sabathia (hip) threw a 57-pitch bullpen session yesterday and everything went well. He'll throw another bullpen session tomorrow. Assuming that goes well, the expectation is Sabathia will start Tuesday, the first day he is eligible to come off the disabled list.