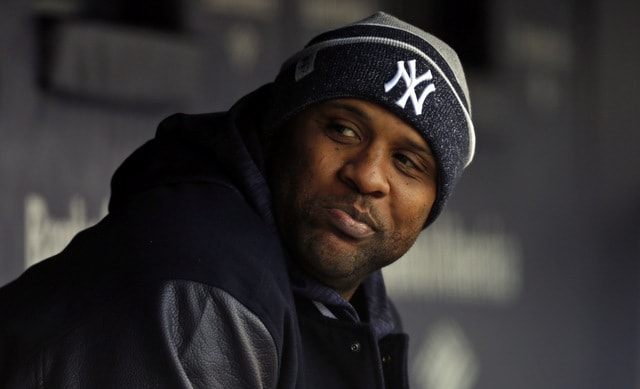 It's no secret the Yankees have struggled to prevent runs so far this season. They've averaging 5.44 runs allowed per game, fifth most in baseball, and things have been especially bad lately. The Yankees have allowed at least six runs in six of their last seven games, and in seven of their last nine games. It's the pitching and defense. The defense has been so bad Aaron Boone told Bryan Hoch the Yankees will hold a defensive workout tomorrow.
CC Sabathia makes his hopefully triumphant return from the disabled list tonight, and while he is no longer the pitcher he was in his prime, he's still perfectly capable of giving the Yankees five or six good innings. He wiggled through five innings of one earned run ball against this same Blue Jays team a few weeks ago. A repeat performance would be welcome tonight. Hopefully the defense decides to cooperate. Here are the lineups:
New York Yankees
1. CF Brett Gardner
2. RF Aaron Judge
3. SS Didi Gregorius
4. DH Giancarlo Stanton
5. C Gary Sanchez
6. CF Aaron Hicks
7. 1B Neil Walker
8. 2B Tyler Wade
9. 3B Miguel Andujar
LHP CC Sabathia
Toronto Blue Jays
1. DH Steve Pearce
2. LF Teoscar Hernandez
3. 1B Justin Smoak
4. 3B Yangervis Solarte
5. CF Kevin Pillar
6. SS Aledmys Diaz
7. RF Randall Grichuk
8. C Luke Maile
9. 2B Devon Travis
RHP Aaron Sanchez
Yet another cold and windy day in the New York area. We've had like two nice weather days here since February. Anyway, it's another 6:35pm ET start tonight. I'm a fan and I'm going to enjoy them while the last, because I don't think they're going to last much longer. WPIX and MLB Network will have the broadcast. Enjoy the game.
Roster Moves: As expected, Luis Cessa was placed on the 10-day DL with a left oblique strain today, the Yankees announced. That clears a roster spot for Sabathia, who was activated off the disabled list.
Injury Updates: Clint Frazier (concussion) is working out "full bore" in Tampa, and he could begin playing in minor league rehab games very soon according to Boone … Tommy Kahnle has biceps and shoulder tendinitis, and will be shut down ten days. The Yankees don't believe it's serious, and Kahnle is expected to miss three weeks or so.
Suspension Update: Tyler Austin's appeal was heard today. He said he was told a ruling may not be handed down until next week, however. His five-game suspension could be reduced to four games, or maybe even three, but it won't be wiped away entirely. Austin did charge the mound, after all.