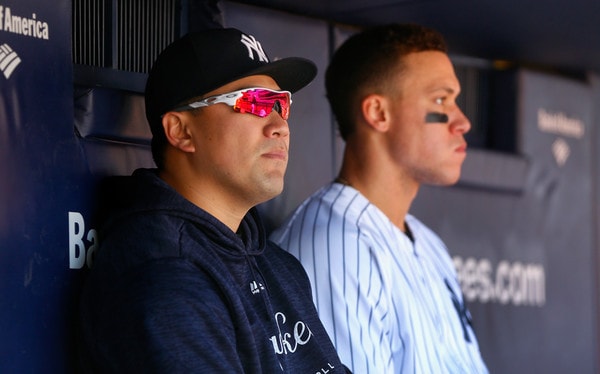 The homestand has gone well so far. The Yankees have won four of the first six games, and tonight they welcome the Twins to Yankee Stadium for a four-game series. It was pretty memorable the last time these two teams met. The Yankees rallied from a 3-0 first inning deficit to win the 2017 AL Wild Card Game, ending Minnesota's season. A good time, that was.
Last year is last year and this year is this year though. The Yankees are playing well but they've yet to fire on all cylinders. They're still waiting for Giancarlo Stanton and Gary Sanchez to go on a tear, and they need Masahiro Tanaka to rebound from back-to-back ugly starts. He'll try to do that tonight against a Twins team that really should be hitting more than they have so far. Here are the lineups:
New York Yankees
1. LF Brett Gardner
2. RF Aaron Judge
3. SS Didi Gregorius
4. DH Giancarlo Stanton
5. C Gary Sanchez
6. CF Aaron Hicks
7. 1B Tyler Austin
8. 3B Miguel Andujar
9. 2B Gleyber Torres
RHP Masahiro Tanaka
Minnesota Twins
1. 2B Brian Dozier
2. 1B Joe Mauer
3. 3B Miguel Sano
4. LF Eddie Rosario
5. DH Logan Morrison
6. SS Eduardo Escobar
7. RF Max Kepler
8. CF Ryan LaMarre
9. C Jason Castro
RHP Jake Odorizzi
Another wonderful day for baseball in New York. It is going to cool down tonight, but at least things are trending in the right direction. It's getting warmer. Slowly but surely. Anyway, tonight's game will begin a little after 7pm ET, and you can watch on YES locally and ESPN nationally. Enjoy the game.
Injury Updates: Clint Frazier (concussion) played five innings in an Extended Spring Training game today. Sounds like the plan is to do it again tomorrow, work out Wednesday, then begin an official minor league rehab assignment Thursday … Brandon Drury (migraines) ran the bases today and he's expected to begin a minor league rehab assignment Wednesday … Billy McKinney (shoulder) did some work in the outfield. This is the first time we've heard about him doing any rehab work since landing on the disabled list.