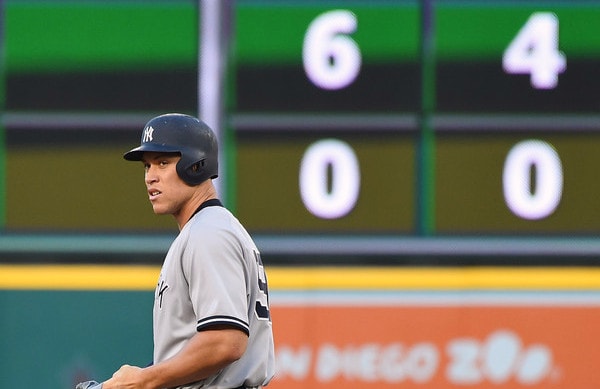 The 2018 Yankees have hit their stride. They've won their last eight games — they outscored their opponents 62-17 in those eight games — and eleven of their last 13 games overall. That'll work. Still lots of season left. Right now though, the Yankees look very much like the team pretty much everyone expected them to be coming into the season.
Tonight the Yankees have a chance to do something they haven't done since 2003: Sweep a series in Anaheim. They've won a bunch of series at Angel Stadium since then, but the last sweep was 2003. The final day of that three-game sweep was the day the Yankees acquired Aaron Boone from the Reds. Baseball is a flat circle. A sweep and a ninth straight win tonight would be swell. Here are the lineups:
New York Yankees
1. LF Brett Gardner
2. RF Aaron Judge
3. SS Didi Gregorius
4. DH Giancarlo Stanton
5. C Gary Sanchez
6. CF Aaron Hicks
7. 1B Neil Walker
8. 3B Miguel Andujar
9. 2B Gleyber Torres
LHP CC Sabathia
Los Angeles Angels
1. 2B Ian Kinsler
2. CF Mike Trout
3. LF Justin Upton
4. 1B Albert Pujols
5. DH Andrelton Simmons
6. SS Zack Cozart
7. 3B Jefry Marte
8. RF Chris Young
9. C Rene Rivera
LHP Tyler Skaggs
The internet tells me it is on the cool side in Anaheim tonight, though it's still a nice night for a ballgame. Tonight's series finale will begin at 8:07pm ET and ESPN will have the broadcast. Enjoy.
Injury Updates: Tommy Kahnle (shoulder, biceps) played catch today for the first time since going on the disabled list … Adam Warren (back) is doing better, though he's not yet at the point of throwing … Greg Bird (ankle) hit on the field and ran sprints for the first time as part of his rehab today … Brandon Drury (migraines) played in Triple-A Scranton's doubleheader today and things are going well. The Yankees not yet finalized a date for his return.