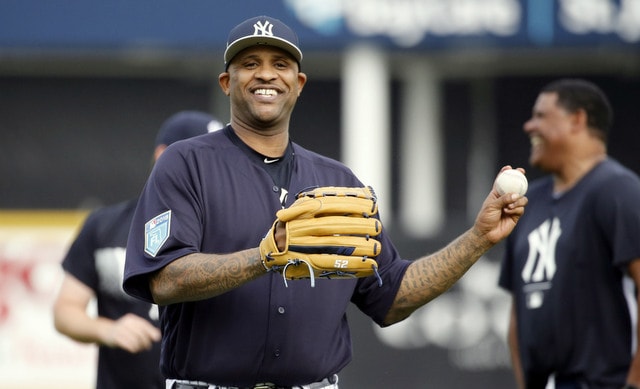 Tough start to the series last night. We've become accustomed to the Yankees wrecking Orioles pitching, but it didn't happen last night, plus the bullpen had another tough game. Yucky loss. It happens though. Hopefully the Yankees shake it off and pound Kevin Gausman tonight like we know they can.
CC Sabathia is on the mound this evening and he was nails following a loss last year. He made eleven starts following a loss last season, the Yankees won ten of them, and Sabathia pitched to a 1.71 ERA in those games. The big man is on the downside of his career. There's no doubt about that. He still knows how to stop one loss from turning into the losing streak though. Here are the lineups:
New York Yankees
1. CF Brett Gardner
2. RF Aaron Judge
3. LF Giancarlo Stanton
4. SS Didi Gregorius
5. C Gary Sanchez
6. 1B Neil Walker
7. 3B Brandon Drury
8. 2B Tyler Wade
9. DH Miguel Andujar
LHP CC Sabathia
Baltimore Orioles
1. LF Trey Mancini
2. SS Manny Machado
3. 2B Jonathan Schoop
4. CF Adam Jones
5. DH Danny Valencia
6. 1B Chris Davis
7. 3B Tim Beckham
8. RF Anthony Santander
9. C Caleb Joseph
RHP Kevin Gausman
It's warmer today than it has been the last few days, so that's good, but there is rain in the forecast later tonight. That's not good. The rain is supposed to arrive around 10pm ET with the heaviest stuff coming an hour or so later. Hopefully it doesn't impact the game. Tonight's game will begin a little after 7pm ET. YES and MLB Network will have the broadcast. Enjoy the game.
Injury Updates: Aaron Hicks (intercostal) will play in minor league rehab games with Triple-A Scranton on Sunday and Monday. Presumably he would then rejoin the Yankees on Tuesday, for the first game in Boston … Jacoby Ellsbury (oblique, hip) is in New York today to see a specialist about the hip. His rehab work for the oblique is somehow going backwards.