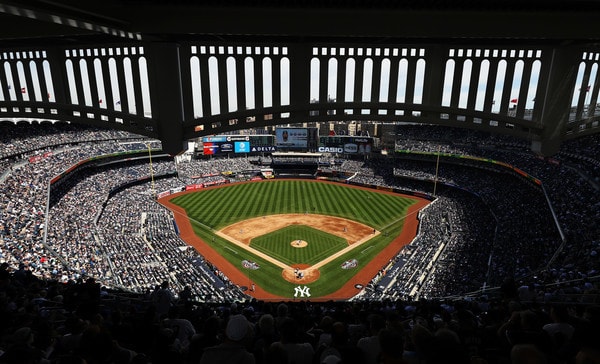 After four games in Toronto and one snow out in New York, the Yankees are at Yankee Stadium for their first home game of the season this afternoon. The last time the Yankees played a home game, they shut out the Astros in Game Five of the ALCS to grab a 3-2 series lead. It was a good time. Too bad things didn't work out in Houston.
There's a lot going on this afternoon. First of all, it's raining in New York, so stay tuned for updates on the start time. Secondly, Mickey Rivers and Bucky Dent will throw out the ceremonial first pitches as the Yankees commemorate the 40th anniversary of the 1978 World Series title team. And third, Aaron Boone will manage his first home game as Yankees manager.
"I'm looking forward to putting the pinstripes on and walking out on the field with this team," said Boone following yesterday's postponement. "This fan base is amazing. It's been fun to see — just in my short time back — the connection that they have with our players. I get it, being around these guys for six, seven, eight weeks. I'm just excited to be here and walk out there in pinstripes."
The Tampa Bay Rays are in town for a two-game series and they're taking advantage of the snow out by starting ace Chris Archer this afternoon rather than their fifth starter Bull Penday. That's too bad. Then again, the Yankees have had their fair share of success against Archer over the years, so maybe it's no big deal. Here are the starting lineups:
New York Yankees
1. CF Brett Gardner
2. RF Aaron Judge
3. LF Giancarlo Stanton
4. SS Didi Gregorius
5. C Gary Sanchez
6. 1B Neil Walker
7. 3B Brandon Drury
8. 2B Tyler Wade
9. DH Tyler Austin
LHP Jordan Montgomery
Tampa Bay Rays
1. 3B Matt Duffy
2. CF Kevin Kiermaier
3. RF Carlos Gomez
4. 2B C.J. Cron
5. DH Wilson Ramos
6. SS Adeiny Hechavarria
7. C Jesus Sucre
8. 2B Daniel Robertson
9. LF Rob Refsnyder
RHP Chris Archer
Like I said, it's raining in New York, so we may be heading for a delay or maybe even another postponement. I hope not. This afternoon's game is scheduled to begin a little after 4pm ET and you'll be able to watch on YES locally and ESPN nationally. Enjoy the game. Hopefully they play at some point.
Injury Updates: Jacoby Ellsbury (oblique) felt "a little something" in his hip during his rehab work and it will "cost him a couple days," according to Boone. He's eligible to be activated off the disabled list Thursday, but that's not happening now … Aaron Hicks (intercostal) hit off a tee and threw today. He's feeling better, so that's good. He's eligible to be activated Sunday … Clint Frazier (concussion) has ramped up his rehab work and is "hopefully very close" to playing in games. The minor league season begins Thursday.
Update (3:30pm ET): The game will not begin on time, the Yankees announced. No word on a start time yet, but the forecast sure makes it seem like this could be a lengthy delay.
Update (3:43pm ET): The Yankees say the game will begin at 4:15pm ET. Seems optimistic! I guess they're just going to play through it. Make sure you have a lead after five innings, guys.