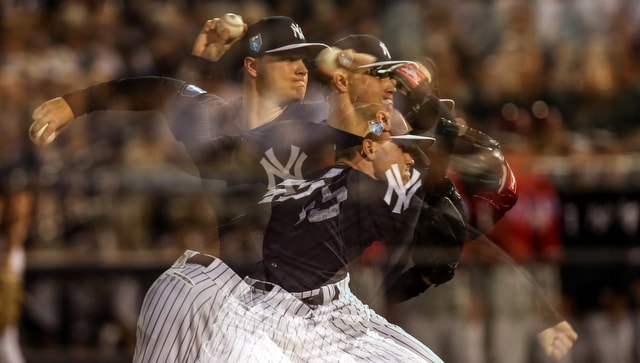 One day after suffering their worst loss of the season, the Yankees are back at it with the series finale against the Blue Jays. The starting pitching has been pretty great so far, otherwise the Yankees are still waiting for some hitters to click, and they're still waiting for their bullpen to have a scoreless game. The bullpen has allowed at least one run in all three games so far.
Sonny Gray makes his first start of the new season this afternoon and he looked fantastic Monday, in the exhibition season finale against the Braves, and it sure would be cool to see a repeat performance. I feel like a lot of people are sleeping on Sonny this year. He is pretty darn good and the Yankees will be a much better team this season because they'll have him all year. Here are today's lineups:
New York Yankees
1. CF Brett Gardner
2. RF Aaron Judge
3. LF Giancarlo Stanton
4. SS Didi Gregorius
5. 1B Neil Walker
6. 3B Brandon Drury
7. DH Miguel Andujar
8. 2B Tyler Wade
9. C Austin Romine
RHP Sonny Gray
Toronto Blue Jays
1. 2B Devon Travis
2. DH Josh Donaldson
3. 1B Justin Smoak
4. 3B Yangervis Solarte
5. LF Curtis Granderson
6. RF Randal Grichuk
7. C Russell Martin
8. CF Kevin Pillar
9. SS Gift Ngoepe
RHP Marcus Stroman
Another cold day in Toronto, though at least it's not raining this time. I imagine the Rogers Centre roof will still be closed, however. Today's series finale is set to begin at 1:07pm ET and you can watch on YES. Enjoy the game.
Roster Move: As expected, Billy McKinney was placed on the 10-day DL with a left shoulder sprain, the Yankees announced. Andujar was recalled. Adam Warren (ankle) has avoided the disabled list.