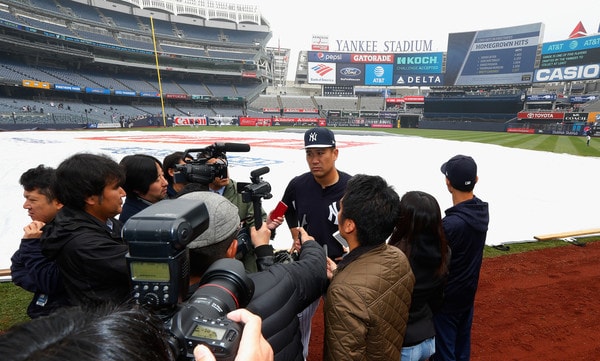 Six games into the new season, the Yankees have four wins and are basically one bad David Robertson pitch away from having five wins. They're also averaging 5.83 runs per game, the fifth best rate in baseball in the early going. Masahiro Tanaka looked pretty excellent in his 2018 debut last week and he'll be on the mound again tonight.
The Orioles are in the Bronx for the first of four this evening. The Yankees scored 154 runs against the O's last season — 154 runs! — which is the most runs any team has scored against any other team in a single season in baseball history. That includes 122 runs in ten games at Yankee Stadium. Good gravy. And now the Yankees have Giancarlo Stanton. I could go for a four-game series with four blowout wins. How about you? Here are the lineups.
New York Yankees
1. CF Brett Gardner
2. RF Aaron Judge
3. LF Giancarlo Stanton
4. SS Didi Gregorius
5. C Gary Sanchez
6. 1B Neil Walker
7. DH Tyler Austin
8. 2B Tyler Wade
9. 3B Miguel Andujar (first MLB start in the field)
RHP Masahiro Tanaka
Baltimore Orioles
1. LF Trey Mancini
2. SS Manny Machado
3. 2B Jonathan Schoop
4. CF Adam Jones
5. 1B Chris Davis
6. 3B Tim Beckham
7. DH Colby Rasmus
8. RF Anthony Santander
9. C Chance Sisco
RHP Andrew Cashner
It is cold, cloudy, and windy in the Bronx this evening. Not great baseball weather, but what can do you. Today's game will begin at 6:35pm ET — the Yankees are testing out some 6:35pm ET starts this month — and you can watch on WPIX, not YES. Enjoy the game.
Injury Updates: Clint Frazier (concussion) played in a simulated game today and is inching closer to playing in minor league games. "Things are finally starting to ramp up," said Aaron Boone to Bryan Hoch … Brandon Drury is fine. Just a day off.