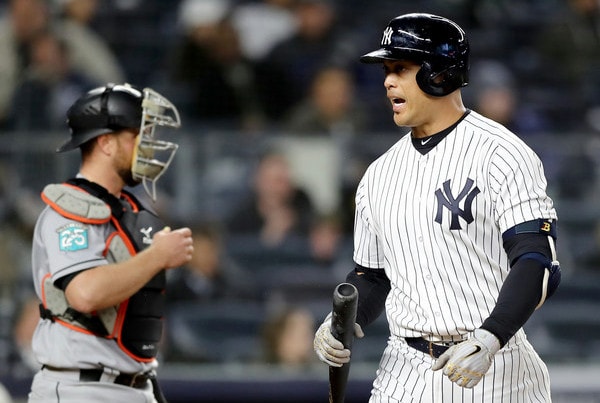 The first 16 games of the Giancarlo Stanton era have not gone according to plan. Well, 15 of the first 16 games have not gone according to plan. Opening Day was pretty rad. Overall though, Stanton is sitting on a .197/.293/.409 (96 wRC+) batting line with a 38.7% strikeout rate in the early going, and he's getting booed on a daily basis at Yankee Stadium. It's dumb, but whatever.
Naturally, there are no shortage of theories why Stanton has started slowly. He can't handle the pressure of New York, he doesn't like the cold, his swing is a mess, last year was a fluke, blah blah blah, yadda yadda yadda. I fall in the "dude, it's been 16 games, give it time" camp. Stanton didn't suddenly forget how to play baseball. That doesn't make his slow start any less frustrating or any less damaging to the team, of course.
One aspect of Stanton's game is obviously lagging in the early going. He's not crushing fastballs anymore. You don't hit 59 homers in a season and average 44 homers per 162 games in your career without being able to murder a mistake fastball out over the plate. So far this season, Stanton has been unable to do that. Look at his numbers against fastballs in the strike zone:
| | AVG | ISO | xwOBA | Exit Velocity | Launch Angle | Whiffs per Swing |
| --- | --- | --- | --- | --- | --- | --- |
| Stanton 2015-17 | .319 | .382 | .414 | 95.5 mph | 14.1° | 23.2% |
| Stanton 2017 | .356 | .445 | .432 | 94.6 mph | 11.6° | 23.3% |
| Stanton 2018 | .267 | .200 | .293 | 98.0 mph | 11.7° | 37.1% |
| MLB AVG 2018 | .284 | .192 | .366 | 91.1 mph | 12.6° | 16.2% |
Stanton annihilated fastballs in the zone in 2017. Again, you don't hit 59 homers without hammering heaters in the strike zone. Stanton crushed fastballs in the zone in 2015 and 2016 as well, just not as much as he did in 2017. Not surprising. Point is, from 2015-17, Stanton had a ton of success against heaters in the zone. A ton.
This year though, Stanton has been comfortably below average on fastballs in the strike zone in terms of results. A .267 AVG is below average and a .200 ISO is basically average, possibly even slightly below-average once you factor in Yankee Stadium. Also, that whiffs-per-swing rate? Oy vey. It's way up. More than double the league average more than 50% worse than last year.
The good news? When he does connect with a fastball in the zone, Stanton is hitting it hard and with a similar launch angle as last year. A drop in exit velocity and/or launch angle would be a big red flag(s). The fact he's still making high-end contact on these pitches when he does connect is reassuring. He's just not connecting often enough. Not nearly enough.
The question now is why. Why is he swinging and missing on so many fastballs in the zone? Beats me. That's up to Stanton and hitting coaches Marcus Thames and P.J. Pilittere to figure out. My guess is it is not one thing. Stanton's probably out of whack mechanically, he's probably pressing, and facing pitchers he doesn't have much history with is probably contributing to all this as well.
As long as he's not injured — a drop in exit velocity and/or launch angle could be a sign of injury, but those numbers are fine — I'm confident Stanton will get things straightened out. He's slumped before — he's slumped badly before, this is a dude who once went 0-for-17 with 15 strikeouts — and he's come out of every time. Stanton went 6-for-12 against the Red Sox last week. You don't have to go far back to see the last time he looked good at the plate.
Right now, for whatever reason(s), Stanton is not having much success with fastballs in the strike zone, the pitches he should be mashing. Instead, he's swinging through way too many 'em. He's only 28, it's not like we should be worried his bat speed is deteriorating. Stanton has a history of mechanical funks and there's a pretty good chance he's pressing at the plate. Give him time, and soon enough a bunch of those empty swings on fastballs in the zone will turn back into loud contact.