After that performance I get why Derek Jeter didn't want to come all the way to New York to watch his team. The Yankees depantsed the Marlins in the series opener Monday, winning 12-1. This game was over early. I think we all needed a nice and easy blowout win. Let's do it again tomorrow.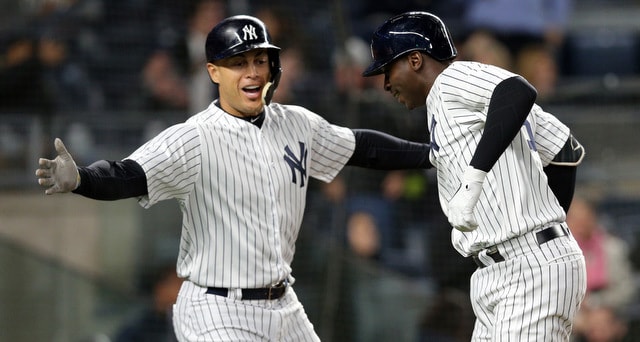 Plenty of Offense
A lesser Yankees team, perhaps the 2013 or 2014 squads, would've come to regret scoring only two runs in the first inning. Former Yankee Caleb Smith threw 42 pitches — 42 pitches! — in the first inning, but he was able to strand the bases loaded, and it felt like the Yankees wasted an opportunity. Three walks, two singles, but only two runs. Gary Sanchez got a run in with an infield single and Tyler Austin drew a bases loaded walk.
Fortunately, these are not the 2013 or 2014 Yankees, and they did not regret stranding the bases loaded in the first inning. Aaron Judge hit a solo home run for a 3-0 lead in the second inning, and Aaron Hicks split the gap to drive in two runs in the third inning for a 5-0 lead. Happy the Aarons are back together. It stunk when Hicksie was on the disabled list. Then, in the fourth, Didi Gregorius lined a two-run homer to right for a 7-0 lead.
The Yankees didn't stop there either. Back-to-back doubles (Austin, Miguel Andujar) created another run in the fifth, and a few batters later, Sanchez drove in two more. Gary singled in each of his first three at-bats after coming into the game with zero singles on the season. Go figure. The lead swelled to 11-0 and the Yankees had scored in each of the first five innings. The only reason they didn't score in the sixth was second base umpire Bill Welke getting in the way of Brett Gardner's would-be RBI single. The ball hit Welke and Andujar couldn't score from second.
No offense to Smith and the Marlins, but the Yankees did exactly what it should've done against a bad pitcher and a bad team. They scored early and often, and put game out of reach quickly. With a team like the Marlins, you want to take them out of the game early. Put them in "well, this is another loss, oh well" mode right away. Twelve runs on 15 hits and eight walks. The Yankees saw 217 pitches in eight offensive innings. Marlins pitching vs. Yankees hitting was a total mismatch for at least one night.
Six Strong For Sevy
Nice bounceback performance for Luis Severino, who got smacked around pretty good by the Red Sox last week. One hit (a double) and one walk in six innings. Eight strikeouts. Severino faced 20 batters and seven managed to hit the ball out of the infield, which is more than I would've guessed. This was how a great pitcher against a terrible team should go. Never did it seem like Severino was laboring.
Even though he threw 86 stress-free pitches in his six innings, I was totally cool with Aaron Boone pulling Severino when he did. Save those bullets for another day. Remember, Severino threw 57 pitches in the first two innings last time out. Stealing an inning or so of rest with an 11-0 against a rebuilding team with no real interest in being competitive is a-okay with me. Great outing for Severino, even if he had enough in the tank for another inning.
Leftovers
Judge's home run, which came on the one-year anniversary of that stupid triple, extended his MLB best hitting streak to 12 games. He is hitting .351/.479/.614 (207 wRC+) on the season now. It was also his 60th career home run in his 197th career game. No player in history has reached 60 homers quicker than Judge. Mark McGwire was the previous record holder at 202 games.
Gregorius came into the game in a little 3-for-17 (.176) funk, but he went deep in the seventh inning for his second two-homer game of the season. Also, Andujar is starting to heat up, it seems. His last eight plate appearances: double, ground out, triple, long fly out, seven-pitch walk, double, double, long fly out. The quality of contact is much improved these last two games.
Adam Warren and Chasen Shreve loaded the bases in the seventh and eighth innings, respectively. Warren escaped. Shreve allowed a run. He walked two with a 12-run lead, which is mildly annoying. Dellin Betances struck out two in an uneventful ninth.
Everyone in the lineup had multiple hits except Giancarlo Stanton (hit-by-pitch, walk), Aaron Hicks (double, walk), and Ronald Torreyes (single). The Yankees went 7-for-18 (.389) with runners in scoring position, which probably still isn't good enough for some people.
Box Score, WPA Graph & Standings
Head over to ESPN for the box score and updated standings, and MLB.com for the video highlights. Here's our Bullpen Workload page and here's the win probability graph:

Source: FanGraphs
Up Next
The second game of this quick two-game series. It's another 6:35pm ET start too. Masahiro Tanaka and Jarlin Garcia are Tuesday night's scheduled starting pitchers.