Got a dozen questions in this week's mailbag. Send any questions or comments to RABmailbag (at) gmail (dot) com and I'll get to as many as I can each week.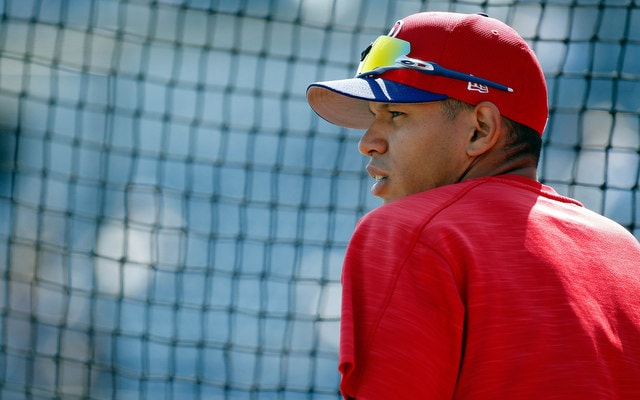 Brent asks (short version): The Phillies just signed Kingery. Which leads to my question. Do you think they would make Cesar Hernandez available? I feel like he is a perfect fit (besides that we have Gleyber). He is a high average high on base guy that I think would be great in the front of the lineup?
I am a Cesar Hernandez fan. He's a pain in the butt and I mean that in a good way. Hernandez grinds out at-bats, makes lots of contact, and a good runner. Plus he's a switch-hitter and a good defensive second baseman. He was hitting .300/.440/.500 (162 wRC+) going into last night's game, and while that's not going last, the 27-year-old Hernandez hit .294/.372/.406 (109 wRC+) in nearly 1,200 plate appearances from 2016-17. That'll play.
Here's our offseason Scouting The Market post on Hernandez. I'll never be opposed to bringing in a quality middle infielder, even with the Yankees having several promising young infielders either at the MLB level or knocking on the door. Get talent, sort it out later. Hernandez won't be a free agent until after 2020 and the Phillies locked up Scott Kingery, a natural second baseman, before Opening Day. I'm sure Hernandez is available.
Maybe the Jean Segura trade — the trade that sent him from the Brewers to the Diamondbacks with three years of control — is a trade package benchmark? The Brewers got a depth starter (Chase Anderson) and a good lower level prospect (Isan Diaz) out of that, though they also took back a couple million bucks worth of Aaron Hill. Chance Adams and Albert Abreu? I dunno. Hernandez won't come free just because the Phillies have Kingery. They'll want quality in return.
Eric asks: Before the shoulder injury last year Judge hit .329/.448/.691. This year he's hitting .348/.474/.587. Is this how non-injured Aaron Judge hits? That makes him one of, if not the best hitter in baseball, right?
Man, it would be amazing if this is healthy Aaron Judge's true talent level. It seems impossible that someone could truly be this good, but hey, why not? Frank Thomas, another massive human, hit .334/.455/.631 (177 wRC+) from 1993-97, his age 25-29 seasons. It's been done before. Why can't Judge do it now? He's incredibly disciplined, he hits to all fields, and he's shown throughout his career he can make adjustments. Maybe Judge really is this good when he's healthy. I know this much: The normal rules of baseball do not apply to Judge. We have to stop projecting him and comparing him to everyone else, because he's not like anyone else.
Paul asks: How much input does MLB have on start times? MLBPA? Opposing team?
It's a big collaborative effort with many outside factors. The Collective Bargaining Agreement has rules about getaway days and whatnot, and of course the television networks have a say too. ESPN gets to pick their Sunday Night Game. It's basically impossible to make everyone happy. Someone will always be upset with the start time, either the teams or the fans. It's a giant puzzle that has to be solved each year and the schedule makers do their best.
Michael asks: While Ellsbury is on the disabled list do the Yankees collect insurance money because he is not playing? If that's the case maybe that's why they keep him. At least they could recover some of his salary that way.
I don't know whether the Yankees have insurance on Jacoby Ellsbury's contract. From what I understand teams approach insurance policies on a case-by-case basis. Sometimes the insurance premiums are more expensive than the contract itself, so they don't bother. In Alex Rodriguez's case, the Yankees had insurance on his deal, so all the time he spent on the disabled list didn't cost the Yankees as much out of pocket. There are three years remaining on Ellsbury's contract and they're not going to cut him loose with that much time to go. Even without insurance, they'll see whether they can salvage something first. Something is better than nothing. If the Yankees have insurance on the contract, good for them. It doesn't change anything as far as the luxury tax payroll goes.
Marc asks (short version): Can we start a petition, or maybe you have a connection, but can we please get rid of the strike zone box during Yankee telecasts? It is really not an improvement, and is way more of a distraction, than anything. And, as a side, how about the center-field camera angle as close to dead center as possible, so I can actually see the *real* movement of a pitch.
Nothing we can do about the strike zone box. It is what it is. All the FOX networks have it nowadays, and FOX owns a majority stake of the YES Network, so now YES has it too. I don't like it but it's not going away. Such is life. As for the dead center field camera, I would absolutely love it. The Cardinals have the best home camera angle, in my opinion: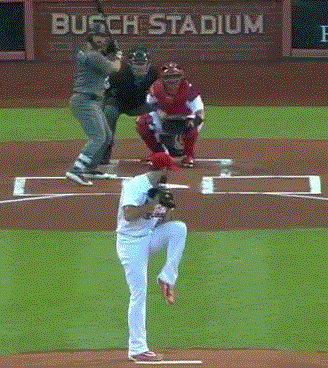 That's the movement you just don't see with the offset center field camera. Yankee Stadium doesn't seem set up well for such an angle, unfortunately. The camera is on the top of the Mohegan Sun Sports Bar at the moment, and if they slide it any more to center field, the pitcher will block the plate. The camera angle is just too low. I'm not sure there's a realistic way to raise it up without obstructing views and whatnot. Alas.
Adderlyn asks: Now that Aaron Hicks started his rehab assignment, it got me thinking… what happens if a player on a rehab assignment has the same uniform number as a minor league player? Does the minor leaguer have to change their number during the rehab assignment? Sit out the games? Or do they both wear it?
Usually the minor leaguer changes his uniform number during the rehab assignment. Sometimes the big leaguer will wear whatever's available. Others are very superstitious about their numbers, so the minor leaguer has to wear a different number for the time being.
David asks: How about having Stanton during the off-season and spring training play first base? Let him and Bird split DH and 1B (or even gave bird as the primary DH). It will hopefully help the outfield logjam (yeah, I know we all thought there would be one this year) and hopefully help Bird healthy by having him play the field much less.
Yeah, I think having Giancarlo Stanton learn first base is a worthwhile endeavor at this point. Not on the fly during the season, but during the offseason and Spring Training. The long-term outfield picture is a little up in the air — what happens with left field after this season? — but if the plan going forward is splitting time between the corner outfield spots and DH, why not add first base to the mix as well? Forget about Greg Bird in this equation. Getting Stanton familiar with first base would be a smart move because it would give the Yankees a little more roster flexibility, and that's a good thing even if you have Joey Votto at first base.
Justin asks: With the Rays in rebuild mode yet again and having been last in attendance since 2012, is there any good reason not to talk about relocating the franchise?
The Rays are looking for a new ballpark site somewhere in Tampa, which is understandable. Before they commit to anything, MLB has to honestly evaluate whether baseball can succeed in Florida. They're stuck with the Marlins because that ballpark is only a few years old. Do they want to build another new stadium only to have it half empty every night, even when the team is competitive? You'd think baseball would thrive in Florida. The Rays and Marlins have now given us 45 individuals seasons worth of data suggesting it might not work though. Relocation has to be a serious consideration for the Rays. Put teams where fans are interested.
Seth asks: What is that thing Gary keeps looking at on his arm when hes behind the plate? What's on that exactly? For reference I see him doing it right now. 5th inning of Wednesdays game.
Good catch! I didn't notice it while watching the game, but here's Gary Sanchez checking out something on his wristband Wednesday night: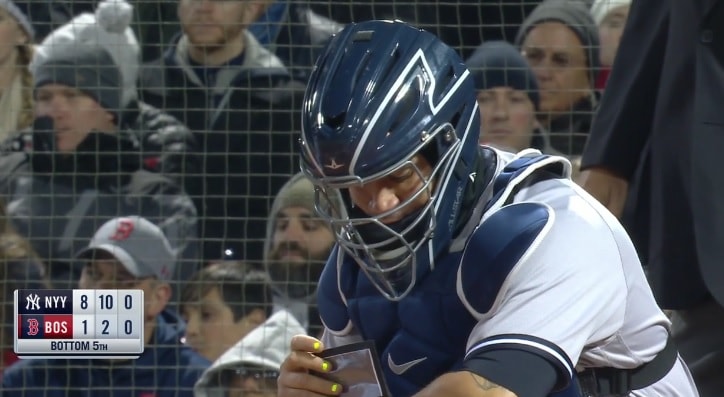 Back in Spring Training it was reported the Yankees were considering having their catchers wear wristbands to help combat sign stealing. (I'm not sure how, exactly.) Apparently the wristband includes pitch sequences and things like that so they can change signs on the fly without a mound visit. I guess the Yankees went from considering it to doing it at some point. They're not the only team whose catchers wearing wristbands. I know that much. The Dodgers and Indians were doing it last year. Now the Yankees are on board.
Asher asks: Brandon Drury is saying that he has dealt with the migraine issue for a number of years, yet the Yankees say that this instance was the first that they have heard of said issue? In that case, would the Yankees have a potential grievance against the Diamondbacks, assuming they knew about the issue?
Drury himself said he didn't tell the Diamondbacks about the migraines, so the Yankees are pretty much out of luck. For the Yankees to have any sort of standing for a grievance, the D'Backs would've had to know about the migraines (or any injury) and hide it from the Yankees, meaning omit it from his medical file and not just conveniently neglect to mention it during the phone call. The Padres got in trouble over the Drew Pomeranz trade a few years ago because they intentionally hid information about treatment he was receiving on his elbow. San Diego didn't include it in his medical file and deceived the Red Sox. I'd be shocked if the D'Backs did something unethical like that. Athletes hide things all the time and Drury said he did exactly that. Not hard to believe.
John asks: Yankees are giving up what seems like a ton of grand slams recently. Wondering what the record is for most grand slams given up by a team in a single season?
They have given up a ton of grand slams, haven't they? Four of them already (Justin Smoak, Pedro Alvarez, Mookie Betts, J.D. Martinez). They gave up five all last season. The franchise record is nine grand slams given up by the 2000 Yankees. Here are the most grand slams ever allowed in a season:
1996 Tigers: 14
2000 Expos: 12
2006 Orioles: 12
2010 Mets: 12
Several tied with 11
Only 18 teams in history have allowed double-digit grand slams in a season. That surprises me! I would've guessed double or even triple that number because of expansion years and the so-called Steroid Era. The 2018 Yankees are on pace to give up 50 grand slams. Something tells me they'll fall well short of that total (I think!).
Dana asks: Hypothetical question: Judge ends up winning the triple crown with, say, .349 BA, 50+ home runs, and 130+ RBIs, however Ohtani goes 21 and 4 with 20+ home runs. All other things being equal, who wins MVP?
Shohei Ohtani probably, even if the Angels don't make the postseason. The narrative would transcend the team's performance. The voters got the "the Triple Crown winner has to win MVP!" stuff out of their system with Miguel Cabrera a few years ago, and, frankly, a dude having that sort of two-way impact would deserve to win MVP in my book. I would be curious to see whether voters dock Ohtani for playing time, because based on his current schedule, he's going to finish with about 150 innings and 200 at-bats. On their own, neither total is anywhere close to MVP worthy. Combine them though, and maybe it works.