That was a textbook "well, it's just not their night" loss. Every team is going to win 50 games and lose 50 games each year. It's what they do in the other 62 games that determines their fate. This is one of those 50 losses. The Yankees dropped Thursday night's series opener 5-2 to the Orioles because the offense didn't capitalize on some chances and their best reliever had an off-night. C'est la vie.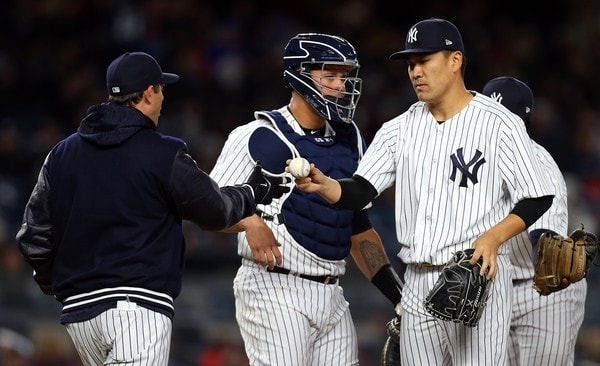 Tanaka And The Non-Fastballs
That's what I'm going to call my baseball-themed ska band. In his second start of the season, Masahiro Tanaka pitched extremely well up until hanging a slider to Adam Jones in the seventh inning, a hanging slider Jones deposited into the left field seats for a go ahead two-run home run. The #obligatoryhomer came at an unfortunate time. So it goes.
Tanaka was marvelous prior to that, going into the seventh inning having allowed three hits in six shutout innings. He'd struck out seven. It should be noted Tanaka got some defensive help in the first inning, when a stellar set of relay throws on Jones' double to left field nailed Trey Mancini at the plate to end the inning. Giancarlo Stanton retrieved the ball in the corner, got it in quickly, Didi Gregorius made a great relay throw to the plate, and Gary Sanchez slapped the tag on Mancini. The safe call was overturned on replay.
The final pitching line: 6.1 IP, 6 H, 3 R, 3 ER, 0 BB, 7 K on 93 pitches. Tanaka was better than the line would leave you to believe. The most interesting number from Tanaka's start: 18. That's how many fastballs he threw. In the second half last year he scaled back big time on the heater because it was getting hit so much. Instead he focused on his secondary pitches and he turned his season around. Here is Thursday's pitch breakdown:
Splitter: 37 (39.8% of pitches thrown)
Slider: 37 (39.8%)
Four-seamer: 15 (16.1%)
Two-seamer: 3 (3.2%)
Curveball: 1 (1.1%)
Two starts into the season Tanaka has thrown 34 fastballs (28 four-seamers and six two-seamers) and 139 non-fastballs. Tanaka is taking the whole "pitch backwards" thing to the extreme, and hey, it's working. He was good down the stretch last year, lights out in the postseason, and very good overall through two starts this season. Tanaka's crafty enough and his slider and splitter are good enough to make this work. Not every pitcher could pull this off.
Four Not Timely Hits
The Yankees had 12 total baserunners but only four hits Thursday night, which isn't great. On the bright side, Aaron Judge is still pounding away on Orioles pitching. He opened the scoring with an opposite field solo home run off Andrew Cashner in the sixth inning. The Yankees hit a few balls that looked good off the bat before dying in the cold air earlier in the game. That Judge homer sailed out.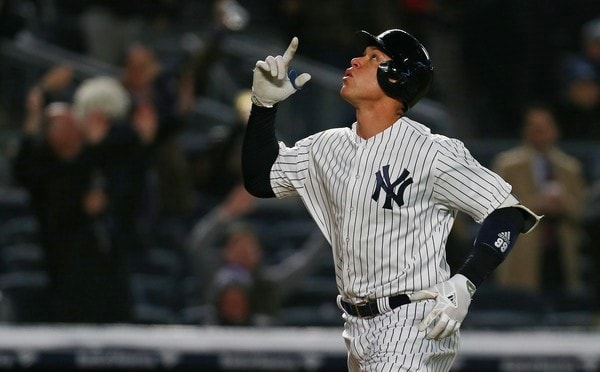 The other three hits: Tyler Wade's hustle double in the third, Gregorius' double to right in the seventh, and Neil Walker's single to drive in Gregorius in the seventh. The Yankees did put seven men on base in three innings against Baltimore's bullpen, so it's not like they went down quietly. They just couldn't take advantage of their opportunities. Miguel Andujar popped up with two on and two outs in the seventh, Walker tapped back to the pitcher with two outs and the bases loaded in the eighth, and Brett Gardner struck out to end the game with the tying run on deck.
Let's highlight some positives on offense, shall we? Gardner saw 30 pitches in five plate appearances. Judge hit his second homer in as many days. Gregorius drew two more walks to bring his season total to five. He drew his fifth walk in his 18th game last year. Didi has only struck out twice too. Walker had a single and a walk. Wade reached base three times and has reached base five times in eight plate appearances on the homestand.
But yeah, four hits aren't going to cut it. Stanton took an 0-for-4 and Sanchez went 0-for-3 with a hit-by-pitch. Gary's defense has looked really good this year! He's also hitting .077/.111/.231 (-15 wRC+) in the early going. I blame all of you who said he needs to work on his defense for his slow start at the plate. And despite all the prolonged at-bats, Gardner is off to a .172/.250/.276 (50 wRC+) start. Judge and Didi can't do it alone. The Yankees need those other guys to wake up.
More Death By Bullpen
The bullpen has allowed runs in six of seven games so far this year. And even in the one, the bullpen allowed an inherited runner to score, so they were responsible for a run even though no reliever was charged with a run. Anyway, on Thursday, Chad Green had his first ugly outing of the new season. He replaced Tanaka in the seventh and went single, double, strikeout, single, strikeout to effectively put the game out of reach.
The double was a run-scoring double by Anthony Santander, allowing the runner Green inherited from Tanaka to score. The second single was a two-run single by Mancini. Green threw nearly as many sliders (nine) as fastballs (eleven), which is unusual for him. He never seemed all that comfortable on the mound. His location wasn't good and he just wasn't as crisp as usual. Maybe it was the cold. Maybe it was one of those nights. Whatever it was, the bullpen struggles continue. This is capital-A Annoying.
Leftovers
I love that Aaron Boone challenged Gardner's non-hit-by-pitch in the eighth inning. Gardner said it hit him but the replay was inconclusive at best, and based on the dugout reaction, replay guy Brett Weber didn't see enough evidence to overturn it. Boone challenged it anyway. Leadoff man down three? Give it a shot. You don't get bonus points for unused challenges. The call stood and the at-bat continued.
Am I allowed to say Dellin Betances looks a lot better than he did last last season? He did walk a batter on four pitches in his inning in this game, but he struck out three and got a miss on five of six swings. Even with the walk tonight, Dellin seems to be around the plate more often than late last year, and his stuff looks firmer. Encouraging.
Box Score, WPA Graph & Standings
Here are the game's box score and video highlights, and here are the updated standings. Don't miss our Bullpen Workload page. Here's the loss probability graph:

Source: FanGraphs
Up Next
Same two teams Friday night at Yankee Stadium. That's a regular 7:05pm ET start. CC Sabathia and Kevin Gausman are the scheduled starting pitchers.