A thorough embarrassment, that was. The Red Sox outclassed the Yankees in every phase of the game Tuesday night — hitting, pitching, defense, you name it — en route to their ninth straight win. The final score was 14-1. The Yankees have lost six of their last nine games and have looked every as bad as that recent record would suggest the last few days. At least no one got hurt?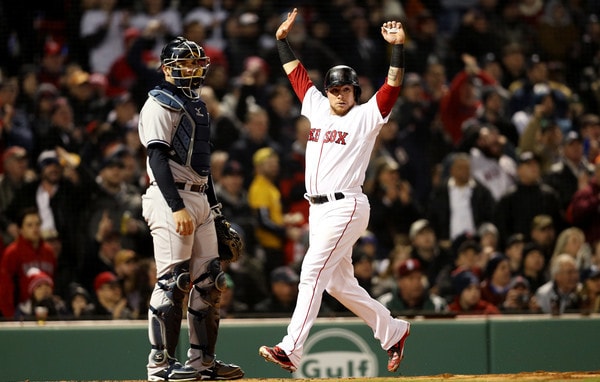 Severino's Slider
Early on, Luis Severino had nothing working with his slider. The velocity was there, that wasn't the problem, but Severino couldn't locate the pitch at all and the Red Sox took advantage. They spit on sliders out of the zone and hammered sliders in the zone. Severino was lucky to escape a bases loaded situation in the first inning having allowed just one run. He escaped that jam with his fastball. He overpowered his way out of it.
Severino wasn't so lucky in the second inning. Christian Vazquez basically threw his bat at a slider for a leadoff single, and a few batters later, Andrew Benintendi hooked a flat slider in the zone into the right field corner for a two-run triple. Hanley Ramirez then dunked a single into center field for a 4-0 lead. By time the second inning ended, the Red Sox had built that 4-0 lead the Severino had thrown 57 pitches. 57 pitches! Oy vey.
I suppose the good news is Severino settled down after the second inning and was able to get through five despite the elevated pitch count. His final line: 5 IP, 8 H, 5 R, 5 ER, 3 BB, 6 K. He threw 94 pitches and got a healthy 17 swings and misses, just not enough early or at the right times. Severino's first two starts were great. This one, not so much. So it goes. He's still pretty great. Shake it off and get back out there in five days.
One-Man Army
On the bright side, Aaron Judge continues to look phenomenal. He went 0-for-12 with ten strikeouts against Chris Sale last year. That's really bad! He then went 3-for-3 against Sale on Tuesday night, with the third of the three hits being a mammoth solo home run to dead center field. Here's the video, because at least a few of you out there deserve a little happiness in your life after that game:
The homer left Judge's bat at 116.3 mph. It is the hardest hit ball Sale has allowed since Statcast became a thing in 2015. That's … something? Judge banged into a double play later in the game to finish 3-for-4. His season batting line is now .333/.462/.595 (201 wRC+) through eleven games. It feels like he's better than last year. It really does. Judge has been on everything lately. He's so good.
As for the rest of the offense? Yuck. Didi Gregorius had two hits and hey, so did Giancarlo Stanton. He struck out twice against Sale and looked bad doing it — Sale went right after him with high fastballs — before poking a single the other way and doubling into the left field corner. Signs of life! If that helps Stanton get going, this ugly loss was worth it. Anyway, the Judge/Didi/Stanton trio went 7-for-12 (.583). The rest of the Yankees went 3-for-24 (.125).
Death by Bullpen
Good gravy was that sixth inning ugly. The Yankees were down 5-1 going into the sixth and a 5-1 game is far from over at Fenway Park in the sixth inning. Then the bullpen barfed all over it. Tommy Kahnle and Chasen Shreve combined to allow nine runs — nine runs! — in that sixth inning. Amazingly, they did it on three hits. Hah. Ridiculous. One of the three was a Mookie Betts grand slam.
A 14-1 game doesn't deserve the annotated play-by-play treatment, so here's what Kahnle did: ground out, double, walk, walk, double, sacrifice fly, walk, showers. He threw 23 pitches and nine were strikes. That is: not good. Shreve came in, hit a batter, got a ground ball that Miguel Andujar booted — routine play that has to be made, rook — then walked in a run. Then came the grand slam. Four walks, one hit batter, one error. All six free baserunners scored. Only three of the nine runs were earned because of the Andujar error. Too bad Kahnle and Shreve can't be charged with them anyway. They stunk. Hopefully that goes down as the worst inning of the season.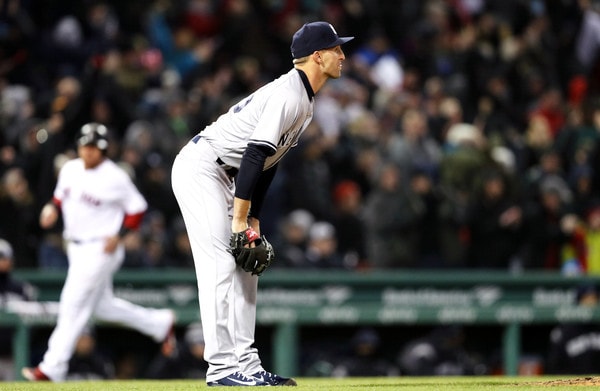 Leftovers
Gary Sanchez returned to the lineup for the first time since his calf injury and went 0-for-4 with a strikeout. He is now hitting .056/.081/.167 (-41 wRC+) through eleven games, which is hilariously terrible. I suppose the good news is his .034 BABIP won't last forever. But yeah, the Yankees need Gary to get going like yesterday.
Luis Cessa struck out one in a perfect eighth inning. (It's happening.) That is the only good thing you can say about the pitching staff after that one. The mop-up guy was good. I thought we were going to see Ronald Torreyes on the mound there for a minute. Alas.
And finally, the last time the Yankees were whipped this badly by the Red Sox? August 22nd, 2009, when they lost 14-1. That was a good year. The Yankees actually lost their first eight games to Boston that season. Clearly, history will repeat itself now. Goodnight.
Box Score, WPA Graph & Standings
Head over to MLB.com for the box score and video highlights, and ESPN for the updated standings. Here is our Bullpen Workload page and here is the win probability graph:

Source: FanGraphs
Up Next
The Yankees and Red Sox continue this three-game series Tuesday night. Masahiro Tanaka and David Price are the scheduled starting pitchers. Going to go out on a limb and say Wednesday's game will be a little more competitive than Tuesday's.