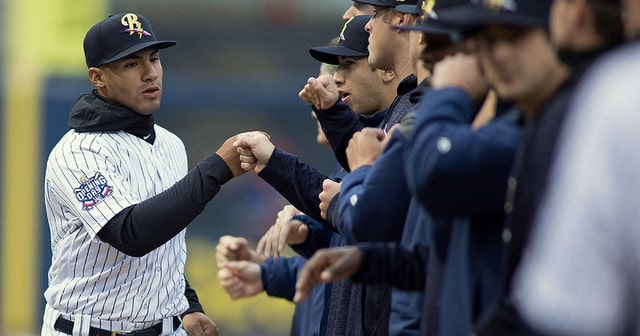 Thursday: An important update from Ken Rosenthal: Players on the 40-man roster have to spend 20 days in the minors to delay free agency, not 16. That's because anything less than 20 days in the minors doesn't count as an optional assignment, and the player gets service time retroactively. Gleyber is on the 40-man roster, so the Yankees have to wait until next Wednesday to call him up rather than this Friday. Not a big difference, but a difference nonetheless.
Wednesday: If not for the fluke injury — the fluke but serious injury, I should say — suffered sliding into home plate last June, chances are Gleyber Torres would've already been in the big leagues. The Yankees probably would've called him up in the second half last year and who knows, maybe they never trade for Todd Frazier. Instead, Gleyber got hurt, and the Yankees had to shift gears.
Torres completed his rehab and was a full participant in Spring Training, but it didn't go well. He went 7-for-32 (.219) with ten strikeouts and a few defensive miscues in 13 Grapefruit League games. After all the talk about him possibly breaking camp as the starting second baseman, Torres made it easy for the Yankees to send him to Triple-A. (Tyler Wade's strong spring didn't help Gleyber's cause either.)
Sending a just turned 21-year-old kid coming off a major injury to the minors is the type of move that needs no further explanation. And yet, because of who Gleyber Torres is, a multitude of reasons were given for the demotion. Not necessarily by the Yankees. By me and others explaining the move. He's still only 21, he's coming back from an injury, he had a long layoff, he hasn't played much second base, he's barely played in Triple-A, etc.
Another reason: Service time. A short stint in the minors this season gives the Yankees control of Gleyber's age 27 season in 2024. That's a long way away! But if Torres turns into even 75% of the player people think he can be, the Yankees will be happy they manipulated his service time. Teams do this all the time. The Cubs did it with Kris Bryant. The Braves are doing it right now with Ronald Acuna. Happens every season with many prospects.
The Yankees of course denied service time would be a factor in determining Torres' Opening Day assignment. "It's not part of my evaluation process. We're trying to win," said Brian Cashman back in Spring Training. Every team denies service time manipulation though. Admitting it would give the MLBPA grounds to win a grievance. The Cubs said Bryant had to work on his defense, the Braves said Acuna needed more experience, so on and so forth.
With Torres, the injury gave the Yankees a plausible reason to send him to Triple-A regardless of his Spring Training performance. And when he struggled during the spring, it made it even easier to send him down. I don't blame the Yankees one bit for sending Torres down to buy an extra year of control if that was their motivation (or at least part of it). They'd be stupid not too. It sucks for the player, but teams aren't breaking the rules. They're just doing what's smart.
Anyway, even though the minor league season is only six days old, the service time cutoff to delay free agency is rapidly approaching. It's Friday. This Friday, April 13th. Friday is the day teams can call up prospects with no prior MLB experience and gain that extra year of control. The Braves can call up Acuna, the Reds can call up Nick Senzel, and the Yankees can call up Torres. They'd get six years of control from 2019-24 plus the remaining 140-something games of 2018.
Now, just because Friday is the first day teams can call up their prospects while gaining that extra year of control doesn't automatically mean they'll call them up. The Yankees could keep Torres in Triple-A to make sure he's back up to speed at the plate following the long layoff, and to make sure he's comfortable defensively. He was slated to split time 50-50 between second and short this year. Now he's going to split his time between second and third.
That said, when you look at the MLB roster, it's not hard to see an opening for Torres. In the short-term he could share second and third base time with Tyler Wade and Miguel Andujar, as well as rotate in at DH. As for the long-term, meaning once players like Brandon Drury and Aaron Hicks get healthy, you figure it out when the time comes. Maybe Gleyber plays his way back to Triple-A. Maybe he plays so well the Yankees have no choice but to keep him around. That'd be cool.
The decision to call up Gleyber, either on Friday or at some point in the future, will be based on two things. One, do the Yankees think he can help them win? And two, is there enough playing time available? When the answer to both questions is yes, Torres will be called up. Maybe those answers will conveniently become yes on Friday and Gleyber will meet the Yankees in Detroit. That'd be fun. Maybe he has to wait a little longer though.
Torres is off to a nice start with Triple-A Scranton — he is 8-for-23 (.348) through five games, which obviously isn't much at all — and that sure is heck better than getting off to a slow start. I'm not sure we'd be talking about a call-up if Torres was, say, 2-for-23 instead of 8-for-23. He's had more than a month's worth of at-bats between Spring Training and minor league camp and the Triple-A regular season, which may be enough to convince the Yankees he's ready for MLB.
"I think if they called him up now, he could definitely compete up there now," said Triple-A Scranton manager Bobby Mitchell to Conor Foley. "There's just certain things for him to become the player that he wants to become and can become. Things that he needs to refine and get better at. But, it's not about just hitting when you go up there. It's about whole, every aspect of the game that you need to try to master. And he's trying and he's doing a great job and he's moving right along. I mean, he's not far, obviously. I think, if they called him up, I think he'd be fine. He'd probably learn on the fly."
Even if he isn't called up Friday, Gleyber's days as a minor leaguer figure to be numbered. Keeping him down long enough to buy that extra year of control is smart business. I don't blame any team that does it even though I think it's bad for baseball overall (the most talented players should be in MLB). But now that the cutoff is only days away, and a pretty clear path to playing time exists at the big league level, the Yankees may decide it's time to see what Torres can do in the show. He just may be the spark the team needs.