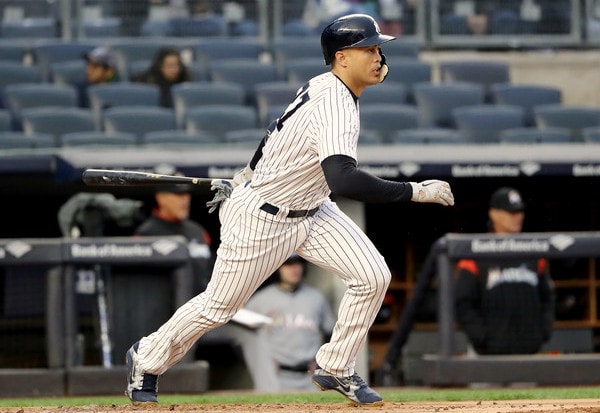 Twenty-two games into the new season, Giancarlo Stanton has yet to provide the Yankees will the kind of impact expected from the reigning NL MVP. Granted, he is hitting .213/.307/.438 (105 wRC+), so it's not Stanton has been completely useless. He just hasn't been an MVP caliber performer to date. It's early. Give him some time to get comfortable and he'll mash.
Last year Stanton made a noticeable in-season adjustment and closed up his batting stance, allowing him to better reach the outside pitch. That closed stance remains this year. Stanton now appears to be making another adjustment, and it's a common one for new Yankees: He's taking aim at Yankee Stadium's short right field porch.
Stanton, a right-handed hitter, is hitting the ball to the opposite field far more often this year than he has in the past. Here are his pull and opposite field rates going into last night's game: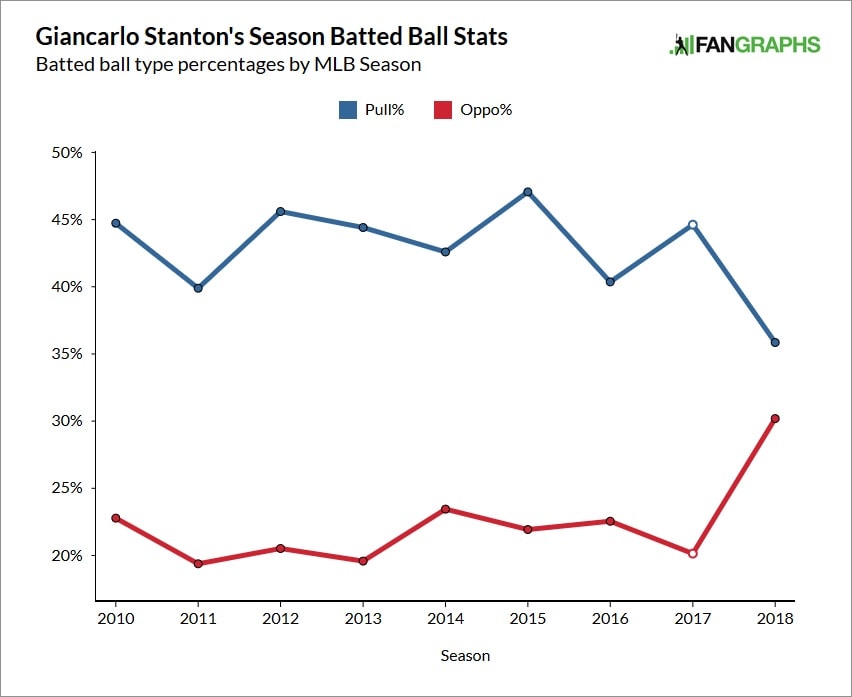 Giancarlo's home run Monday night was yanked to left field, sure, but he also had two opposite field singles in the game. His two Opening Day homers were hit to the right field side of center field, remember. So far this season Stanton has four opposite field hits. He had 17 all of last year, 13 the year before that, and five (!) the year before that.
This opposite field approach didn't come out of nowhere and the regular season isn't the first time we're seeing it. Stanton worked on shooting the ball to the other way all throughout Spring Training. Remember all those rockets he banged off the right field wall during Grapefruit League play? Many on hilarious low-effort swings?
"My usual approach to batting practice," said Stanton to
John Harper
in February, throwing some cold water on the idea that he was gearing up for the short porch during Spring Training. "I just hit the ball to right, make sure I get backspin, stay inside the ball, see how I feel. I let it go when I need, get ready for the game."
Usual approach or not, Stanton is hitting the ball the other more often this season than he has in the past. His highest single month opposite field rate last season was 27.4% in May. No other month was over 20.3%. Here are Stanton's best opposite field months among his 31 months with at least 90 plate appearances:
May 2014: 30.3%
March/April 2018: 30.2%
May 2017: 27.4%
June 2016: 27.1%
June 2012: 27.0%
There are still six games to be played this month, so that 30.2% opposite field rate can come down in a hurry. Right now though, Stanton is on track to have only his second career month with at least 30% of batted balls going the other way, and his first since way back in 2014. Coincidence? Possibly! Given the inherent advantage of going the other way as a right-handed hitter at Yankee Stadium, there might be more to this than sample size noise.
If Stanton is consciously trying to hit the ball to the opposite field — and again, he might not be — is it a good idea? Does he need to change his approach? Stanton has had a ton of success as a pull hitter, and it's not like he's short on power. He can hit the ball out of any ballpark. Being a pull hitter — Stanton's 43.4% pull rate from 2010-17 ranked 119th among 467 qualified hitters, so he's not an extreme pull hitter — has worked for him, so why fix what isn't broken?
To me, this is similar to the batting stance change last year. It's all about getting better. The Yankee Stadium short porch turns fly balls that are routine outs elsewhere into home runs. If Stanton is able to better use the opposite field to take advantage of the short porch without ruining what he does best — ferociously pull the ball — great! I applaud him for trying. Every stadium is unique and hitters (and pitchers) are smart to tailor their game to their home ballpark.
Now, if the opposite field approach doesn't work — we're still a long way from knowing that, I'd say — going back may not be so easy. Mark Teixeira and Brian McCann became enamored with the short porch and it cost them production. It doesn't seem like the short porch could hamper a right-handed hitter the same way we've seen it hamper a left-handed hitter, but who knows? What if Stanton turns into an opposite field singles hitter? Oy vey.
The 2018 season is still young and we'll see how Giancarlo approaches his at-bats in the coming weeks and month. If the opposite field approach continues, it'll be a pretty good indication he's doing this on purpose. If not, well, either it was a fluke month or something Stanton abandoned early. Stanton doesn't need the short porch to hit for power. But, if he figures out how to use it without hurting his ability to pull the ball, the Yankees will be that much more dangerous.