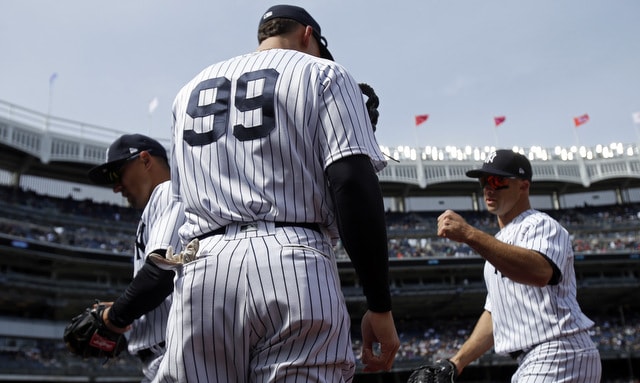 The Yankees spent yesterday's off-day stewing over Sunday's loss in the homestand finale — or at least the fans did, it seems — and tonight they're back in action with the first of three against the Red Sox at Fenway Park. Three in Boston, then three in Detroit. Not too long ago that would've been a nightmare road trip. The Tigers aren't so scary nowadays. Anyway, let's get to some thoughts.
1. I guess I'll start with some perspective you are free to ignore if you're still upset about things. The Yankees are 5-5 with four convincing wins — four of the five wins have been by at least five runs — and their last two losses required 14 innings and 12 innings. In three of the five losses the game was either tied or the Yankees had the lead at the start of the eighth inning. They're winning blowouts and losing winnable games, and once the bullpen gets all the way back and Giancarlo Stanton and Gary Sanchez get locked in, those close losses won't happen as often. I'd be more worried — not even worried ten games into the season, just annoyed — if the Yankees were losing blowouts and having to eke out close wins to get to 5-5. Think about everything that has gone wrong so far. All the injuries, Stanton and Sanchez being terrible, the bullpen unexpectedly melting down. All that, and the Yankees are still 5-5. Yes, I know games in April count just as much as games in September — why do people feel the need to say that all the time? am I supposed to be enlightened? —  but there are 152 games to go, and, to me, there are lots of reasons to believe this current group of players will perform better going forward. If this is what a bad stretch looks like, the Yankees are going to be a-okay over the long haul.
2. The bullpen is starting to right the ship. Dellin Betances looks way better than he did late last season and David Robertson has been dynamite since the Justin Smoak incident. The bullpen threw nine scoreless innings in the 14-inning game before Jonathan Holder did what the last guy in the bullpen usually does in a 14-inning game. My only concern with the bullpen right now is the workload. Those guys have worked a lot lately. Robertson pitched in three straight games, Adam Warren pitched four times in five days, Tommy Kahnle threw 48 pitches the other night, so on and so forth. Playing a 14-inning game and a 12-inning game in the span of three days will do that to a bullpen, but even before that, they were being asked for three or four innings each night. Given the way these things usually go, the bullpen was worked hard this past week and before you know it, guys will be going four or five days between appearances and Aaron Boone will have to bring them into blowouts to get them work. Hopefully that happens soon. These guys could use a breather. The performance of the key relievers is trending in the right direction though.
3. Speaking of the bullpen, that wily veteran David Robertson appears to have a new trick up his sleeve. He dropped down almost sidearm to deliver a fastball to Jonathan Schoop on Sunday. Got a swing-and-miss out of it too. Check this out: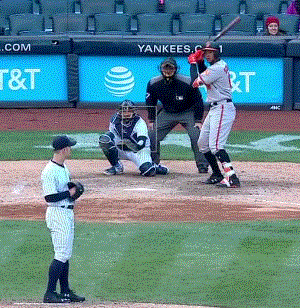 That is definitely new. Robertson hasn't done that at any other point this season, I didn't see him do it in any of his televised Spring Training outings, and I don't remember ever seeing him do it in previous years. Robertson has thrown 10,098 pitches in the big leagues in his career. Here is his release point for those 10,098 pitches with that sidearm pitch highlighted: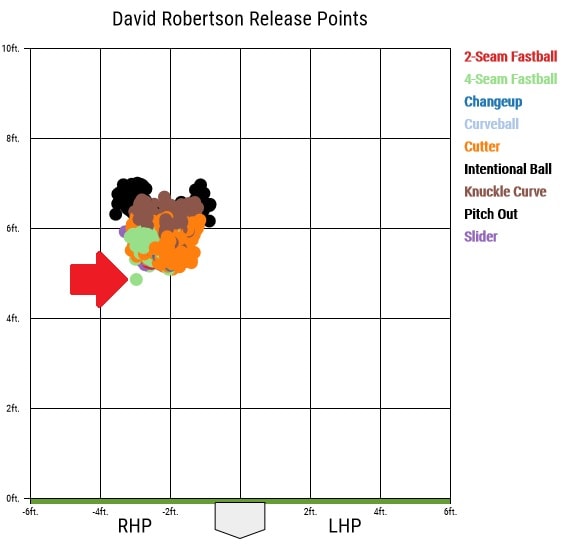 Dropping down is sort of a new fad right now. It started when Rich Hill got good again, partially by varying his arm slots. His Dodgers teammate Clayton Kershaw started doing it soon thereafter, and since then I've seen guys like Chris Sale and Gio Gonzalez do it as well. All lefties, though that might just be a coincidence. I'm curious to see whether Robertson breaks this sidearm fastball out more often going forward. My guess is he will. Extra innings against a division rival is no time to play around with things. He threw that pitch to Schoop because he expected good results. I bet we see more of these sneak attack sidearm fastballs going forward. Fun!
4. Can we talk about how awesome Aaron Judge is? He's so good. He was on base 15 times during the six-game homestand and he's hitting .289/.438/.500 (170 wRC+) in 48 plate appearances. Only two homers so far, but more will come. The walk rate (18.8%) is insane and yes, he's still striking out a bunch (27.1%), but he's striking out a tick less than less year (30.1%). Plus he's playing the hell out of right field again. Judge robbed a homer in the 14-inning game the other night and he's also thrown a runner out at the plate. The 1-2-5 double play in the 12th inning Sunday was dumb. (Seriously, when's the last time you saw a 1-2-5 double play?) But baseball can be dumb sometimes. Overall, Judge has been awesome on both sides of the ball so far this season. He looks like the player he was last year, basically, and that player is really good. Judge gets knocked for the strikeouts and he should, because he strikes out a lot. All the good he does far outweighs the strikeouts though. What a stud this guy is.
5. Austin Romine had three hits Sunday and is 6-for-15 (.400) in the super early going this season, which is a nice reminder a) the season is ten games old, and b) pretty much anyone in the big leagues can do damage over a short period of time. Anyway, I bring this up because Romine has a new setup at the plate. He took a page from the 2017 Giancarlo playbook and closed up his stance. Here are the screen grabs: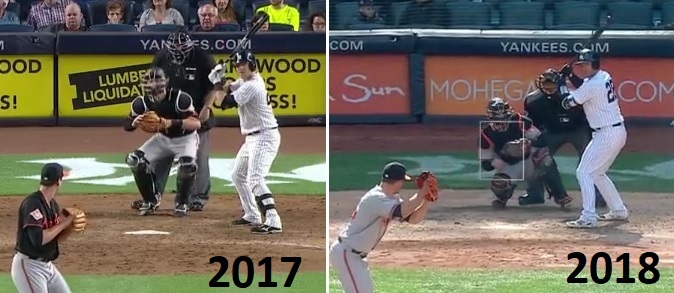 Romine really closed up this year, and generally speaking, a closed stance helps a hitter better get to the outside pitch and drive it the other way. It seemed like Romine went the other way quite often in Spring Training — he went 13-for-33 (.394) during Grapefruit League play, but who cares? it's Spring Training — and has definitely done a lot of it early in the regular season. Here is his spray chart: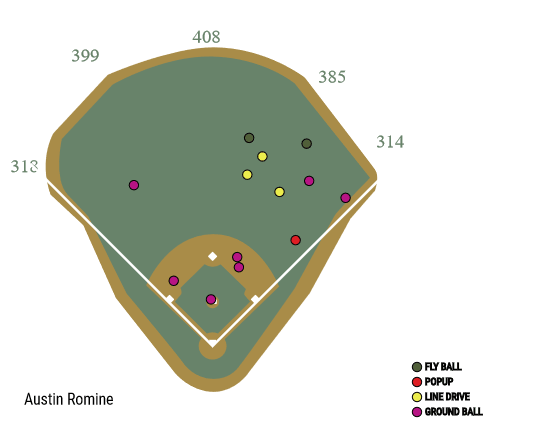 Pretty much everything Romine has put in play has gone to the opposite field so far this year, including all three hits Sunday. Does it mean anything? Will it last? Who knows. It's ten games and 16 plate appearances. I've been fooled by Romine going the other way before, so I want to see more before thinking … well … anything about this. If nothing else, Romine has made a tangible change to his batting stance, which could change the expected results going forward.
6. Over the weekend Greg Bird admitted he played through soreness in his ankle during Spring Training, a day or two after Brandon Drury said he's been battling migraines and blurry vision issues for years. Both said they didn't tell anyone and tried to play through it. I hate that. Hate it hate it hate it. Bird could've gotten his ankle taken care of weeks ago and been that much closer to returning to full health. Drury could have dealt with the migraines who knows how long ago. (Why wouldn't you get that addressed and instead try to gut it out? Good grief.) In pro sports — not just baseball, but all sports — there's this macho mentality that says you have to play hurt and be there for the guys and blah blah blah. I get it. I get it but I hate it. Playing injured, while admirable, often hurts the team more than it helps. Example: Bird trying to play through the ankle last April. Bumps and bruises are one thing. Playing through an achy ankle when you had surgery on it last year, or playing through blurry vision (!!!), is another. I understand these guys are competitors and they want to play and they don't want to feel like they're letting their teammates down. I really just wish they'd be more open about things when they aren't physically right. Bird, Drury, everyone.
7. A few quick small sample observations. One, Neil Walker looks better at first base than I would've guessed. He's made some great scoops and nice throws already. Walker hadn't played much first base prior to this season (86.1 innings) and I figured his inexperience would show at some point, and it still could, but so far so good. He's looked better than I expected. Two, I love how aggressive Boone has been with instant replay. The Yankees have played ten games and Boone has already challenged eight plays (with a 50% success rate). Last year Joe Girardi didn't use his eighth challenge until the team's 14th game. Two years ago Girardi didn't use his eighth challenge until the 51st (!) game. Love it. Use those challenges. No reason to save them. "I'm not gonna take the challenge to bed with me," said Boone the other day, after challenging the Brett Gardner non-hit-by-pitch even though the video appeared inconclusive at best. Three, Sanchez's defense has been really good in the early going. It was pretty good the last month or so last season — Billy Witz recently wrote Sanchez changed his pregame routine late last year, which could've contributed to the defensive improvement — and it has continued this year. Good to see. Four, Stanton's settled in nicely in left field. Figured that would happen. Only took what, ten starts out there total? Maybe less? And five, I feel Tyler Wade's at-bats have been much better than his .150/.261/.250 (50 wRC+) line would lead you to believe. His chase rate on pitches out of the zone (25.4%) is much better than the league average (32.0%), and he just seems more confident overall. Sitting the left-handed hitting Wade against the lefties Sale and David Price the next two nights is fine with me. Other than that, I want him in at second base on an everyday basis.
8. There are still 152 games plus an entire postseason to go, but I couldn't help myself, and I started to look ahead at the upcoming free agent class. We all know about Bryce Harper and Manny Machado. I'm talking about the other guys. Know who could be a real nice fit for the Yankees? Daniel Murphy. He's been ridiculous the last two years, hitting .334/.387/.569 (146 wRC+) with 90 doubles and 48 homers, and he did that while maintaining one of the lowest strikeout rates in baseball (11.4%). Murphy's always been a high contact guy. It wasn't until he hooked up with former Mets and current Nationals (and former Yankees) hitting coach Kevin Long that he started tapping into his power. A high contact lefty with power would be a welcome addition to a right-handed heavy lineup that strikes out more than anyone would like. Murphy would be first base protection for the injury prone Greg Bird, a second base alternative, and a DH option. Plus he can't be offered the qualifying offer because he already received it earlier in his career, which means he won't be attached to draft pick competition. We'll see how things shake out over the next few months. Murphy is rehabbing from microfracture surgery right now and he'll turn 34 right around Opening Day next year, which are two pretty big red flags. He just jumped out at me as an impending free agent no one has talked about who could be a fit for the Yanks.