If you've watched the Yankees or baseball in general long enough, you know trailing 5-1 going into the sixth inning at Fenway Park is hardly an insurmountable deficit. Fenway is a great place to hit overall, plus it has all those weird angles and walls that lead to crazy bounces and unexpected turns. As bleak as it felt, last night's game was not over when the Yankees were down 5-1 after five innings.
The game was over after Tommy Kahnle and Chasen Shreve conspired to allow nine runs (on three hits!) in the bottom of the sixth. Kahnle had already put the game out of reach by time Shreve entered. Shreve just let the Red Sox put an exclamation point on the blowout win. Kahnle faced seven batters and they went ground out, double, walk, walk, double, sacrifice fly, walk. His pitch locations: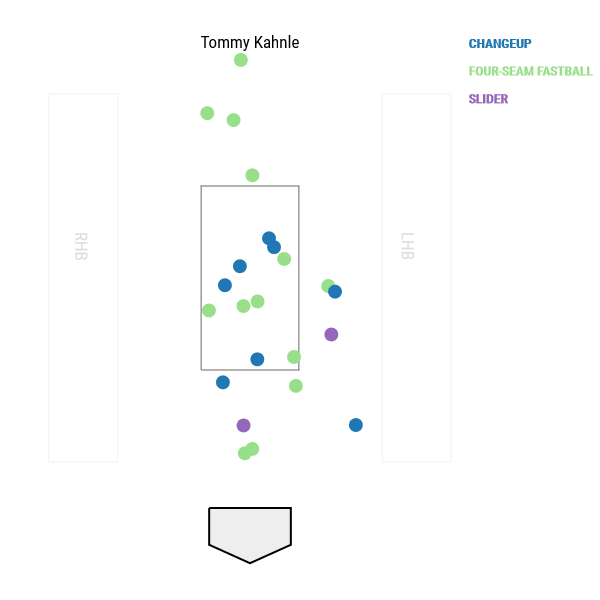 Not great. Kahnle was either so far out of the zone it was an easy take, or right dang over the middle of the plate. Yesterday's appearance was his first since his two-inning, 48-pitch outing in the 14-inning game against the Orioles last Friday. He had three days to rest between appearances, so it's not like Aaron Boone brought him back quickly. Kahnle didn't look right though. He didn't look right Friday night and he hasn't looked right at pretty much any point in the early going.
"Velocity (is) not quite there," said Boone to Brendan Kuty after yesterday's game. "Says he feels fine and everything. Hopefully he can continue to work through it and as time goes on, we see that velocity start to climb up again. I think it's just consistency, especially with strike one getting ahead of guys. (The velocity) just hasn't been there."
Boone is right. The velocity has not been there yet this season. Kahnle is a dude who averaged 98.1 mph with his heater last year and topped out at 101.1 mph. So far this year he's averaging 95.4 mph and has topped out at 98.1 mph. This year's top velocity is last year's average velocity. Hmmm. Furthermore, Kahnle has been losing a little velocity each time out. Look: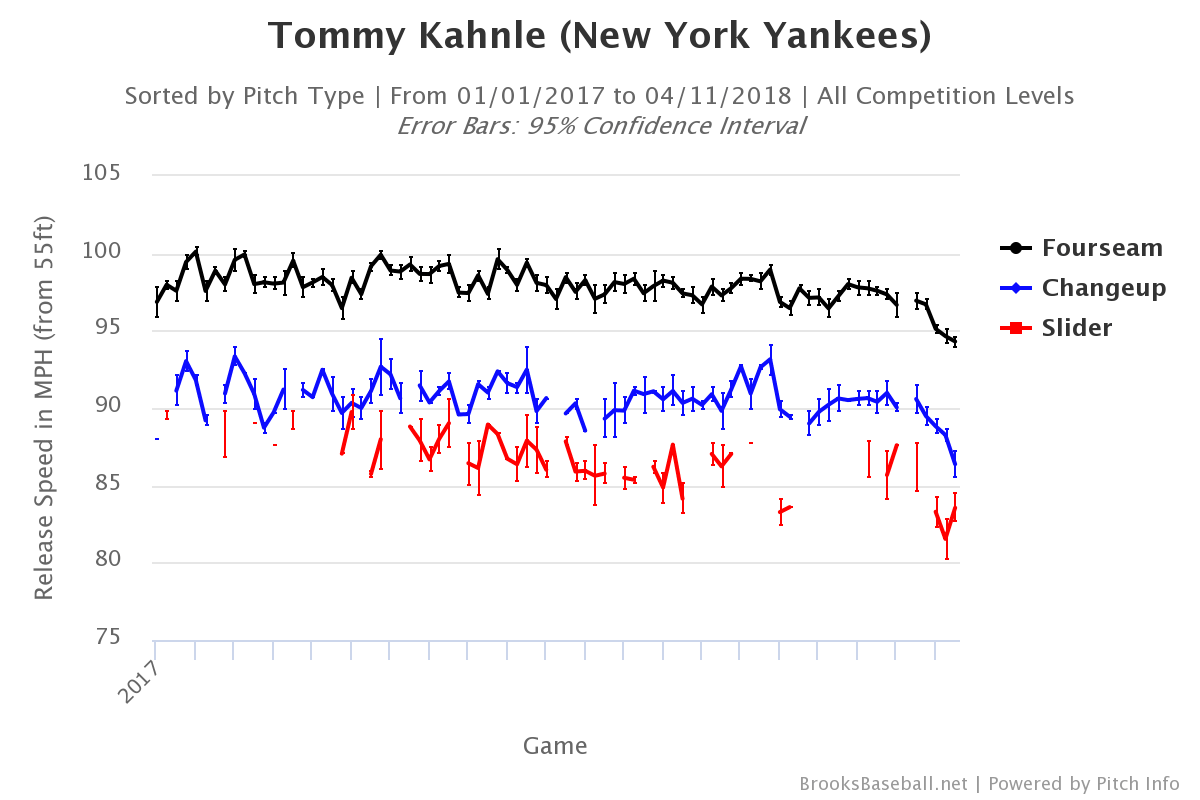 Egads. That's not good. Kahnle admitted he doesn't really know what's wrong, though he thinks it's mechanical. "I'm more trying to figure out what's wrong at this point. I think it's mechanical. I've been all over the place a little bit lately. Just trying to find it. It just doesn't feel right. I feel like I'm leaking. I just have to get back to that. Get back to feeling right," he said to Kuty.
Velocity isn't everything. We know that. And, truth be told, averaging 95.4 mph and topping out at 98.1 mph is plenty good enough to get outs. For Kahnle though, velocity is more important than it is to most. He's not blessed with great command and his best secondary pitch, that splitter-changeup hybrid thing, needs to be set up with a fastball. The missing velocity means less margin for error, plain and simple.
A few things about this. One, it's still early and it's cold. Most pitchers don't reach their peak velocity until the summer months. Kahnle could just be starting slow. Two, it's possible he's dealing with a postseason hangover. As bad as he's been so far, Kahnle was nails in the postseason last year, soaking up all the high-leverage innings that couldn't go to Dellin Betances. Lots of intense postseason innings and a shorter offseason to recover could explain things.
And three, what worries me most is Kahnle looked like he was overthrowing last night. I mean, he always looks like he's overthrowing, that's just his delivery. But last night it was really noticeable. His fastball averaged 94.3 mph last night and it looked like he was putting everything he had into each pitch. Look at the pitch location chart above. All those fastballs above the zone? Those were clearly overthrown. It looked like Kahnle was trying to generate velocity instead of just letting the ball go.
The fact Kahnle is still slinging mid-90s fastballs leads me to believe he's not hurt. At least not seriously, anyway. Maybe he's nursing something minor. It's hard to play through anything serious and still reach the mid-90s though. Kahnle's track record as an above-average reliever is short, it's just last year, and given the inherent volatility of relievers, maybe he just stinks now. He had his one good season Derrick Turnbow style and is done. Can't rule it out.
I don't think that's the case though. I think Kahnle's problems are a confluence of things. Last year's workload, the crappy conditions the Yankees have played in, mechanical issues, whatever. I don't think he's broken forever. The bullpen has not been good overall this year — it has been shockingly bad, really — for a variety of reasons, and Kahnle has been part of the problem. His declining velocity is unquestionably a red flag. There's something wrong here. Now it's up to the Yankees and Kahnle to find it and fix it.