Wouldn't you know it, the Yankees have now won three of their last four games. Four of their last six too. What's everyone so mad about? The Yankees opened this 18 games in 18 days stretch with a 4-3 win over the Blue Jays on Thursday night.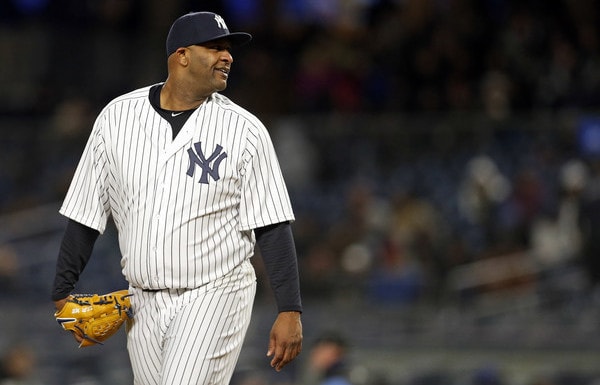 Sabotaged by the Defense
Every game, without fail, the defense costs the Yankees a run. One run if they're lucky. Lately it's been multiple runs. CC Sabathia returned from the disabled list Thursday night and looked like Old Man CC, slinging 88-89 mph cutters and backdoor sliders to righties. Twice his defense betrayed him, contributing to the two runs he allowed. Such is life for a Yankees pitcher these days.
Two singles and a grounder put runners at second and third with one out in the third. Ronald Torreyes made a nice play to corral Teoscar Hernandez's grounder, held the runner at third, and threw to first for the second out. Sabathia was on the verge of escaping the jam! Then Gary Sanchez had a pitch clank off his glove for a run-scoring passed ball. It was a cross up, Sabathia said so after the game, but still. Another example of shoddy defense resulting in a run.
In the next inning, Torreyes made a lazy throw to first base that resulted on a leadoff error. Yangervis Solarte hit the ball hard and Torreyes did a nice job to knock it down and keep it in front of him. The throw to first was too nonchalant and Neil Walker was unable to make the scoop on the short hop. A hit-by-pitch and a well-placed Luke Maile single …
… later, the tying run crossed the plate. How very annoying. Before the game Aaron Boone said Sabathia was on a somewhat limited pitch count in his first start back, so with his pitch count at 71 and Justin Smoak coming up for the third time, Sabathia was yanked. I had no problem with it. The go-ahead run was at second base and, at this point of his career, letting Sabathia face the middle of the lineup a third time is ill-advised.
Sabathia's final line: 4.1 IP, 4 H, 2 R, 1 ER, 1 BB, 1 K. Lots of weak contact too. His average exit velocity allowed Thursday night was 83.7 mph. In a non-close game I imagine Boone would've stuck with Sabathia a bit longer in the fifth inning. In the first start back from the disabled list, Sabathia looked pretty good. He looked like the effective late career CC Sabathia. Hopefully his defense helps him (and the rest of the staff) out a bit more going forward.
Manufactured Runs
Certainly not the most awe-inspiring game from the offense, but hey, sometimes you need to scratch out runs and win a close game. The Yankees took a 2-0 second inning lead on a Tyler Wade run-scoring ground out and a Torreyes two-out single juuust over shortstop Aledmys Diaz. Sanchez singled and Walker doubled off the right field wall to set that rally up. Wade put the ball in play and got the run home. Torreyes got the two-out knock.
After the Blue Jays tied the game in the fourth, the Yankees retook the lead in the fifth courtesy of another two-out hit, this time by Didi Gregorius. Torreyes drew a one-out walk — when Torreyes draws a walk, you have to take advantage — and Brett Gardner pulled a single earlier in the inning. Gregorius found a hole with a ground ball pulled to right for the go-ahead base hit. The Yankees went 3-for-6 with runners in scoring position. Timely!
Thankfully, Aaron Judge restored order in the eighth inning with a towering solo home run to left field. It was a sky high drive that I thought was going to land in the second deck, but alas, it fell a few rows short and settled into the field level seats. Confirmed: Life is better when their Tyler Clippard is facing your middle of the lineup than vice versa. The Judge homer gave the Yankees a 4-2 lead.
The Bullpen was … Good?
Kinda weird that the bullpen having a strong game qualifies as noteworthy right now, but that's baseball (and bullpens). Sabathia got the early hook in the fifth inning and, with the go-ahead run on second base and the 3-4 hitters due up, Boone went right to Chad Green, who made quick work of Smoak and Solarte. Green tossed a 1-2-3 sixth and Dellin Betances tossed a 1-2-3 seventh. Go Dellin.
Things got dicey in the eighth inning. I guess we should be happy three of the four relievers were sharp rather than only one or two of the four. David Robertson got the ball in the eighth because that's who should get the ball in the eighth. A single and two walks later, the bases were loaded with no outs. Yikes! Good thing Judge hit the homer to stretch the lead to 4-2, huh?
Robertson kicked it into Houdini mode after that. He struck out Kevin Pillar, then gave up a single to center to pinch-hitter Curtis Granderson that scored a run and cut the lead to 4-3. After that, Robertson fanned Randall Grichuk and coaxed an inning-ending fly ball from Maile to limit the damage. Bases loaded with no outs and a two-run lead? Escaping with a one-run lead is a good outcome in my book.
Aroldis Chapman of course got the ball in the ninth and he hadn't pitched since last Friday in Detroit, and when Chapman has a long layoff, he can be a little wild. He was not wild. He was dominant. Chapman struck out the side in the ninth on 12 pitches. His fastballs averaged 98.6 mph and topped out at 100.9 mph. Four misses out of seven swings too. It was the best Aroldis has looked in the early going. The bullpen: 4.2 IP, 2 H, 1 R, 2 BB, 8 K. That'll do.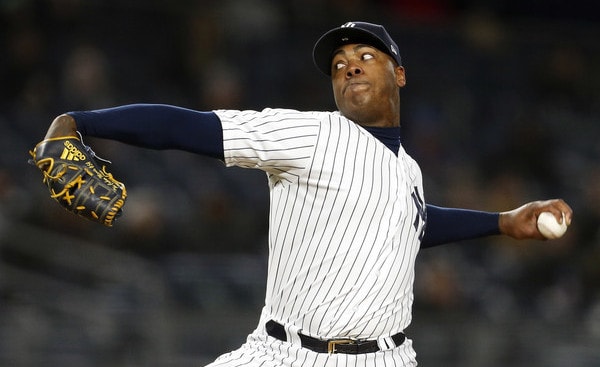 Leftovers
Good game for Giancarlo Stanton. For real. He went 1-for-3 with an infield single and a walk, and saw three full counts. Stanton did get thrown out at second to end the seventh inning trying to advance on a passed ball, which seemed like classic case of trying to do too much. Next time let Gary Sanchez hit with a man on base, Giancarlo. Good things tend to happen.
The Yankees had eight hits as a team and no individual hitter had more than one. Wade was the only starter without a hit and he got a run in with a ground ball, so he contributed. The Yankees drew four walks (Judge, Stanton, Torreyes, Aaron Hicks) and struck out only three times (Gardner, Judge, Walker). It's easy to forget about him because he missed all that time, but Hicksie is hitting .286/.423/.619 (189 wRC+) in the early going. He's pretty rad.
Box Score, WPA Graph & Standings
MLB.com has the video highlights while ESPN has the box score and updated standings. Here's our Bullpen Workload page and here's the win probability graph:

Source: FanGraphs
Up Next
This four-game series is just getting started. The Yankees and Blue Jays will be back at it Friday night with a normal 7pm ET start. Sonny Gray and Marco Estrada are the scheduled starters.