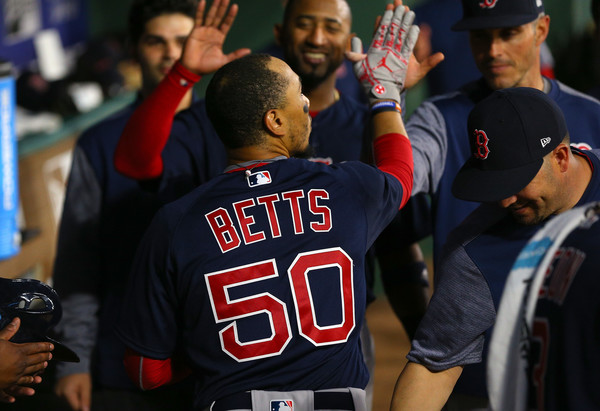 It's May 8, and the Red Sox and Yankees are facing off for first place in the AL East, as well as (arguably) the title of best team in baseball right now. The Red Sox have a one-game edge in the standings, but the Yankees are white hot right now and this is baseball, so anything is possible.
The Last Time They Met
The Red Sox took two of three in Boston back in the second week of April, dropping the Yankees to a sub-.500 record in the process. At the end of the series the Red Sox were 10-2, and the Yankees were 6-7. Some notes from the series:
Aaron Judge hit a monstrous home run off of Chris Sale in the first game of the series. Nothing else of note happened. Trust me – the less said, the better.
Gary Sanchez went deep twice in the second game, and the first five of the Yankees order put in work, going 10-for-20 with 10 runs scored and 9 RBI. There was also the matter of a bench-clearing brawl that you might remember.
Giancarlo Stanton went 7-for-12 with a double and a triple in the series, raising his slash line to a respectable .259/.344/.519. He has hit .205/.292/.410 since then. Maybe the Red Sox pitching staff can cure what ails him.
As always, check out Katie's Yankeemetrics post for more interesting facts about the series.
Injury Report
Dustin Pedroia and Tyler Thornburg are still on the disabled list, and neither is expected to return for this series. Brock Holt is also on the DL, but he started a rehab assignment, and might be back on Wednesday. And, finally, Mookie Betts left Sunday's game with a shoulder contusion, and he's questionable for today's game; though, he's not expected to miss an extended period of time.
Their Story So Far
The Red Sox are an MLB-best 25-9 with an MLB-best +67 run differential. They have proven to be mortal as of late, though, posting an 8-7 record in their last fifteen games, with a -3 run differential in that stretch. That's selective, of course, as that followed-up an eight game winning streak, and they just won three in a row (albeit against the struggling Rangers). This is a well-rounded team with a potent offense, a strong pitching staff, and good defense, and it isn't a stretch to say that their start to the season is a testament to that.
Mookie Betts has been their main attraction through 34 games, slashing .355/.434/.818 (225 wRC+) with 13 home runs in 129 PA. He already has three multi-homer games, including three-homer efforts on April 17 and May 2. And then there's Chris Sale and his 224 ERA+ – but the Yankees aren't seeing him this week, so we don't need to worry about him at this point in time.
The Lineup We Might See
Manager Alex Cora has continued to show a willingness to shake the lineup up a bit as the occasion calls for it, but he has generally stuck with the same formula from game-to-game. He does utilize a platoon around 1B/LF/DH, with Mitch Moreland finding his way into the lineup against righties, but generally sitting against southpaws. With righties on the mound today and tomorrow, though, we'll probably see something like this:
Mookie Betts, RF – .355/.434/.818, 13 HR, 3 SB
Andrew Benintendi, LF – .244/.333/.395, 1 HR, 5 SB
J.D. Martinez, DH – .349/.396/.619, 8 HR, 0 SB
Mitch Moreland, 1B – .347/.407/.653, 5 HR, 1 SB
Xander Bogaerts, SS – .333/.363/.587, 3 HR, 0 SB
Rafael Devers, 3B – .260/.308/.458, 6 HR, 1 SB
Eduardo Nunez, 2B – .229/.260/.364, 3 HR, 1 SB
Jackie Bradley, CF – .178/.264/.271, 2 HR, 2 SB
Christian Vazquez, C – .193/.253/.239, 0 HR, 0 SB
Hanley Ramirez will almost certainly start against CC Sabathia on Thursday, and it wouldn't be shocking to see him start another game at DH, with Martinez shifting to LF, Benintendi to CF, and Bradley to the pine.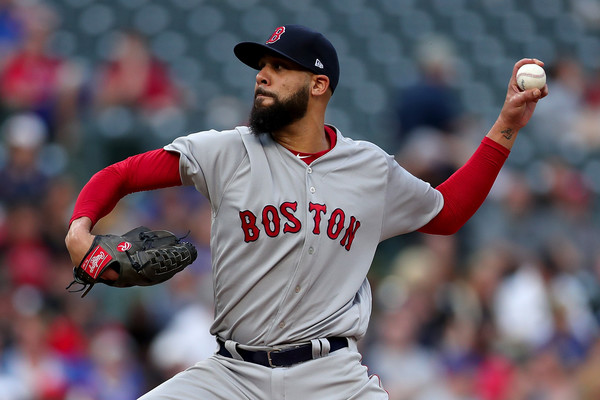 The Starting Pitchers We Will See
Tuesday (7:05 PM EST) – RHP Luis Severino vs. LHP Drew Pomeranz
Pomeranz returned from the disabled list just over two weeks ago, and has struggled through three starts. He has a 6.14 ERA (5.13 FIP) in 14.2 IP, and has already allowed 3 home runs. It's also worth noting that his velocity is down roughly 2 MPH across the board right now, so it's possible that it's a matter of rust and/or that he's not yet one-hundred percent. He was excellent last season, and has been quite good against the Yankees in his career (3.33 ERA in 51.1 IP), and that's the pitcher the Red Sox are waiting on.
Pomeranz is a four-pitch guy, with a (usually) low-90s four-seam fastball, low-90s sinker, mid-80s cutter, and upper-70s curve. He racks up whiffs on both his fastball and curve.
Last outing (vs. KCR on 5/2) – 6.0 IP, 8 H, 3 R, 2 BB, 3 K
Wednesday (7:05 PM EST) – RHP Masahiro Tanaka vs. LHP David Price
Price was stellar in his first two starts, tossing 7 shutout innings both times out. And then the Yankees tuned him up for 4 runs in the first inning of his third start, and he was pulled rather quickly. He has amassed a 6.95 ERA in his four post-Yankees starts, with opposing hitters batting .295/.376/.489.
Last outing (vs. TEX on 5/3) – 3.2 IP, 6 H, 9 R, 2 BB, 4 K
Thursday (7:05 PM EST) – LHP CC Sabathia vs. RHP Rick Porcello
Porcello has been excellent through 7 starts, pitching to a 2.14 ERA (2.18 FIP) with a staggering 9.2 K/BB in 46.1 IP. He shut the Yankees down back on April 12, holding them scoreless and allowing just three baserunners in 7 IP, and he has yet to allow more than three runs in a start.
Last outing (vs. TEX on 5/4) – 6.0 IP, 3 H, 1 R, 1 BB, 8 K
The Bullpen
The Red Sox bullpen ranks in the top-five in baseball in ERA+, K%, BB%, and WPA, and stands to improve when Thornburg returns. Their big three of closer Craig Kimbrel (1.23 ERA), Joe Kelly (2.51 ERA), and Matt Barnes (2.51 ERA) have all been great, and their middle relief duo of Heath Hembree (3.78 ERA) and Carson Smith (4.22 ERA) is more than serviceable.
Who (Or What) To Watch
Betts is doing his best Aaron Judge impression right now, and 'the Battle of the Right Fielders' is certainly a storyline that I can get behind; though, it'd be much better to see the Yankees pitchers shut down Betts. It'll also be interesting to see how Red Sox pitchers attack Tyler Austin (perhaps literally). And, again, this is a simple matter of two great teams facing off.