None of that would've happened if the Yankees hadn't sent Ronald Torreyes down! In all seriousness, woof, what a miserable game that was. The first two innings were great! Everything fell apart after that. The Yankees dropped Saturday night's game 11-4 to the Angels. They've now allowed 35 runs (and 30 walks) in their last five games, which is entirely too many.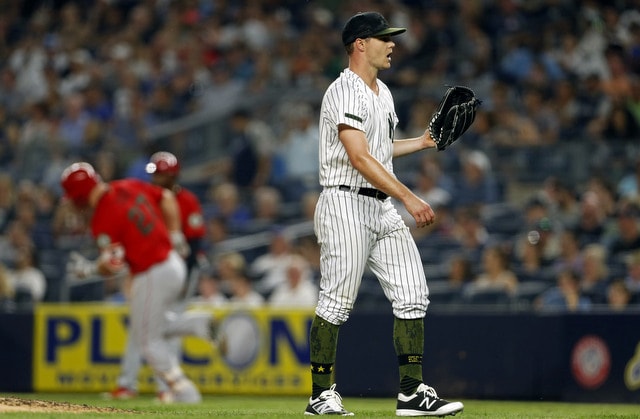 One Step Forward, Two Steps Back
So much for building on that great start last time out. Sonny Gray again struggled Saturday night. Struggled to get ahead in the count, struggled to put guys away, struggled with basically everything. The Angels had a 1-0 lead ten pitches into the game after a Zack Cozart single and a Mike Trout double. They scored two more runs in the third inning, when Gray walked Shohei Ohtani with the bases loaded and gave up a sacrifice fly to Andrelton Simmons.
The Yankees staked Gray to an early 4-1 lead that lead disappeared by the fourth inning, when Trout walloped a two-run home run. Gray walked the perpetually struggling Kole Calhoun to start the inning, which was pretty bad. Rookie Jose Briceno followed with his first big league hit, a single to left, but he got a little overzealous and was thrown out trying to stretch it to a double. A gift out.
At this point the Halos had a runner on third with one out. Gray did well to strike out Cozart on three pitches. He was one out away from escaping the inning, but, for whatever reason, he was allowed to pitch to Trout with two outs and two bases open. Gray grooved a slider in a 2-1 count and poof, lead gone. I don't understand. He's the best player in baseball and he's been crushing the ball all series. Trout was 2-for-2 with two doubles already in the game. Even if he was 0-for-2 with two strikeouts up to that point, just walk him. Way to let the guy you're not supposed to let beat you beat you, guys.
Gray's final line: 3.2 IP, 7 H, 5 R, 5 ER, 3 BB, 7 K, 1 HR on 86 pitches. Just brutal. He faced 21 batters, threw 12 first pitch strikes, and nine of the ten balls he allowed to be put in play were at 92+ mph. Six of them were at 97+ mph. Gray had his personal catcher and the offense gave him an early lead, and he still doesn't make it out of the fourth inning. A garbage performance. This was his tenth start of the season and the fifth time he didn't complete five innings.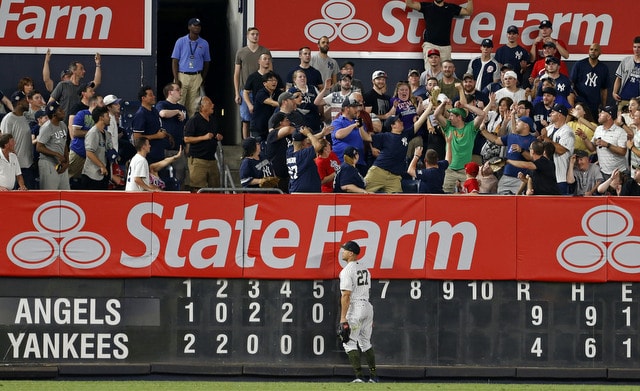 Blown Open Late
As poorly as Gray pitched, the Yankees were still down only one run through five innings. Not a big deal. The wheels came off in the sixth though. Tommy Kahnle, in his first appearance since coming off the disabled list, looked a lot like the pre-disabled list version of Tommy Kahnle. His fastball averaged 95.3 mph and topped out at 96.7 mph, and more than a few changeups were left up in the zone. He was not good.
To be fair, the defense did Kahnle no favors. Cozart hit what should've been at least a force out at second, if not a 5-4-3 double play ball, but Gleyber Torres dropped the throw from Miguel Andujar. Didn't bobble it on the transfer. Just dropped it. Looked like he was starting to make the pivot before actually having the ball. Kahnle then left changeups up to Trout (double) and Albert Pujols (single), and the Angels were off. He was charged with four runs (two earned) in two-thirds of an inning.
The Yankees were down 9-4 after Kahnle did his thing in the sixth and 11-4 after Chasen Shreve gave up a two-run homer to Briceno in the seventh. The offense made an attempt to get back into the game in the seventh inning … kinda. They loaded the bases on a single (Andujar) and two walks (Torres and Aaron Judge), but Didi Gregorius flew out to end the inning. After Austin Romine's second inning dinger, only six of the 28 men the Yankees sent to the plate reached base. Blah.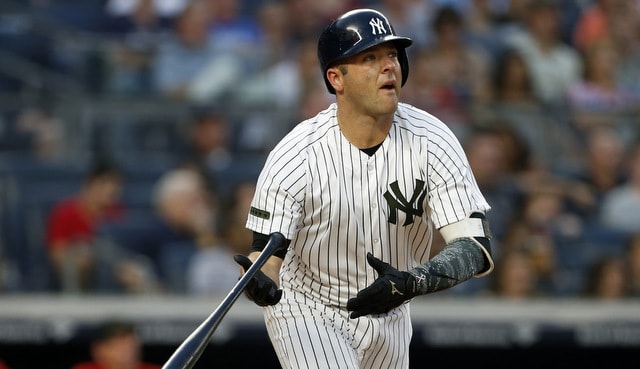 Leftovers
Saturday's game started pretty well. Brett Gardner and Judge hit back-to-back homers to start the first inning and Romine clanked a two-run shot off the right field foul pole in the second. At that point Romine had three homers in his last seven plate appearances. That goes back a ways because he's a backup catcher who doesn't play a ton, but still. Romine hit two homers all of last season. He's been so good this year. Major props to Romine.
Welcome back, Greg Bird. He went 0-for-4 with two strikeouts and ground outs to first and second. Judge reached base four times (single, homer, two walks), Andujar had two hits (both singles), Romine had two hits (single, homer), and Gardner had one hit (homer). The other five Yankees went 0-for-19 with one walk and five strikeouts. Not a great night for the bats, though they were hardly the team's biggest problem on the night.
Kahnle and Shreve stunk. Jonathan Holder and A.J. Cole were pretty good. Holder retired four of the five batters he faced and Cole went six up, six down in garbage time. Cole has thrown 7.2 scoreless innings for the Yankees now. Not bad for a cash trade mop-up dude. (He still has a 7.11 ERA for the season, so yeah.)
And finally, this was probably the best game of Trout's career. He went 5-for-5 with three doubles and a homer, setting new career highs in hits, extra-base hits, and total bases. It was his fourth best game by win probability added. He's amazing.
Box Score, WPA Graph & Standings
For the box score and updated standings, go to ESPN. MLB has the video highlights. Here's the Bullpen Workload page and here's the loss probability graph:

Source: FanGraphs
Up Next
The Yankees and Angels will wrap up this three-game series Sunday afternoon, weather permitting. That's supposed to be a 1pm ET start, though there's a bunch of rain in the forecast around that time. We might be in for a delay. Sucks. Garrett Richards and Masahiro Tanaka are the scheduled starters.