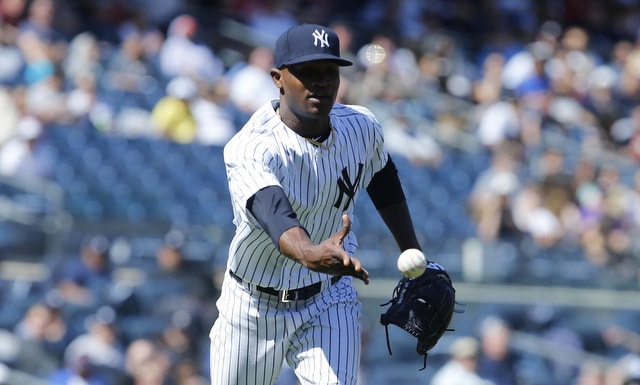 The Yankees are now 12 days into this 18 games in 18 days stretch, their longest stretch of games without an off-day this season, and so far things have gone really well. Yeah, they lost last night, but it was a close game and they're still 10-2 in their last 12 games. Hard to complain about the way things have been going lately.
Not surprisingly, the Yankees have carried an eight-man bullpen during this 18 games in 18 days stretch, mostly because the starters weren't throwing a ton of innings a few weeks ago and the Yankees didn't want to overwork their bullpen. They've cycled through guys like Luis Cessa, Jonathan Holder, David Hale, and A.J. Cole to reinforce the bullpen the last two weeks.
Fortunately, the pitching staff has settled down, and right now the Yankees are preventing runs better than they had at any other point this year. During these last 12 games the starters are averaging 5.75 innings per start, and they've completed six innings eight times. During the first 16 games of the season, the starters averaged 5.23 innings per start and completed six innings only six times.
Because the Yankees have been getting more length from their starters, they haven't had to dip deep into their bullpen these last two weeks, which is a wonderful thing. It also means the eighth reliever is going mostly unused, and in this case, righty Domingo German has been getting the short end of the playing time stick. He's appeared in four games this season:
April 8th: 2.2 innings and 53 pitches.
April 12th: Three innings and 39 pitches.
April 20th: 1.2 innings and 47 pitches.
April 26th: Three innings and 55 pitches.
German was called up on April 7th, so he's been on the roster 24 days (not including today), and has only pitched four times. It's a light workload for sure, especially for a talented 25-year-old who is presumably at the front of the sixth starter line. If necessary, could German go out there and throw five innings and 90 pitches? Is he stretched out for that? Maybe. Seems unlikely given his recent workload.
This is the problem with the eighth reliever's spot. Teams want that eighth reliever because they're terrified of running out of arms and having to use their best relievers in low leverage spots. I get it. I totally do. But the eighth reliever typically doesn't pitch a whole lot. German filled the role for much of the summer last year. He spent 71 days on the active roster and pitched seven times. Seven times!
We saw how valuable German can be in last Thursday's win over the Twins. He threw three innings in relief, didn't allow Minnesota to keep tacking on, and gave the offense a chance to get back in the game. That set up Gary Sanchez for the walk-off dinger. I have zero faith in Cole, a guy with a 5.22 ERA (5.32 FIP) in 112 big league innings, doing that. Holder can't give you extended outings like German.
So the question becomes is this the best arrangement for the Yankees and for German? Would they be better off stashing him in Triple-A as the sixth starter? Would it be better for him long-term? I think that is the case for sure. This isn't a good spot for German developmentally. At the same time, there's something to be said for a team carrying it's best and most talented players, and German is one of their top eight relief arms the moment.
There are two alternatives to German being the sparingly used eighth reliever. One, send him down to Triple-A and let him start. Call up someone like Brady Lail and let him jump on the grenade as the seldom used eighth reliever. Or two, use German more. That would presumably require Aaron Boone stepping out of the comfort zone and using German in a one or two-run game. I mean, he uses Holder in those spots. Why not German as well?
Eight-man bullpens are not going away. They're becoming the new normal. The Yankees have shown they prefer an eighth reliever over a fourth bench player — this goes back years too, it's not a Boone thing — which is fine. It's not like the 25th man on the roster sees much action anyway. But when that eighth reliever is someone like German, and he's losing development time because he's not pitching, it can be a problem. Eighth relievers, man. Teams want one on the roster but never want to use him.