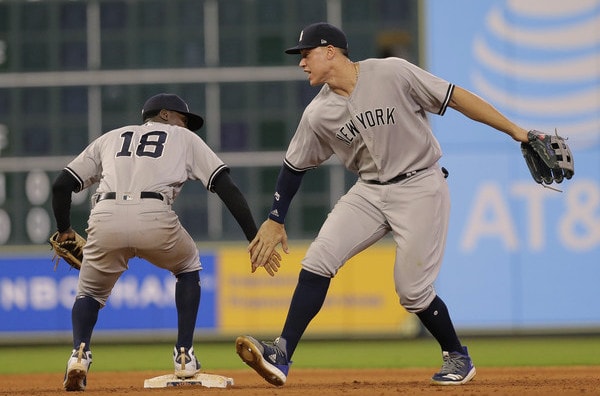 The news regarding Jordan Montgomery and his elbow is bad. Could've been worse, but it's bad. He'll be out 6-8 weeks with a left flexor strain after exiting last night's game with elbow tightness. Domingo German will step into the rotation and the Yankees will be without Montgomery, their young southpaw, until the All-Star break, give or take. Sucks. It really does.
But, baseball goes on. Every team deals with injuries and the Yankees are no different. They'll have to weather the storm without Montgomery these next few weeks. Fortunately, staff ace Luis Severino is on the mound tonight, and he can make us all feel better about things quickly. For all the bitching and moaning around the internet the last two nights, the Yankees' fourth and fifth starters (and a bunch of relievers) have held the Astros to two runs the last two nights. That'll work. Here are the lineups:
New York Yankees
1. CF Aaron Hicks
2. RF Aaron Judge
3. SS Didi Gregorius
4. LF Giancarlo Stanton
5. DH Gary Sanchez
6. 1B Tyler Austin
7. 3B Miguel Andujar
8. C Austin Romine
9. 2B Gleyber Torres
RHP Luis Severino
Houston Astros
1. DH George Springer
2. 2B Jose Altuve
3. SS Carlos Correa
4. 1B Yuli Gurriel
5. RF Josh Reddick
6. 3B Alex Bregman
7. LF Marwin Gonzalez
8. C Max Stassi
9. CF Derek Fisher
LHP Dallas Keuchel
It is warm and humid in Houston at the moment, so I'm guessing the Minute Maid Park roof will be closed tonight. Tonight's game will begin at 8:10pm ET and you can watch on YES locally and ESPN nationally. Enjoy the game.
Injury Update: Greg Bird (ankle) is progressing well and he could begin playing in minor league rehab games within a week, according to Aaron Boone. I imagine Bird will start in Extended Spring Training rather than jump right into an official rehab assignment with an affiliate.
Roster Moves: In case you missed it earlier, David Hale was called up to take Montgomery's roster spot. Jacoby Ellsbury (oblique, hip, foot) was transferred to the 60-day DL to clear a 40-man roster spot for Hale … Also, the Yankees activated Clint Frazier off the concussion 7-day DL and optioned him to Triple-A Scranton, the team announced. His rehab is complete and now he's a full-time RailRider.
Awards!: Congrats to Sir Didi Gregorius. He was named April's AL Player of the Month earlier today. Here's the press release. Gregorius hit .327/.421/.735 (198 wRC+) with ten homers and more walks (18) than strikeouts (16) last month. He's the first Yankee to win AL Player of the Month since … Aaron Judge last September. So back-to-back AL Player of the Month awards for the Yankees, technically.