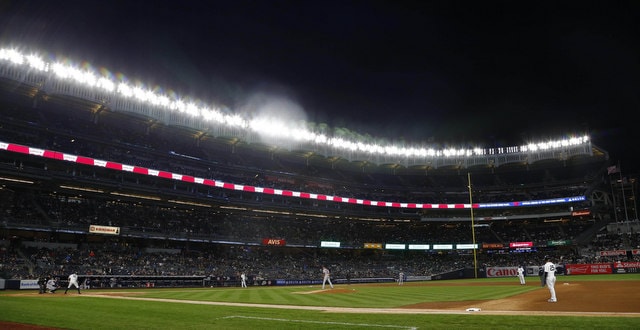 A well-earned off-day is in the books and the Yankees are back at it tonight with the first of three against the Red Sox. First place is on the line with week, though it is only May 8th, and there are 120-something games to play after this series, so let's not go overboard with the importance of this three-game set. Still, every head-to-head win the Yankees can bank now is a win they don't need later.
Coming into tonight the Red Sox (25-9) and Yankees (24-10) have the two best records in baseball, and this is the first time these two teams are meeting with the two best records in baseball since June 2002. Been a while, eh? Pretty cool. It's good for baseball when the Yankees and Red Sox are both good at the same time. The rivalry had gone stale in recent years. How about a move into first place tonight? Sounds good. Here are the lineups:
New York Yankees
1. LF Brett Gardner
2. RF Aaron Judge
3. SS Didi Gregorius
4. DH Giancarlo Stanton
5. C Gary Sanchez
6. CF Aaron Hicks
7. 3B Miguel Andujar
8. 1B Tyler Austin
9. 2B Gleyber Torres
RHP Luis Severino
Boston Red Sox
1. RF Mookie Betts
2. LF Andrew Benintendi
3. 1B Hanley Ramirez
4. DH J.D. Martinez
5. SS Xander Bogaerts
6. 3B Rafael Devers
7. 2B Eduardo Nunez
8. CF Jackie Bradley Jr.
9. C Christian Vazquez
LHP Drew Pomeranz
It is a wonderful May night for baseball. A little chilly but the sky is clear. Tonight's series opener will begin at 7:05pm ET and you can watch on YES locally and MLB Network nationally. Enjoy the game.
Injury Updates: Greg Bird (ankle) played in an Extended Spring Training game yesterday and everything is going well. Aaron Boone said the Yankees expect to assign Bird to an affiliate for an official minor league rehab assignment "any day now" … Jacoby Ellsbury (oblique, hip, foot) has been sick the last few days and is doing light baseball activities. Playing in rehab games is still "a little ways off," according to Boone.
Red Sox Rotation Update: David Price (scared of the Yankees) will not make his scheduled start tomorrow, the Red Sox announced. In all seriousness, Price is experiencing numbness in his fingers and is going back to Boston for tests. He exited his start against the Yankees last month with the same issue. Rick Porcello will start tomorrow and Eduardo Rodriguez will start Thursday.