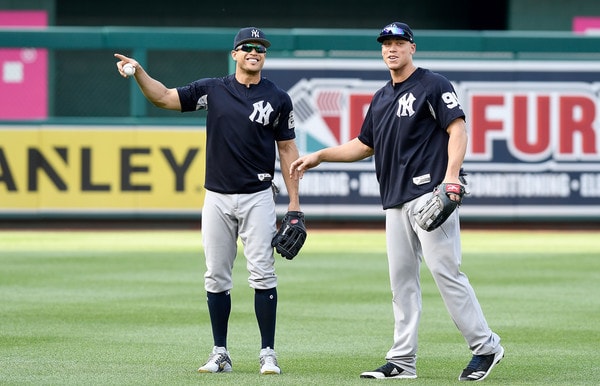 Oh, hey, the Yankees are actually playing a baseball game tonight. It's been a while. Thanks to rainouts and off-days, the Yankees have played five and a half innings since Sunday. At least they'll be well-rested tonight. Well, maybe not. They had to sleep at the airport Wednesday night. That sucks. Sleeping at the gate is no fun. At least everyone could rest up during the off-day yesterday.
Anyway, CC Sabathia is on the mound tonight, and I have no doubt he is bummed he didn't get to hit in Washington earlier this week. Me? I'm glad he didn't have to put any unnecessary stress on his knee. With Sonny Gray lost in the woods and Domingo German a relative unknown, the Yankees need Sabathia healthy and productive. Six games against the oh so terrible Royals and Rangers are on tap. Go run the table. Here are the lineups:
New York Yankees
1. LF Brett Gardner
2. RF Aaron Judge
3. SS Didi Gregorius
4. DH Giancarlo Stanton
5. C Gary Sanchez
6. CF Aaron Hicks
7. 1B Neil Walker
8. 3B Miguel Andujar
9. 2B Gleyber Torres
LHP CC Sabathia
Kansas City Royals
1. 2B Whit Merrifield
2. RF Jorge Soler
3. 3B Mike Moustakas
4. C Salvador Perez
5. LF Jon Jay
6. 1B Hunter Dozier
7. DH Alex Gordon
8. SS Alcides Escobar
9. CF Abe Almonte
RHP Jakob Junis
Thankfully, the weather in Kansas City looks good for tonight. No chance at another rainout. Tomorrow night is another matter. Anyway, tonight's game will begin at 8:15pm ET and you can watch on WPIX. Enjoy the game.
Injury Update: Brandon Drury reported to Triple-A Scranton today — like every player, he had 72 hours to report after being optioned, even though he was playing rehab games with the RailRiders — and Ken Rosenthal says Drury took all 72 hours "not because he is upset with the club, but because he wants to squeeze in two extra visits with a specialist in Greenwich, Ct., who is treating him for an irritated tendon in his neck, sources said." So there you go.