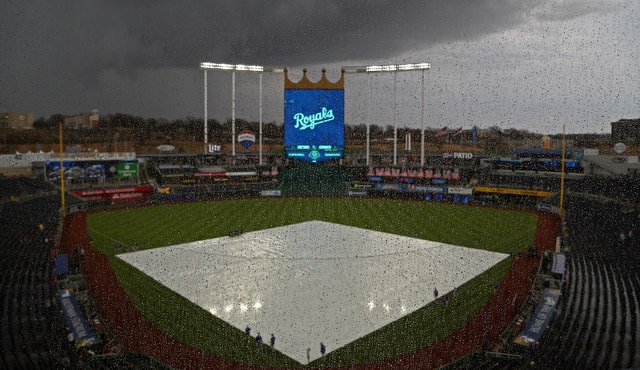 After four days of off-days and rainouts, the Yankees returned to action last night, and promptly lost the series opener to the Royals. Sucks. And because those four days off earlier this week weren't enough, there is more rain in the forecast tonight, and it's possible this game will be delayed or even postponed. Getting real sick of the rain, you guys.
If the Yankees do play tonight, it sure would be nice to see them beat up on a bad Royals team after last night's loss. Danny Duffy has been a good pitcher throughout his career, but he currently owns a 6.51 ERA (6.19 FIP) with ugly peripherals (18.7 K%, 10.1 BB%, 2.30 HR/9), and righties are hitting .306/.385/.597 (.417 wOBA) against him. The number of righties in Aaron Boone's lineup: Nine. Well, eight plus one switch-hitter. Here are the lineups:
New York Yankees
1. CF Aaron Hicks
2. RF Aaron Judge
3. LF Giancarlo Stanton
4. C Gary Sanchez
5. 1B Tyler Austin
6. 3B Miguel Andujar
7. DH Clint Frazier
8. SS Ronald Torreyes
9. 2B Gleyber Torres
RHP Luis Severino
Kansas City Royals
1. CF Jon Jay
2. RF Jorge Soler
3. DH Mike Moustakas
4. C Salvador Perez
5. 2B Whit Merrifield
6. LF Alex Gordon
7. 1B Hunter Dozier
8. SS Alcides Escobar
9. 3B Ryan Goins
LHP Danny Duffy
Like I said, there is rain the forecast tonight, enough to put the game in jeopardy. Tomorrow's forecast isn't looking so hot either, but one day at a time. Tonight's game is scheduled to begin at 7:15pm ET and you can watch on YES locally and MLB Network out of market. Enjoy the game.
Injury Updates: Greg Bird's return from ankle surgery is "around the corner," according to Boone. What does that mean, exactly? I'm not sure. Bird has played seven rehab games so far. Maybe he rejoins the Yankees for the start of the homestand Friday? We'll see … Jacoby Ellsbury is dealing with a back issue now. So he's gone from an oblique injury to a hip injury to plantar fasciitis to an illness to a back injury since Spring Training.
Roster Update: So long, David Hale. Again. He cleared waivers and elected free agency yesterday, the Yankees announced. He was designated for assignment a few days ago, when the Yankees called up Frazier. Maybe Hale will come back on another minor league deal if he can't find a team willing to put him on their MLB roster.