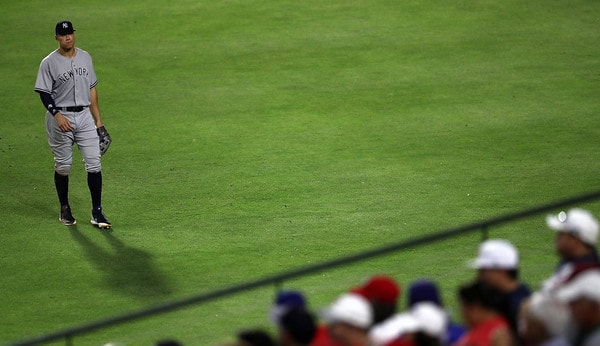 The eight-game turned six-and-a-half game road trip ends tonight with the series finale against the Rangers. A win tonight clinches a ninth straight series victory for the Yankees. They haven't done that since 1998. A loss clinches their first series loss since dropping two of three at Fenway Park in early April. Been a while!
CC Sabathia is on the mound tonight and his last two starts haven't gone well, though, to be fair, a brutal Gleyber Torres error really hurt Sabathia's pitching line last time out. Would be nice to see the big man rebound and put together a strong start to close out the road trip. The pitching hasn't been so hot the last few days. Here are the lineups:
New York Yankees
1. LF Brett Gardner
2. RF Aaron Judge
3. SS Didi Gregorius
4. DH Giancarlo Stanton
5. CF Aaron Hicks
6. 1B Neil Walker
7. 3B Miguel Andujar
8. C Austin Romine
9. 2B Gleyber Torres
LHP CC Sabathia
Texas Rangers
1. CF Delino DeShields Jr.
2. RF Shin-Soo Choo
3. 3B Isiah Kiner-Falefa
4. DH Nomar Mazara
5. SS Jurickson Profar
6. 2B Rougned Odor
7. LF Ryan Rua
8. 1B Ronald Guzman
9. C Carlos Perez
RHP Doug Fister
Sunny and hot in Arlington today. Good night for a ballgame. Tonight's series finale will begin at 7:05pm ET, and you can watch on YES locally and MLB Network out of market. Enjoy the game.
Injury Update: Gary Sanchez (calf) is being held out of the lineup as a precaution more than anything. He left last night's game with a cramp and is available today. I figured they'd sit him today with the off-day tomorrow. Gives him back-to-backs away from catching to knock this thing out.
Roster Move: Gio Gallegos has been sent to Triple-A Scranton and lefty Ryan Bollinger was called up from Double-A Trenton to be the long man, the Yankees announced. They signed Bollinger as a free agent over the winter. He'll be making his MLB debut. Bollinger has been bouncing around independent leagues the last few years and most recently pitched in Germany. Pretty cool that he reached the show, even as an emergency arm. (The Yankees had an open 40-man roster spot after dumping David Hale last week. No other move was required for Bollinger.)