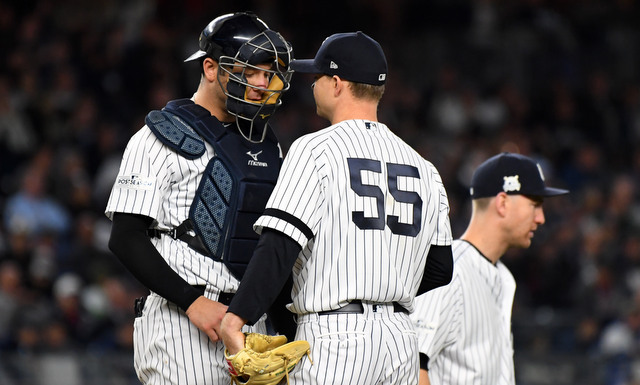 Last night, for the first time this season, Sonny Gray actually pitched well. He wasn't lights out, but two runs in six innings against the Astros in Houston is nothing to sneeze at. Gray looked better too. He threw more strikes, got more swings and misses, and pitched with conviction. It was easily the best Sonny has looked this year. Easily.
It was also the second time in as many starts that Austin Romine, not Gary Sanchez, was behind the plate for Gray. Their first start together didn't go so well (4.2 IP, 6 H, 3 R, 3 ER, 5 BB, 4 K). Nevertheless, Aaron Boone opted to pair Gray and Romine again last night, and the result was Sonny's best outing of the season.
Following the game Gray came out and admitted he is more comfortable with Romine behind the plate than Sanchez. "Connection" was his word. Sonny told Erik Boland he has a better "connection" with Romine. "Ro, I think he does a great job. Yeah, I think so," added Gray.
"I think it's just confidence in general," said Romine while speaking with Boland. "I can't sit here and take any credit for a guy that has that kind of movement on his pitches. Really, it's just me getting out of the way and allowing him to get into a rhythm."
I've never been a big fan of personal catchers, or, rather, I've never been a big fan of the way personal catchers are supported. This pitcher has a great ERA with that catcher. That's usually the personal catcher argument, right? Catcher's ERA doesn't adjust for ballpark, for defense, for opponent quality, none of that. Some numbers:
Gray with Romine: 2.75 ERA
Gray with Sanchez: 5.94 ERA
All Yankees with Romine (2017-18): 4.17 ERA
All Yankees with Sanchez (2017-18): 3.43 ERA
Beyond the small sample size noise involved here — Gray has thrown 39.2 innings to Romine and 53 innings to Sanchez, which is nothing — whatever "connection" Romine has with Gray hasn't benefited the rest of the pitching staff. If you're a catcher's ERA believer, the results have been considerably better with Sanchez behind the plate since last season.
Now, that said, catcher's ERA may be dumb, but absolutely do I believe some pitchers work better with certain catchers. It's human nature. We've all had classmates or coworkers that we just work better with. Sometimes that chemistry is there and sometimes it's not. That doesn't mean it's not going to be there forever, of course. But sometimes things just click.
"(Romine) just adapts to the game and flows," said Gray to Coley Harvey. "There's a great communication. In between innings there's constant communication, which for me is extremely beneficial with everything I try to do with the baseball."
Boone said he is not a fan of personal catchers back in Spring Training — "Bottom line is we've got an elite level catcher. We're not going to sit down and get into the personal (catcher) stuff," he said, specifically — but, not surprisingly, he is planning to stick with Romine and Gray for the foreseeable future after last night's game.
"I think his next start is probably that Saturday when we're at home, which will be a day game after a night game," said Boone to Boland. "So especially in those kind of scenarios (we'll stick with it). When it makes sense, at least in the short term we'll do that."
Three things about the Gray-Romine pairing. One, when the pitcher admits he works better with a specific catcher, you can't ignore it. Especially when he's struggling as much as Sonny has been this season. The Yankees have to get him right, the sooner the better, and if Romine helps him, so be it. Pair them together going forward.
Two, Sanchez is going to have to rest every so often anyway. Catching four out of every five games with Sonny starts being a regularly scheduled off-day from catching — Sanchez can still DH those games, like he did last night — is fine. Gary is going to have to sit sometime. Might as well sit him on the days the pitcher he doesn't work well with is on the mound.
And three, at some point the Yankees are going to have to get Sanchez and Gray on the same page. Sonny did praise Sanchez back in Spring Training — "I love that guy. I mean he works so hard every day," Gray said to Pete Caldera in March — and you can't bank on Romine catching him forever. Injuries happen and the postseason happens. The two have to get on the same page eventually.
That's a process that can happen later in the season though. Right now, the priority is getting Gray back on track and back to being effective every fifth day. Last night was a good first step. It doesn't mean he's completely fixed. Gray feels comfortable with Romine, so keep the two together until it seems he's all the way back. Later in the season the Yankees might be able to work in some Gray-Sanchez outings to get the two reacquainted.
The Yankees have been pitching pretty darn well the last few weeks — they're averaging 1.70 runs allowed per game in their last ten games — though Gray remains the weak rotation link, and I think getting him straightened out is the Yankees' top priority right now. Sonny is the single biggest problem on the roster. Last night was a step in the right direction. And if being paired with Romine gets him on track, who am I to argue? Keep them together.