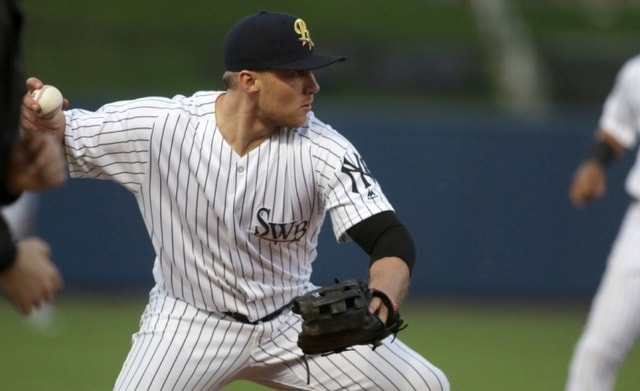 The looming third base problem is about to come to a head. Brandon Drury is closing in on a return from the disabled list and Miguel Andujar has played too well to demote. This isn't an actual problem, of course. Problems are bad. Having too many quality young players is a good thing! This is a situation that requires attention more than a problem, but I digress.
Although he has cooled of late, Andujar still owns a .274/.291/.491 (107 wRC+) batting line and has earned a chance to stick around and get an extended look at the MLB level. His defense has been pretty good too. He's not a Gold Glover at the hot corner or anything, but Andujar has yet to justify the notion that his defense is a weakness. The kid's been pretty great, and when you have a young player performing like this, he deserves to keep playing.
Drury, meanwhile, is a nice young player in his own right. He's only 25. Four months younger than Aaron Judge! The Yankees clearly like him and Drury did have a good opening series in Toronto before the migraines and blurred vision became too much to bear. The Yankees have two promising 20-something third basemen who deserve playing time. Things could be worse.
"Brandon is moving in a good direction," Aaron Boone said to Dan Martin over the weekend. "We're also thinking big picture here. We want to feel like when we do pull that trigger (and call him up) that he's in a good place, not just because he's had a couple of good days and hopefully the problem is squashed …We feel like he's making progress."
Drury has played eleven minor league rehab games so far, going 13-for-36 (.361) with a home run at the plate, and he's been playing consecutive days. That hurdle has been cleared. His 20-day rehab window expires one week from today, so the Yankees still have some time to figure things out, but something's going to have to give here. What happens when Drury returns? Let's talk it out.
Who is going down?
Step one is getting Drury on the roster. Dumping Neil Walker appears to be the preferred move based on social media and our comments section — understandably too since Walker is hitting .189/.282/.222 (41 wRC+) — but he's performed better of late and the Yankees don't seem eager to move on from him anyway. Plus Greg Bird isn't back yet. Unloading a first base option doesn't seem wise.
Let's say, for argument's sake, the Yankees decide to keep Walker around a little longer, just to see whether he can continue kicking it into gear before Bird returns. That leaves the Yankees with six possible options to create room on the roster for Walker.
Demote Drury: He has minor league options remaining!
Demote Andujar: A possibility now that he's cooled down at the plate.
Demote Tyler Austin: A possibility now that he's cooled down at the plate.
Demote Ronald Torreyes: Has options remaining and Gleyber Torres can back up shortstop.
Demote Torres: Would cause riots. And it'd be completely undeserved.
Demote a reliever: A possibility.
The Yankees are carrying eight relievers at the moment, which is a thing most teams are doing nowadays. The 18 games in 18 days stretch is over and the Yankees now have four off-days in the next 18 days, so there's not a big need for an eighth reliever. Dropping a reliever — David Hale, Jonathan Holder, and A.J. Cole are the obvious demotion candidates — and adding Drury to the roster is the easiest move.
Both Andujar and Austin have slowed a bit and, because of that, it's easier to see both guys being sent down now than it was a few weeks ago. Andujar should play everyday. If the Yankees are committed to Drury at third base, Andujar is probably better off playing everyday in Triple-A than sparingly in MLB. Austin is a straight platoon bat and having him split time at first base with Walker until Bird returns makes sense to me.
In terms of simply getting Drury on the roster, dropping a reliever and going to a normal seven-man bullpen and four-man bench is the most straightforward move. There are a bunch of off-days coming up and the Yankees don't need to worry too much about running out of pitching. The eighth reliever hardly pitches anyway. Unloaded a bullpen arm for Drury is the path of least resistance and that's the path teams usually take.
How do they get Drury in the lineup?
Gosh, bringing Drury back today wouldn't be a bad idea at all. The Yankees are going to see Drew Pomeranz tonight and David Price tomorrow. Against the two lefties Boone could sit Brett Gardner, put Giancarlo Stanton in left field, and have both Drury and Andujar in the lineup at third base and DH. There's another lefty on the schedule this weekend (Brett Anderson) and another next week (Gio Gonzalez). Would be nice to have that extra righty bat.
Another option here is moving Drury around. He does have second base and outfield experience, and a little bit of first base experience as well. That creates more options but doesn't make life easier. No one wants Gleyber out of the lineup, so second base isn't really a full-time option. There's no much room in the outfield either. First base? That's a possibility. Drury has played some first base and he could replace Austin as the righty platoon bat.
Moving Drury around as a supersub sounds great. Play third one day, second the next, first the next, the outfield the next, so on and so forth. There's a small problem with that: The Yankees don't seem eager to play Drury anywhere but third base. He hasn't played anywhere other than third base this year, Spring Training included. If moving him around was even a remote possibility, you'd think he'd have done it at some point, even during his rehab assignment.
The apparent unwillingness to play Drury anywhere but third base is the biggest reason I won't close the door on Andujar being sent down to make room on the roster. No, Andujar doesn't deserve to be sent down. He deserves more playing time and a chance to adjust to big league pitching. I think Andujar needs to face big league competition to get better at this point. If Andujar stays, getting him and Drury playing time is a puzzle Aaron Boone & Co. have to solve.
"Brandon we view as a third baseman, but Brandon's played all over the place as well," said Aaron Boone to Erik Boland last week. "He's a versatile guy, but we view him as a frontline third baseman. Both of them. Those are potential decisions we'll have to sort out in the coming days."
What about trading Drury or Andujar?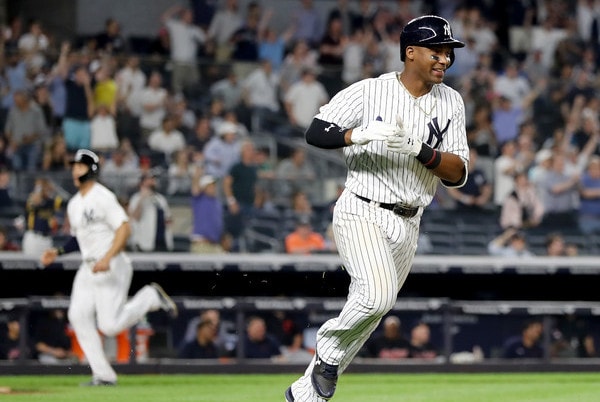 Always a possibility. The Yankees reportedly made Andujar off-limits during Gerrit Cole trade talks and they'd been after Drury for a while, so it stands to reason they like both guys an awful lot. There's only one third base position though, and rather than keep both and risk having their development stall out because they're sharing playing time, the Yankees could cash one in as a trade chip. The Orioles did this with Brian Roberts and Jerry Hairston Jr. back in the day. They had two young second basemen but only one roster spot available, so they stuck with Roberts and traded Hairston.
The Yankees are expected to pursue pitching help and, since third base is now a position of depth, using Andujar or Drury as part of a package to get a starter would be ideal. Andujar presumably has more trade value because he's under control longer and has been real good in his limited time as a big leaguer. That gives him more trade value but it also gives the Yankees more reason to keep him.
Here's the thing though: Which teams need a third baseman and have pitching to spare? Looking through the league, these are the only teams that appear to need help at the hot corner:
Braves: Jose Bautista is a stopgap and Austin Riley is a good prospect, but third base remains unsettled long-term.
Diamondbacks: Jake Lamb has been out with elbow and shoulder problems and they've been playing Daniel Descalso and Deven Marrero at third.
Dodgers: Justin Turner is still out with a broken wrist and they've been playing dudes like Kyle Farmer and Max Muncy at the hot corner.
Rangers: A rebuild is imminent and a young third baseman to replace Adrian Beltre figures to be on the shopping list.
Royals: They need young talent regardless of position, and besides, Mike Moustakas probably won't be around much longer.
White Sox: Yolmer Sanchez is a nice player but I think the ChiSox would jump at the chance to add a potential long-term third base piece.
That's pretty much it, and I have a hard time thinking the Dodgers and especially the D'Backs will trade pitching for a third baseman with Turner and Lamb on the mend. Unless you're a Danny Duffy believer, the Rangers, Royals, and White Sox have no impact pitching to give. The Braves are, far and away, the best fit. There's a need at third base and they have more young pitching than they know what to do with. Drury or Andujar for a young arm (Mike Soroka? Luiz Gohara? Max Fried?) is a framework that passes the sniff test.
We're still a few weeks away from the summer trading season heating up, so barring a surprise early May trade, the Andujar/Drury problem — "problem" — won't be resolved by trading one for a pitcher anytime soon. Definitely though, picking one as the third baseman as the future and trading the other to address a separate roster need is on the table. The Yankees would be foolish not to consider it. They just have to figure out who to keep and who to trade, and balance out the possible returns.
* * *
It's become cliche at this point, but these things do have a way of working themselves out. Andujar was crushing the ball but has slowed since, and if it continues, people will complain Drury's not in the lineup. That's usually how this goes, right? Given his extensive experience at second base and in the corner outfield, I don't think it would take much time for Drury to find his bearings there, so the supersub thing could work. With Drury's return imminent, this is something the Yankees have to figure out now. They can't kick it down the road much further.