Even in defeat, the 2018 Yankees never make it easy on their opponents. Their eight-game winning streak came to an end Thursday night, and much like the loss in Houston last week, it was a tight one-run game and I'm certain no one in the other dugout felt comfortable until the final out was recorded. The final score was 5-4 Red Sox. Can't complain about two losses in three weeks while playing the AL's best. Start a new winning streak tomorrow.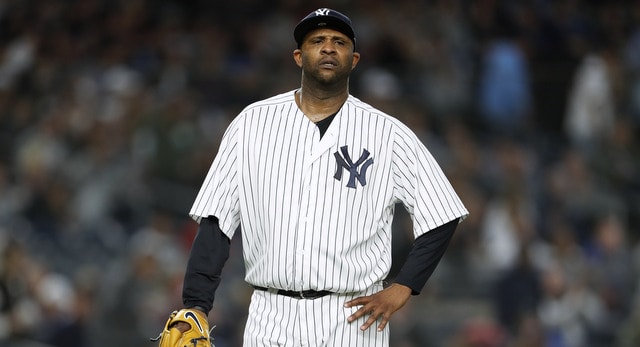 Sabathia Labors
CC Sabathia was bound to have a tough outing one of these days. He wasn't going to maintain his 1.39 ERA and .211 BABIP all season, even with his truly elite ability to limit hard contact. Sabathia was banged for four runs in four innings plus one batter before a 55-minute rain delay Thursday night, and the four runs scored on a combination of hard and soft contact. There were some dumb bleeders that barely left the infield and also some rockets.
The third inning was the bad inning. Mookie Betts opened the frame with a single and Andrew Benintendi followed with a hard-hit ground ball double to put runners on second and third with no outs. Sabathia is not a strikeout guy these days — he went into this game with an 18.0% strikeout rate — and stranding a runner at third with less than two outs ain't easy without strikeouts. Hanley Ramirez ripped a liner off Gleyber Torres' glove at second base to score one run and J.D. Martinez hit a weak grounder to second to score another run. So it goes.
Sabathia's final line: 4 IP, 9 H, 4 R, 4 ER, 0 BB, 5 K, 1 HR on 80 pitches before the rain. Hanley, the last batter Sabathia faced before the delay, smacked a solo homer. Couldn't call for the tarp a few pitches earlier, huh? It was the first dinger CC has allowed in five starts since returning from the disabled list. Sabathia had allowed no more than five hits or three runs in any of his first six starts of the year. That was going to end at some point, and it just so happened in this game.
Nothing Against Rodriguez
Am I the only one who thinks it was kinda weird Red Sox manager Alex Cora sent starter Eduardo Rodriguez back out to the mound after the rain delay — he'd sat for over an hour at that point — only to have him throw one more inning? Seems unnecessarily risky, no? Eh, whatever. Anyway, Rodriguez shut the Yankees down Thursday night, holding them to one single and three walks in five scoreless innings. He struck out eight.
The Yankees had, by far, their best chance to break through against Rodriguez in the fourth inning, after the lineup turned over. Aaron Judge worked a leadoff walk, Giancarlo Stanton ripped a 114 mph line drive infield single off Rafael Devers' glove, and Gary Sanchez walked to load the bases with one out. That's when Tyler Austin put together a truly terrible at-bat. Look at this: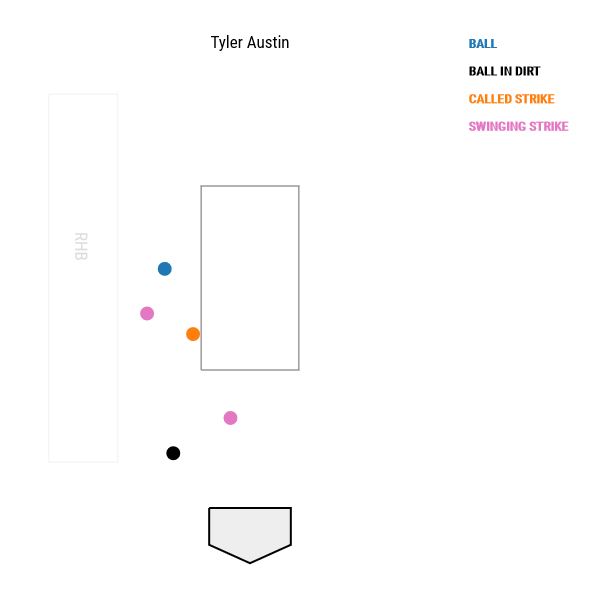 Austin took the first two pitches and got ahead in the count 2-0. That's good! Then he swung through two pitches out of the zone to even up the count 2-2. That's bad. The fifth pitch was a down and in heater, a pitch home plate umpire Stu Scheurwater was giving Rodriguez all night, and Austin took it for strike three. Pretty bad. Down three runs, I think you have to take in the 2-0 count. Force the pitcher to throw a strike with the bases loaded. Alas. Miguel Andujar flew out to the warning track to end that fourth inning rally.
Rally To Tie
You didn't think the Yankees would go down quietly, did you? This team does no such thing. With the Red Sox leading 4-0 in the seventh inning, Andujar and Torres strung together back-to-back one out singles to put the wheels in motion, then designated rally starter Neil Walker came off the bench to draw a pinch-walk to load the bases. That ended Heath Hembree's night and brought Joe Kelly into the game to face the top of the order.
The first batter he faced: Brett Gardner. The result: Four-pitch walk. Yankees on the board. Judge followed with a single through the left side of the infield to score another run. Now it was 4-2. Rather than break out of his slump with a grand old dinger, Didi Gregorius hit a first pitch weak tapper to second base, which was too weak for a double play. Another run scored. And finally, Kelly uncorked a wild pitch to get New York's fourth run of the inning in. Quite a meltdown by the Boston bullpen. Once again, the Yankees rallied late to tie the game.
Alas, the 4-4 score lasted two pitches. Martinez muscled a Dellin Betances fastball into the short porch for a go-ahead solo homer. Wasn't even a bad pitch! A 97.4 mph heater inside and off the plate. Martinez inside-outed it into literally the first row. Quite a piece of hitting. The second inning of work never seems to go well for Betances these days, but he got two strikeouts and a grounder, and gave up a cheap Yankee Stadium homer. He was hardly smacked around.
The bullpen has been worked hard the last two nights, so Aaron Boone's options in the eighth were Chasen Shreve or a second inning for Betances. Eh. I guess he could've used David Robertson there, but Robertson's worked a ton lately too. Sometimes you eat the short porch, sometimes the short porch eats you. Even when Betances pitches well, something seems to happen to ruin his outing. In this case it was Martinez's homer.
The Yankees did make things interesting again in the eighth thanks to a Sanchez walk and a Torres single. Austin squared up a Kelly fastball, and off the bat I thought it was gone, which would've been the coolest thing ever after the brawl. Instead, it died in the air and was caught for an out. Kelly froze Walker with a beautiful changeup to end the inning with two men on. That was their chance. Craig Kimbrel retired the side in order in the ninth.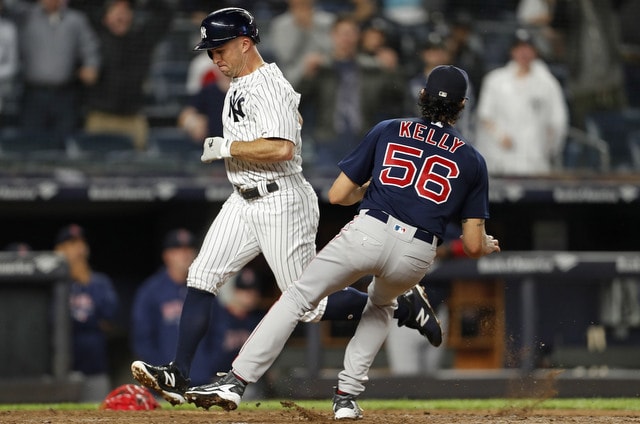 Leftovers
This game is a good example of how pointless it is to carry an eighth reliever. A.J. Cole and David Hale didn't even warm up despite a four-run deficit after the rain delay — they've combined to pitch once and warm up twice over the last 12 days — and there were multiple occasions where it would've been nice to have a pinch-hitter available (Adam Lind?), like the Austin vs. Kelly matchup in the eighth. The Yankees are playing with a 23-man roster and two break glass in case of emergency relievers.
Four more times on base for Judge, who singled and drew three walks. Gregorius went 0-for-5 behind him and is now mired in an 0-for-24 slump. He did get a run in with a grounder in that seventh inning. Didi wasn't going to hit like peak Joey Votto all season, so hopefully he gets hot again soon. Two walks for Sanchez, two hits for Torres, and one hit apiece for Stanton and Andujar.
Two nice innings for Jonathan Holder after the rain delay. Six up, six down, two strikeouts. Shreve issued a walk in an otherwise uneventful top of the ninth. The bullpen allowed one hit in five innings after the rain delay. The one hit landed in the short porch. Baseball can be a jerk sometimes.
Box Score, WPA Graph & Standings
ESPN has the box score and updated standings, and MLB has the video highlights. Here's our Bullpen Workload page and here's the win probability graph:

Source: FanGraphs
Up Next
This three-game series with the Red Sox, which was far more intense than any May series should be, is over. The Athletics are coming to town for a three-game weekend set next. Oakland hasn't announced their starter for Friday night's opener, though it's expected to be Kendall Graveman in place of the injured Trevor Cahill. Former A's ace Sonny Gray will be on the bump for the Yankees.