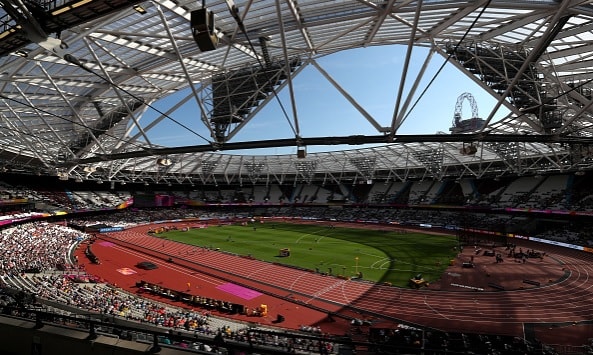 May 8th: The London games are officially on. MLB announced it this morning. The Yankees and Red Sox will play two games at London Stadium on June 29th and 30th of next season. The BoSox will be the home team for the two games.
"To have the opportunity to participate in this historic baseball endeavor and showcase our game in London is something our entire organization is thrilled to be a part of," said Hal Steinbrenner in a statement. "Bringing these storied teams together for British fans — who have such a profound appreciation for sports at the highest level — only adds to the unique allure of one of the world's greatest sporting rivalries. We expect an exciting and intense pair of games and appreciate the significance of representing our sport in such a meaningful way."
You can register for pre-sale tickets right here. MLB estimates London Stadium will hold roughly 55,000 fans in a baseball configuration. This is a two-year agreement with another two-game series scheduled to be played in London in 2021, though the teams have not yet been announced.
March 19th: According to Ronald Blum, MLB is working to finalize plans for a two-game series between the Yankees and Red Sox in London in June 2019. Joel Sherman hears the Red Sox would likely be the home team for the two games, which means the Yankees won't lose two home gates.
"We would love to participate in a series in London against the Yankees but this is a decision that MLB and the MLBPA will make," said Red Sox CEO Sam Kennedy to Evan Drellich.
Assuming plans are finalized, the series will be played at London Stadium, which hosted the 2012 Olympics and is currently used for soccer and track and field events. June is the only time the building is available for baseball. An official announcement is expected some time within the next two months.
Any time MLB holds an event like this, it's a good bet the Yankees will be involved because they are the most popular team in the sport. The Yankees will help pump up attendance and generate buzz. Also, players will get a $60,000 bonus for participating in the series per the Collective Bargaining Agreement.
MLB has been working to globalize the game in recent years — they didn't start the World Baseball Classic out of boredom, you know — and this April the Twins and Indians will play a series in Puerto Rico. MLB tentatively plans to have two teams play their season opener in Tokyo next season.