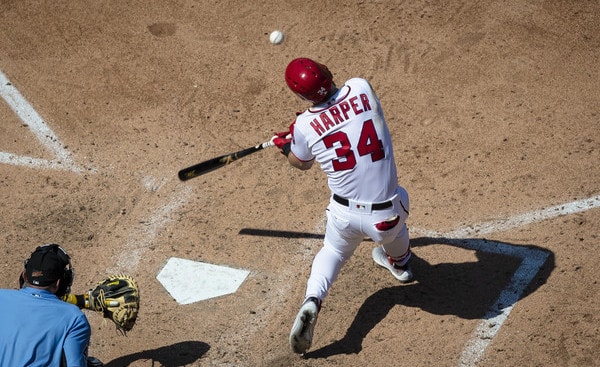 The Yankees and Royals continue their three-game series later today — the Yankees haven't played back-to-back days since last weekend due to all the off-days and rainouts — though it's a 7:15pm ET start, so we have to wait a few hours first. Here are some notes to help you pass the time.
Harper shoots down Yankees questions
As expected, Bryce Harper was asked about his impending free agency and the possibility of signing with the Yankees after the season when the Yankees visiting Washington earlier this week. And, not surprisingly, Harper wouldn't entertain those questions. What else could he do? Here's what Harper said, via Greg Joyce:
"I'm a National now," Harper said. "We're going into this series trying to win some ballgames. It's the only thing on my mind, trying to beat a good team over there."

…

"It doesn't matter who we're playing," Harper said. "If it's the Yankees, Cubs, Dodgers, Phillies, name it. It doesn't really matter the team or the atmosphere, just try to go in there and win ballgames."
I've seen some "the Yankees don't need Harper because they have Aaron Judge and Giancarlo Stanton" takes recently and, uh, no. The Yankees could cut ties with Brett Gardner after the season — this is the final guaranteed season on Gardner's contract — which frees up a spot for Harper. Harper, Judge, Stanton share the two corner outfield spots and DH. See how easy that is?
Now, will the Yankees actually pony up the $400-something million that will likely be required to sign Harper? As I've said before, I don't believe Hal Steinbrenner's master plan is spending like crazy once the luxury tax rate resets, but I'd be happy to be wrong. And even then, would anyone be surprised if the Yankees opted to pursue Manny Machado or Clayton Kershaw over Harper this winter? I know Harper grew up a Yankees fan, but I seriously doubt that means he's willing to give them a discount.
Mesa brothers leave Cuba to pursue MLB contracts
According to Jesse Sanchez, outfielders and brothers Victor Mesa Jr. and Victor Victor Mesa have left Cuba to pursue MLB contracts. They are the sons of Victor Mesa Sr., a legendary player and manager in Cuba. Victor Victor is 21 while Victor Jr. is only 16. Both will be subject to the international spending restrictions once they are cleared to sign, a process that should take several weeks.
Victor Victor is the more highly regarded prospect and, according to Ben Badler (subs. req'd), he has "star potential" and is comparable to Nationals top prospect Victor Robles. "If (Victor Victor) were in the draft next month, I think he would be a top 10 overall pick, with the potential to go No. 1 overall," added Badler. There's very little information out there about Victor Jr. at the moment, though he is not the same caliber prospect as his older brother.
The Yankees will have $4.98M to spend internationally during the 2018-19 signing period — they can trade for more bonus pool space and max it out at $8.72M — and they've already been connected to several top international free agents. Trading for bonus pool space to sign Victor Victor (and/or Victor Jr.) is certainly possible, but it's been a long time since the Yankees last signed a big name Cuban player. I wouldn't hold my breath.
Giambi to attend Old Timers' Day
Jason Giambi, Old Timer. According to George King, Giambi will make his Old Timers' Day debut this summer. He retired following the 2014 season and has mostly laid low since, though he seems to get mentioned as a coaching or managerial candidate every offseason. Old Timers' Day is June 17th this season. That's the day before the Yankees go to Washington for the makeup games.
Giambi, now 47, played for the Yankees from 2002-08 and was really productive, hitting .260/.404/.521 (145 wRC+) while averaging 29 homers and +3.1 WAR per season. I wonder if this paves the way for Alex Rodriguez and Roger Clemens to show up to Old Timers' Day? They were all tied to performance-enhancing drugs in one way or another, after all. I guess we'll find out soon enough.
MLB proposed new All-Star Game voting system
According to Joel Sherman, MLB recently proposed a new All-Star Game fan voting system that was shot down by the MLBPA. Under the new rules fans would've continued to vote for the starters at each position, though there would've been two steps in the process. First, fans would vote for all players. Then, at a certain date, the vote would end and the top three vote-getters at each position would be put into a second vote. Since it was rejected, All-Star voting this year will be the same as always.
The idea, obviously, would be spicing up the All-Star Game voting, and create more buzz on social media and whatnot. The union, which is still rather annoyed about the way free agency played out over the winter, wanted bonus money and a piece of the revenue generated from the voting process. MLB offered a $1.1M bonus pool to be divvied up among the top three vote-getters at each position only. The new voting process seems kinda neat. I also get whey the union wants a piece of the revenue.