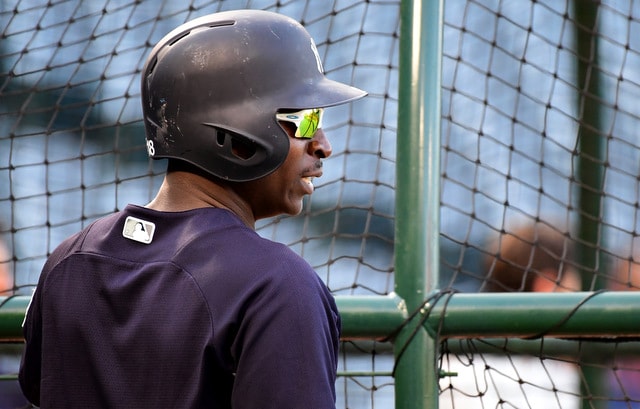 The 2018 season is 40 (and a half) games old and it has already been a tale of two seasons for Didi Gregorius. He was a monster in April, legitimately one of the three or four best players in the sport. Gregorius was so good he was named the AL Player of the Month for April. May, on the other hand, has been a disaster. He's been terrible and is currently mired in a 1-for-41 (.024) slump. Yikes.
Here, to really drive home the point, are Didi's splits for April and May:
April: .327/.421/.735 (195 wRC+) and +2.1 WAR (1st among all players)
May: .118/.167/.157 (-23 wRC+) and -0.5 WAR (871st among 873 players)
Yikes! I don't think anyone realistically expected Gregorius to continue at his April pace all season, but this? Didi is hitting like a pitcher — worse than a pitcher, actually, since pitchers own a .134/.162/.182 (-11 wRC+) line in 2018 — in May. Unlike April, when he almost single-handedly kept the Yankees afloat during their early season issues, the Yankees are winning in spite of Gregorius in May.
So what in the world is going on here? Is this baseball randomness at its worst, or are there red flags in the underlying data? Let's look into things, shall we.
1. Didi has slumped like this before. Might as well start here. Play baseball long enough and you're going to go through deep slumps. That's just baseball. Derek Jeter famously had his 0-for-32 years ago. Paul Goldschmidt had an 0-for-26 slump earlier this month. Mike Trout went 0-for-17 at one point last year. It happens.
Here, to hopefully ease your concerns, are some arbitrary endpoint slumps from last season showing that what Gregorius is doing now is nothing he hasn't done before:
July 1st to July 15th: 2-for-32 (.063)
August 23rd to September 4th: 4-for-43 (.093)
I know 2-for-32 and 4-for-43 are not 1-for-41, but they're close enough in my opinion. They're all ugly, miserable slumps. And last year, whenever Gregorius hit the skids for a few weeks, he came out fine on the other end. As bad as things have gone the last few weeks, Didi has been through this before. It's nothing new.
"It's just something that happens," said Gregorius to Bryan Hoch. "I got a hit. It's been a long while. You've still got to approach the game the same way. You've got to go by it day by day, don't have to change anything. Just trying to get better."
2. Gregorius is still putting the ball in play. During this 1-for-41 rut Gregorius has struck out five times. He's put the ball in play 36 times in those 41 at-bats and has one hit. That's a .028 BABIP. That won't last. The baseball gods won't let it.
There are a few things worth noting about the quality of Didi's contact during this slump, however. Let's start with a graph: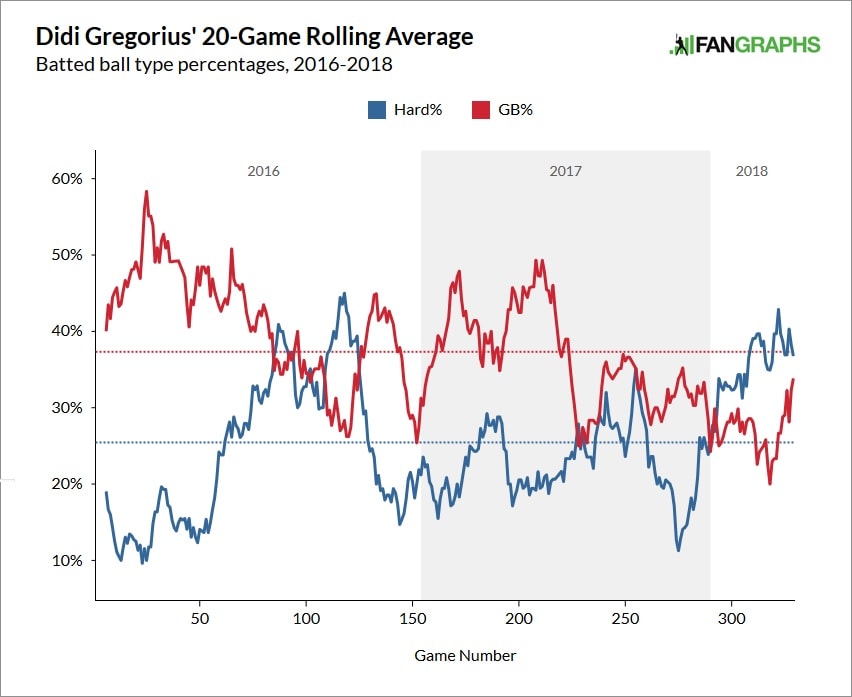 First of all, his hard contact rate is still really good. A bit better than it was earlier in the season, in fact. Secondly, his ground ball rate is rising. Gregorius isn't hitting the ball in the air as often as he did earlier this year, and balls on the ground don't go for base hits as often as balls in the air. And third, his current ground ball rate is still lower than his average ground ball rate the last two seasons.
Long story short, the quality of Didi's contact hasn't gone to crap. He hit two balls over the weekend against the Athletics that I thought were gone off the bat, but they died in the air and were caught on the warning track. We've seen some good swings from Gregorius despite the lack of results. I'd be more worried if a) he stopped putting the ball in play, b) he stopped hitting the ball hard, and/or c) his ground ball rate had spiked to a point above his career norms. None of that has happened.
"I'm still hitting the ball hard," Didi said to Hoch. "Whatever I do, whether I'm hitting the ball hard or not hitting the ball hard, it's at somebody. There's nothing I can do about that. I'm trying to make good contact out there, and the results are not always going to be there."
3. His plate discipline is returning to normal. Remember all those walks Gregorius was drawing in April? He drew 14 walks in his first 16 games. His 14th walk came in his 93rd game last year. I never expected that walk rate to continue — Didi was walking at a Joey Votto/Aaron Judge rate — but I was hopeful he'd settle in with a league average walk rate, and right now, he's at 12.0%. Pretty great.
Predictably, Didi is seeing fewer fastballs after his big April. He's also been swing happy the last few days and weeks. He's swinging at everything more, including pitches out of the strike zone: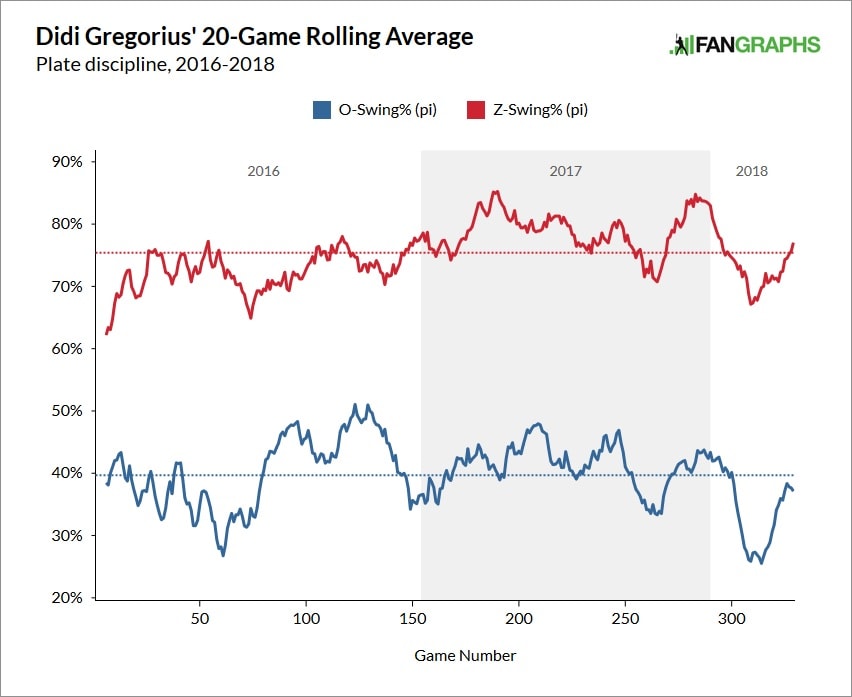 We've seen Gregorius enough over the years to know that he likes to swing, and he can get himself in trouble when he starts swinging at pitches he shouldn't swing at. I mean, every hitter gets himself into trouble when he does that. Didi is human, he knows he's slumping and he's probably pressing at the plate, which leads to all that swinging.
Plate discipline is not about drawing walks, it's about getting good pitches to hit. Walks are a byproduct. Gregorius is offering at too many pitchers' pitches and he's getting himself into trouble. That .028 BABIP is absurdly low and won't continue. Given the ground balls and increased chasing though, I would've expected Didi to run a lower than usual BABIP these last few weeks (just not that low). As is often the case, a little more plate discipline would go a long way.
4. He got kicked in the dang head. Feels like this has gotten lost in the shuffle. Two weeks ago Francisco Lindor kicked Gregorius in the back of the head during a play at second base. It was of course an unintentional kick to the the head, but a kick to the head is still a kick to the head. Here's the video:
Gregorius remained in the game but did get the next day off, which Aaron Boone said was a planned off-day for Didi anyway. The kick to the head coincides closely enough with the start of the slump — Didi was seven at-bats into this 1-for-41 skid when he got kicked — that it's fair to wonder whether he's 100% healthy. Gregorius was examined and all the tests came back okay as far as we know. But that doesn't mean he's still not feeling it. His neck could be sore or something. I'm not going to blame the kick for Didi's struggles, but it is something to consider.
* * *
The numbers show basically what I was expecting. Gregorius isn't being as disciplined as he had been and he's hitting a few too many ground balls, and his batting average on balls in play is unsustainably low. I would've been really worried if he had started striking out more or producing less hard contact. The kick to the head to worth keeping in mind, but to me, this seems like a classic "dude is in a funk and pressing" slump. That's baseball.
"For the years that I've been playing this game, I know that this game is a game of failure," said Gregorius to Hoch. "That's what you learn from. When you accept that, that you're not going to get a base hit every time, it gets more manageable than trying to explode for some reason and next at-bat go up there and try to do the same thing. I think it's just learning some new stuff."
So, what do the Yankees do about Didi's slump? Aside from the usual "hit the batting cage" and all that, the answer is nothing. I know no one wants to hear that, but that's what the Yankees should do. Continue to write Didi's name in the lineup — they've had enough off-days lately and he won't snap out of the slump on the bench — and I wouldn't even drop him in the lineup. If you believe in lineup protection at all, there's no better spot in baseball to hit than between Judge and Giancarlo Stanton. That's where Didi will get the best pitches to hit. Stay patient and stick with him.
Sir Didi isn't really as good as he was in April nor is he really as bad as he's been in May. He wasn't going to continue that hot streak all year and he won't continue this slump all year. Gregorius will snap out of it, probably sooner rather than later, and when he does we'll all forget about this in a few weeks. That the Yankees have been able to continue winning while getting nothing from Didi this month is impressive. This team does not rely on one or two players.