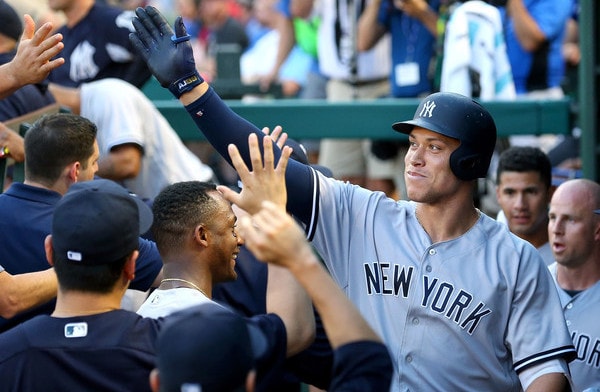 The Yankees have an off-day today, then tomorrow they'll begin one of their more grueling stretches of the season. Fourteen games in 13 days thanks to a makeup doubleheader in Detroit. They aced their last grueling stretch, those 18 games in 18 days against really good teams. I look forward to watching them ace this stretch as well. Let's get to some thoughts on the current state of Yankees' affairs.
1. Obvious statement is obvious: David Robertson has been struggling lately so Aaron Boone should keep him away from high-leverage spots for a bit. I'm not worried he is permanently broken at all. This hasn't been a season-long thing — Robertson went 16.2 IP, 10 H, 2 R, 2 BB, 23 K in the 16 appearances following the Justin Smoak grand slam in the opening series — it's only been the last few outings. He looks a little out of sync with his delivery — he seems to be cutting himself off and finishing more upright rather than having that usual big follow through for whatever reason — and it's causing him to lose location. Maybe he got old quick and is at the end of the line. It could happen! I don't think we're anywhere close to saying that yet. We went through What's Wrong With Mariano Week™ twice a year (usually in April and August) every year like clockwork. Sometimes good pitchers string together a few bad games. Shrugs. Let Dellin Betances and Chad Green handle the important late-inning situations for a bit while Robertson sorts things out. Betances worked low-leverage spots earlier this year until he figured things out. Now it's Robertson's turn. All part of the long 162-game season.
2. The Jacoby Ellsbury situation is starting to get comical. He hurt his oblique in Spring Training and, well, whatever. It happens. Then he hurt his hip while doing his rehab work for the oblique. Then he came down with plantar fasciitis. Then he missed time with an illness. Now his back is acting up. Good grief. The Yankees don't have a roster spot for Ellsbury right now, so it's not like they miss him, but still. It's absurd how there's one injury after another. I'm not a conspiracy theorist and I don't think the Yankees and/or Ellsbury are making up injuries to keep him on the disabled list. First of all, if they have insurance on his contract and are recouping salary, it would be insurance fraud. Secondly, healthy players are better than injured players. The Yankees don't have much center field depth and one injury will have them wishing Ellsbury was healthy and available. Remember when Jace Peterson and Shane Robinson were playing left field? Things can go south quick. For now, the Yankees don't miss Ellsbury. The outfield is good and there's no room for him on the roster. Will he ever get healthy? Eventually, maybe. But right now the second highest paid position player on the roster has been a total non-factor, and the Yankees don't miss him one bit.
3. I wrote the other day about the bottom of the lineup and how it's helped the Yankees have the highest scoring offense in baseball. By a lot, too. They're at 5.91 runs per game. The Red Sox are second at 5.33 runs per game. The Yankees have some incredible hitters in their lineup and yet the lineup is not top heavy. Take the Red Sox, for example. They have a very good offense and both Mookie Betts and J.D. Martinez are playing out of their mind. The rest of the lineup? Meh. Here, look at some numbers heading into yesterday's games:
Betts and Martinez: .355/.419/.722
All other Red Sox hitters: .249/.307/.398
Aaron Judge and Gleyber Torres: .297/.405/.571 (two best qualified Yankees hitters by OPS)
All other Yankees hitters: .249/.327/.449
I'm not trying to knock the Red Sox here. They're really good and I expect the AL East race to be neck-and-neck all season. I'm just trying to show the depth of the Yankees' lineup. Their best hitters have been great and their other hitters have been really good too. It's awesome, not having to rely on that one guy or those two guys to carry the offense. The Yankees can let Giancarlo Stanton work through his slow start, they can let Didi Gregorius work through his May slump, and they still have more than enough offense to keep winning. It's not often the offense fires on all cylinders. There's always one or two guys slumping. The Yankees are better able to deal with those inevitable slumps than just about any other team because the lineup is so deep.
4. Did Clint Frazier change his batting stance at all? I thought so during his one game with the Yankees over the weekend, so I went back and pulled up some video. I apologize in advance for the GIFs. His playing time is limited and there isn't much video available: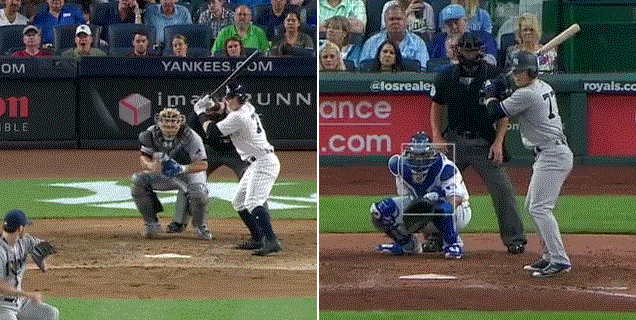 The GIF doesn't capture it well, but it seemed Frazier had a little more waggle in his bat this year, and it looks like he's getting his front leg up just a hair earlier. I'm not sure whether that is significant in any way, or is just a random occurrence on the pitches I arbitrarily chose to GIF. While with Triple-A Scranton a few weeks ago, Frazier told reporters he's been working to fine tune his hitting mechanics, specifically making sure his hands and leg kick are in sync. For whatever reason I thought Frazier had more going on with his swing the other day in Kansas City than he did last year, but based on the GIF, I guess not. Either way, Frazier has been crushing the ball in Triple-A since returning from the disabled list. I wish the Yankees had a way to get him into the lineup without someone else getting hurt.
5. I've seen the Mariners speculated as a potential trade partner given their roster needs. I don't see it. Yeah, Neil Walker makes sense for them given Robinson Cano's suspension and Dee Gordon's toe injury, but I am pro-keeping Walker. He's a really good part-time player and I want him as a depth player. An outfielder like Billy McKinney could be a fit for Seattle too, I suppose. I just have no idea what the Mariners can offer the Yankees. They're in the Wild Card race. They're not trading James Paxton. Even if they fall out of it, I think they're more likely to gear up for another run next year rather than tear it down. Cano's not going anywhere, Felix Hernandez is not going anywhere, Kyle Seager isn't going anywhere. Add some pieces and make another run next year and try to end the postseason drought. The Mariners have no pitching at all. Wade LeBlanc is in their rotation at the moment. For real. I'm not eager to unload Walker or McKinney (or Tyler Wade). The Yankees have players the Mariners could use. Aside from Paxton, who I have no reason to believe is actually available, the Mariners have nothing worthwhile to offer the Yankees. Things can change in the weeks leading up to the trade deadline, for sure. Right now, I don't see a match between these two clubs.
6. It's May 24th and MLB has not yet released the All-Star ballot. That's weird. Last year the ballot was released on May 2nd. The year before it was released April 24th! The ballot is usually released super early and we all make fun of it for coming out so early. It hasn't been released yet this year for whatever reason. This is something we'll explore again in a few weeks, but right now, I think the Yankees are on track to have four All-Stars: Judge, Aroldis Chapman, Luis Severino, and Gary Sanchez. Gregorius played himself out of an All-Star Game spot with his slump this month — Carlos Correa, Francisco Lindor, and Andrelton Simmons have been so good too, it'd be tough to beat them out — and Stanton's slow start might cost him a spot too. He's been really good this month though and could still play his way into an All-Star Game berth. We'll see. For now Severino, Judge, Chapman, and Sanchez — Gary is so far and away the best catcher in the AL it's not even funny — are the obvious All-Stars to me. Maybe Torres will get a spot too. That'd be cool. Cody Bellinger came up a few weeks into the season and made the All-Star Game last year. It's not impossible to come up in late April and make it. Gleyber in the All-Star Game would be a hell of a thing.