Happy Sunday, RAB readers. I hope you're doing well after a week mostly devoid of Yankee baseball. Luckily–at least on my end–it happened to go pretty quickly. For your content gobbling selves, I've got three thoughts on three Yankees: one past, one present, and one (potentially) future.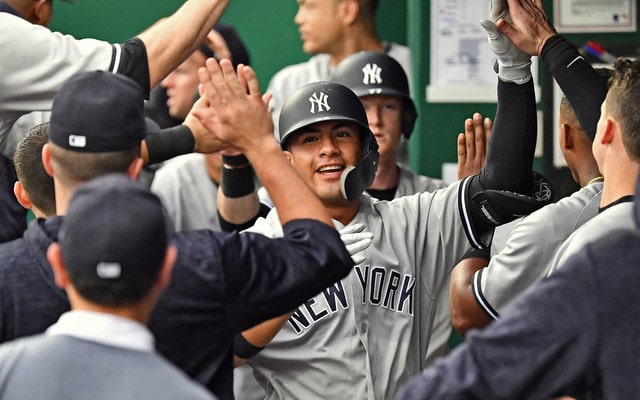 Time to Move Torres Up?
Gleyber Torres's debut has been nothing short of spectacular. He's come up and availed himself incredibly well and, as an added bonus, the Yankees have been nearly unstoppable since he was called up. Perhaps, then, it's time to move him out of the nine spot in the lineup and up to…seventh?
The Yankee lineup is beyond stacked–and has been all year–which makes moving Torres a bit trickier than normal. Who should go down below him when just about everyone is, in a vacuum, capable of being a top-half-of-the-lineup hitter? Putting Torres to seventh is probably the best option since it gives some men-on-base opportunities to Neil Walker and/or Miguel Andujar when they come up.
On the flip side, the team has a good thing going with Torres batting ninth, which gives men-on-base opportunities to the top of the lineup, especially the leadoff hitter–be it Brett Gardner or Aaron Hicks–and Aaron Judge, batting second.  We could argue that those opportunities–ones for better hitters–could yield better results than giving those opportunities to "lesser" hitters at the bottom of the lineup.
The important thing is that Torres has hit and is showing flashes of everything at the plate: contact, patience, and power. It's gone about as well as we could've hoped for and hopefully it continues to go that way.
Cole in the July Stocking?
On Tuesday, the Yankees are slated to face the Rangers in game two of a three game series. As of now, lefty Cole Hamels is the probable starter for Texas. Beyond the pitching/hitting matchup itself, this is relevant because the Yankees have recently been linked to Hamels as a trade target for this summer. A few years ago, I would've been pumped for this idea. Hamels has long been one of my favorite non-Yankees, but now, it's probably too late to trade for him.
Though he's had his strikeout rate climb back up this year, his walk rate is still pushing four per nine and his home run rate is definitely too high. Additionally, his fastball velocity is–and has been–trending in the way wrong direction. For any pitcher, this is a big red flag. But for Hamels, one whose best pitch is a changeup, it's doubly bad; that pitch can't be as effective with minimal velocity separation. Part of this is switching to a cutter/two seamer approach instead of a four seamer, which may fit in with the Yankees' philosophy, but unless the price is too good to refuse, the Yankees should probably pass on Hamels.
On Cano
Insert exasperated sigh here. Am I surprised that Robinson Cano is suspended for 80 games? Not really. But it has nothing to do with any suspicions of him from years ago, like Mark Teixeira intimated on the Kay Show last week. It mostly has to do with fatigue and not being surprised by anyone, of any caliber, taking PEDs. I'm not angry, but it doesn't feel all that great, obviously. I'll still root for him from afar, though I will feel a touch of disappointment. That disappointment isn't because of some moral judgement, but rather that this will be the discussion around Cano now, not the fact that he's been the best second baseman in baseball for most of his career.