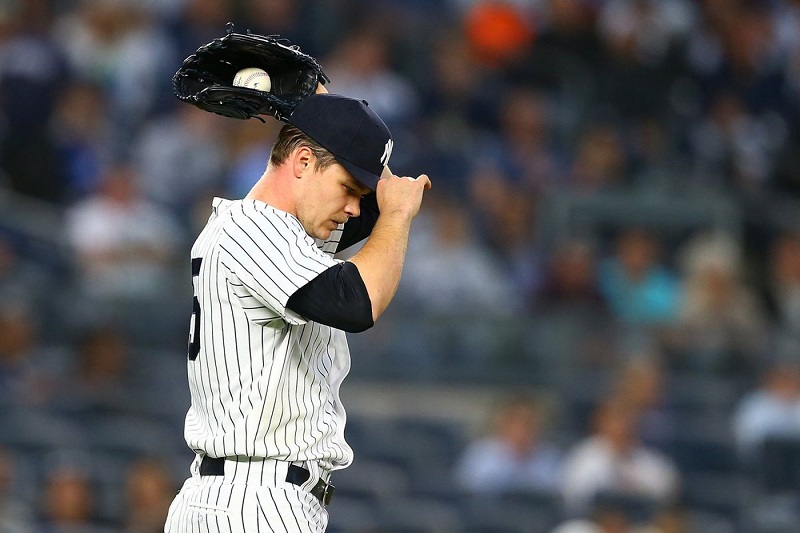 The losing streak
Looking to get back in the win column on Friday night after the Red Sox finally cooled them off, the Yankees came out flat and were overmatched in a series-opening loss to the A's. Oakland pummeled the Yankees pitching, going deep four times while scoring 10 runs in the rout. Friday was the 954th game that the two teams have played in the Bronx (at any stadium). And it was the first home game that the Yankees allowed at least four home runs and 10 runs to the A's.
The one silver lining in defeat? The Red Sox also lost on Friday night, so the two teams remaining tied atop the AL East heading into the weekend. It was the first time all season that the two rivals lost a game on the same day.
That previous note was possible mostly because the Yankees and Red Sox both went on incredible 17-1 runs in April and May. This was the first time since 1988 that two teams from the same league went 17-1 or better in an 18-game span in the same season. That year the A's and Red Sox each did it — and then ultimately met in the ALCS.
Aaron Judge provided one of the few offensive highlights, belting a three-run opposite-field homer in the fifth inning. It was his 10th homer of the season, the second straight year he's had double-digit home runs before the team's 40th game of the season.
#FunFact alert! The only other Yankees to pull off that feat in back-to-back years were Curtis Granderson (2011-12), Yogi Berra (1955-56), Mickey Mantle (1955-57), Lou Gehrig (1929-30), Babe Ruth (1920-21, 1923-24, 1926-1930!).
Gleyber Torres also gave us some fireworks with a solo homer in the third, extending his hit streak to nine games. He is the second-youngest player in franchise history with a hit streak of nine-plus games, behind only a 20-year-old Mickey Mantle, who had 10-game and 11-game hit streaks in 1952.
Fighting Spirit is strong
The comeback mojo and late-game magic returned to the Bronx on Saturday as the Yankees snapped their two-game slump with another wild and crazy win, 7-6. A byproduct of their remarkable resiliency and never-say-die grit, the Yankees are still the only team in MLB that hasn't had a losing streak of more than two games.
This was their fourth walk-off win of the season, already one shy of the total they had all of last year. It is just the second time in the last 30 years the Yankees have had at least four walk-off wins within the team's first 40 games — the other instance came in 2009, when they had five of them at this point in the season. That World Series-winning club would go on to finish with 15(!) walk-off wins, one shy of the franchise record set in 1943.
It was also their ninth comeback win in the last three weeks (since April 24). In that 19-day span, no other MLB team even has more than six comeback wins.
The amazing depth of the Yankees lineup once again proved to be a difference-maker in this game.
Gary Sanchez and Aaron Hicks put the Bronx Bombers up early with back-to-back solo blasts in the second inning. For Sanchez, it was his 10th of the season, making him the third Yankee with double-digit homers in 2018. It's the first time in franchise history the Yankees have had a trio of 10-homer players before the team's 40th game played.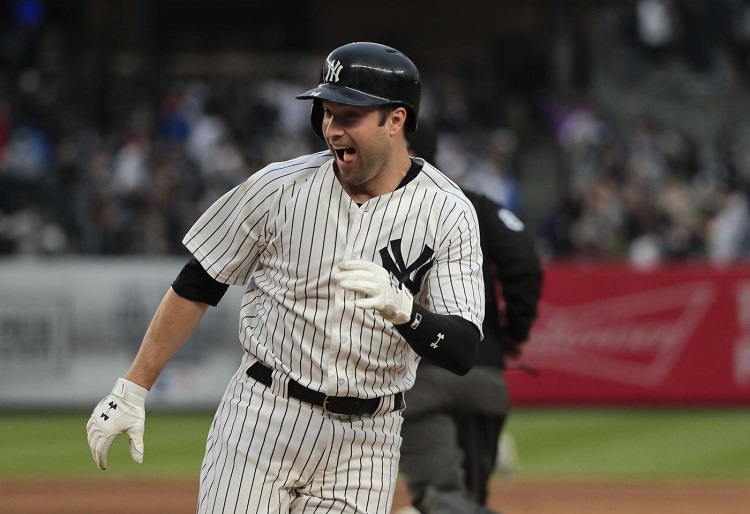 And Neil Walker capped off the win with a walk-off single and Gatorade shower in the 11th inning. He's the eighth different guy to produce the game-winning run (via hit, walk, reach on error, etc.) in the Yankees last nine wins. Time to update our favorite list!
May 1: Gary Sanchez go-ahead homer in top of ninth.
May 2: Giancarlo Stanton two-run homer in top of first.
May 3: Aaron Judge go-ahead RBI groundout in top of ninth.
May 4: Miguel Andujar walk-off single in ninth.
May 5: Ronald Torreyes reaches on error in fifth, go-ahead run scores.
May 6: Gleyber Torres walk-off homer in ninth.
May 8: Judge go-ahead bases-loaded walk in seventh.
May 9: Brett Gardner go-ahead triple in eighth.
May 12: Neil Walker walk-off single in 11th.
Walker has been so clutch over the past two weeks as his bat has started to heat up. Small sample size alert! In the month of May, when batting in high-leverage situations, he is 4-for-5 with two singles, two doubles, a walk and three RBI.
Finally, Walker also earns our Obscure Yankeemetric of the Week for his heroics: before Walker, the last Yankee first baseman with a walk-off hit against the A's was Don Mattingly on August 23, 1988.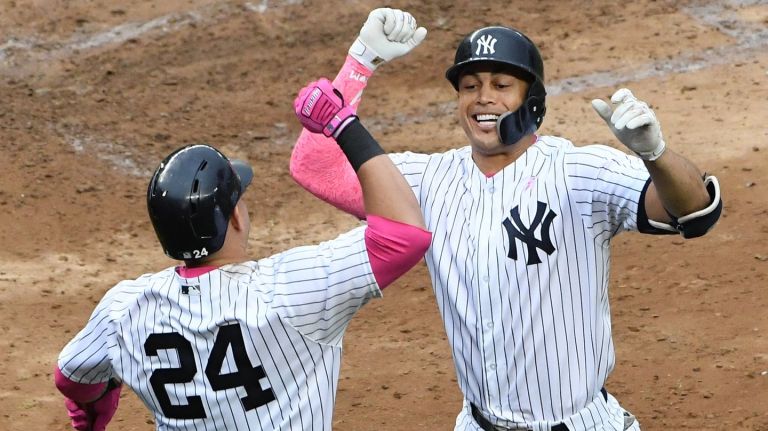 Stanton & Sevy Show
The Yankees big bats and big arms shined on Sunday, leading the team to a 6-2 win, capping off yet another successful series. They've now won seven consecutive series, their longest streak since June/July 2011. The Yankees hit the 40-game mark with a 28-12 record and plus-65 run differential, the first time since 1998 they've reached both those marks through 40 games, and the 13th time in franchise history. Of the previous 12 seasons, nine were capped off with a World Series trophy and three ended with the AL Pennant.
Giancarlo Stanton was the big star at the plate, going 4-for-4 with a homer, double and three RBI. He became the fourth Yankee this season to reach double-digit homers, begging the question, is that good? Uh … yes! No other team this season has more than two 10-homer players, and the Yankees are just the fourth team in MLB history to have four players hit 10-plus homers in the team's first 40 games (2003 Rangers, 2000 Blue Jays and 1964 Twins are the others).
Stanton has steadily been breaking out of his early-season slump and his numbers are starting to look eerily familiar to last year at this point in the season ….
Stanton Through 40 Games

| | BA | OBP | SLG | HR |
| --- | --- | --- | --- | --- |
| 2018 | .252 | .339 | .516 | 10 |
| 2017 | .263 | .339 | .533 | 11 |
Luis Severino didn't have his best stuff, but still somehow ended up going six strong innings, giving up one run and striking out seven. It was his MLB-best 21st start with no more than one run allowed since the beginning of last season, padding his lead on Max Scherzer (20) and Chris Sale (19). Five of those have come this season, as Severino became the youngest pitcher in franchise history with five one-run-or-fewer starts in the team's first 40 games.
Sevy couldn't get the A's to chase his off-speed stuff — he didn't get a single whiff on 52 sliders and changeups — but his fastball was electric. He threw 54 four-seamers, generated 10 swings-and-misses with the pitch, and all seven of his punchouts ended with his fastball. As you can see below, his ability to consistently locate his high-90s heater on the outside corner against lefties, while jamming righties inside, was key to keeping the A's off-balance and holding them to one run on five singles.