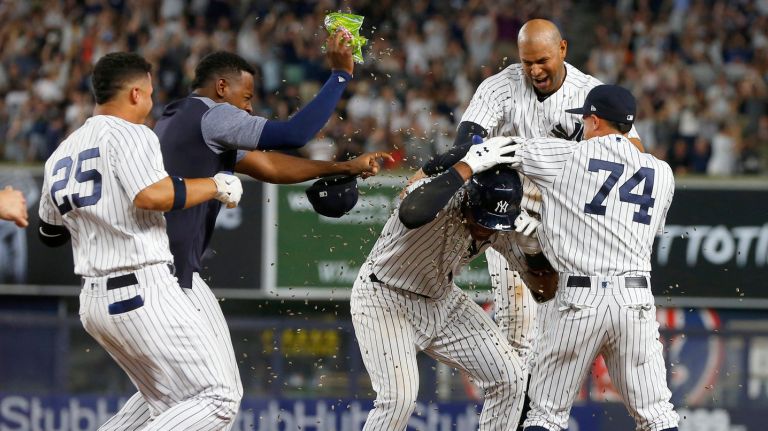 Happy Miggy Day
The Yankees opened their nine-game homestand with what has become a familiar winning formula — a wild and crazy game filled with blown leads and late rallies — and ended with the Yankees celebrating their second walk-off win of 2018.
The Yankees raced out to a 5-0 lead after five innings thanks to their relentless and powerful bats. Gleyber Torres kicked off the dinger party with a three-run shot in the fourth inning, his first career homer in the majors. Let's celebrate with a bullet-point recap of stats. He is the:
At 21 years and 142 days old, he is the youngest Yankee with a home run since catcher John Ellis hit an inside-the-parker on May 17, 1969, and the youngest to hit a homer over the fence since Bobby Murcer on September 14, 1965.
Youngest Yankee second baseman to go deep in any game.
Youngest Yankee to hit a three-run homer (or grand slam) since Mickey Mantle in 1952.
Youngest player in franchise history with at least three RBI in back-to-back games.
Aaron Judge tacked another run on the scoreboard in the fourth inning when he seemingly dug a 77-mph curveball out of the dirt and drilled it down the left-field line. The ball was just 1.5 feet off the ground when it crossed home plate, the lowest pitch that Judge has ever hit for a homer in the majors.
The Yankees were able to build that comfortable lead thanks to another vintage performance by CC Sabathia, who lowered his ERA to 1.39 with six shutout innings. That's the lowest ERA he's ever had this deep into the season (after his sixth start or later).
Since coming off the DL in mid-April, he's made four starts, compiling a 0.39 ERA with just 14 hits allowed in 23 1/3 innings. That's his second-lowest ERA over any four-start span in his career, trailing only a dominant stretch in July 2011.
The bullpen nearly wasted Sabathia's gem, allowing six runs while coughing up leads in the eighth and ninth innings. Yet with the score tied 6-6, the Yankees were just getting warmed up and setting themselves up for the inevitable late-game rally.
Miguel Andujar wore the hero's cape on Friday, delivering a clutch two-out game-winning single for his first career walk-off hit. And he is the winner of our #FunFact of the Game! Over the last 50 years, Andujar is one of two Yankee third baseman with walk-off hits against the Indians. The other? Alex Rodriguez on April 19, 2007.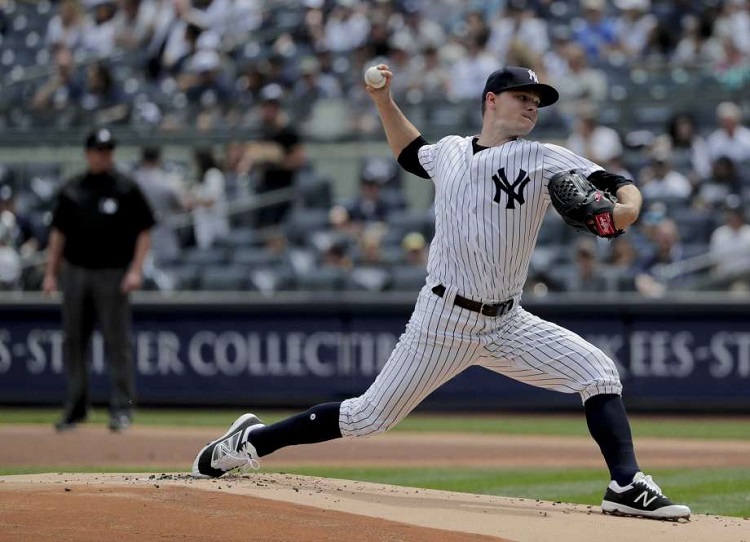 Happy Sonny Day
Even with a couple superstars (Didi Gregorius, Gary Sanchez) on the bench, a couple mashers swinging cold bats (Judge and Stanton combined 0-for-8), the closer (Aroldis Chapman) unavailable, and a guy with a 6.67 ERA on the mound (Sonny Gray), the Yankees kept rolling and notched a 5-2 win over the Indians on Saturday.
The potential for a victory looked even worse after four innings with Indians starter Trevor Bauer working on a perfect game. But the Yankees finally got their first baserunner in the fifth and the floodgates opened, erupting for four runs despite just one hit –- and that hit didn't even score a run! (Of course, it helps when you also have three walks, a couple errors and a sac fly.)
You have to go back more than 15 years to find the last time that the Yankees scored at least four runs in an inning while only getting one hit and that hit wasn't a homer: in the seventh inning of a 20-10 win over the Rockies June 19, 2002 at Colorado.
Although they put five runs on the scoreboard, the bats were mostly quiet, so let's give props to the guy on the mound with the six-plus ERA. Gray continued to distance himself from his awful first month with a second straight solid outing, going six innings while giving up two runs on four hits and a couple walks.
It was the first time as a Yankee he's strung together back-to-back starts of at least six innings and no more than two runs allowed. Progress!
We've mentioned a few times the importance of Gray getting ahead and throwing first-pitch strikes. So perhaps the most encouraging stat from Saturday's game was that he was able to battle back and get outs even when falling behind early in the count. Against the Indians, he started 11 batters with a 1-0 count and those guys went 1-for-10 with one walk against Gray.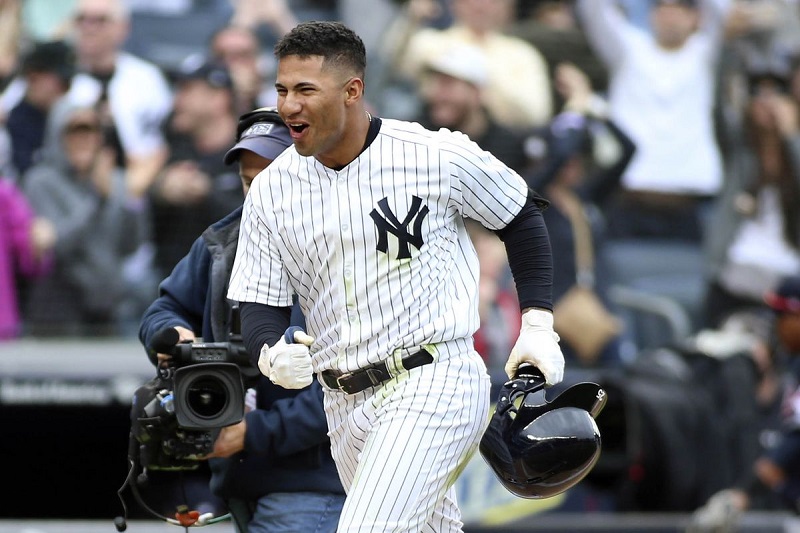 Happy Gleyber Day
Holy cow, they did it again!
The Yankees finished the series the same way they started it — with an incredible and historic comeback win that ended in walk-off fashion thanks to the heroics of a Baby Bomber. It was the fourth time this season they've won a game despite trailing after eight innings, the most such wins in the majors. And they've outscored their opponents 21-3 in the ninth inning, a run differential of plus-18 that is the best in the ninth inning for any MLB team this season.
The win also completed a remarkable 16-game run during which they've won 15 games and outscored their opponents by a whopping 61 runs (that's a margin of victory of nearly four runs per game!). It's the first time since 1954 — and the seventh time in franchise history — they've had a 16-game stretch with at least 15 wins and plus-61 run differential or better; of the previous six seasons it happened (1954, 1953, 1947, 1942, 1939, 1906), they went on to win the World Series three times.
It's hard to believe now, but remember that this game was a tight pitchers' duel with brilliant performances by both starters. Indians righty Mike Clevinger struck out 10 and allowed one hit over seven-plus innings, while Domingo German tossed six hitless innings with nine strikeouts for the Bombers. It was the first major-league baseball game since at least 1908 (and probably ever) in which both starters had nine or more strikeouts and gave up no more than one hit.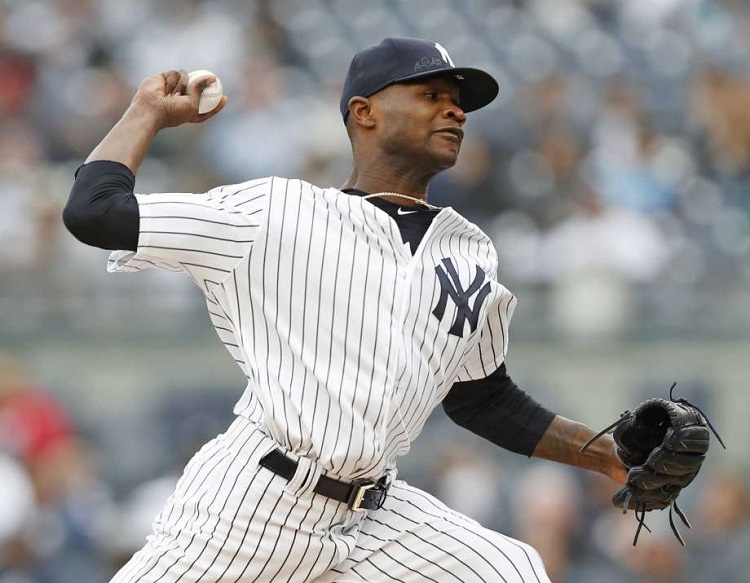 In his first career MLB start on Sunday, German was simply phenomenal. To the bullet points!
The first pitcher in MLB history (since at least 1908) to strike out at least nine guys and allow no hits in his first career start.
The second-youngest Yankee to not allow a hit and get at least nine strikeouts in a game. The youngest was a 24-year-old Dave Righetti when he threw his July 4th no-hitter in 1983.
And because we love to #KillTheWin … he is the only Yankee starting pitcher since at least 1908 to throw at least six hitless and scoreless innings, and not get the win.
The most impressive part of German's day was the way he overpowered the Indians lineup with his swing-and-miss, worm-burning stuff. Lots of whiffs and weak contact is a very good recipe for a dominant performance. As you can see below, German's location was nearly perfect, painting the edges and pounding the bottom of the zone while mostly avoiding the heart of the plate: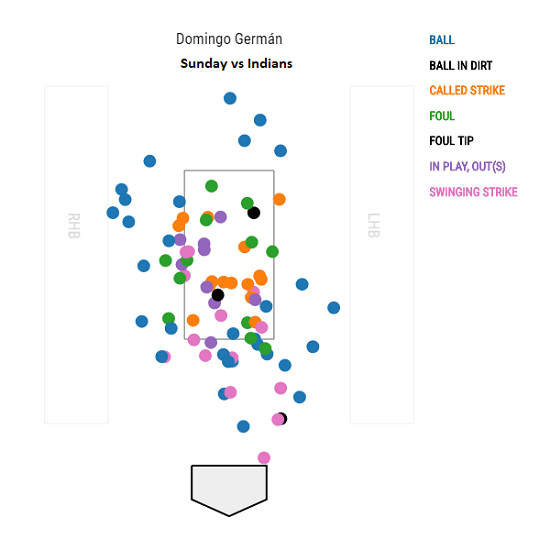 Domingo generated 16 swinging strikes among his 84 pitches, a rate of 19 percent that is tied with Sonny Gray (April 1) for the highest by a Yankee starter in a game this season. And his average exit velocity allowed of 78.6 mph on his nine balls in play is the second-lowest by a Yankee starter in a game this season, behind only CC Sabathia (76.4) on April 24.
Finally we get to the hero of the day, Gleyber Torres, who capped a thrilling late-game rally by crushing a three-run blast 415 feet over the fences in centerfield for the stunning victory.
With one swing of the bat he etched his name in the franchise record books, becoming the
youngest Yankee ever to hit a walk-off home run
. And because we love Yogi — "It's Deja Vu All Over Again" — and historic coincidences, here are the two youngest Yankees to hit walk-off homers:
| | | |
| --- | --- | --- |
| 21 yrs, 144 days | Age | 21 yrs, 185 days |
| May 6, 2018 | Date | April 23, 1953 |
| 9th | Inning | 9th |
| 2 | Runners on | 2 |
| Indians | Opponent | Red Sox |