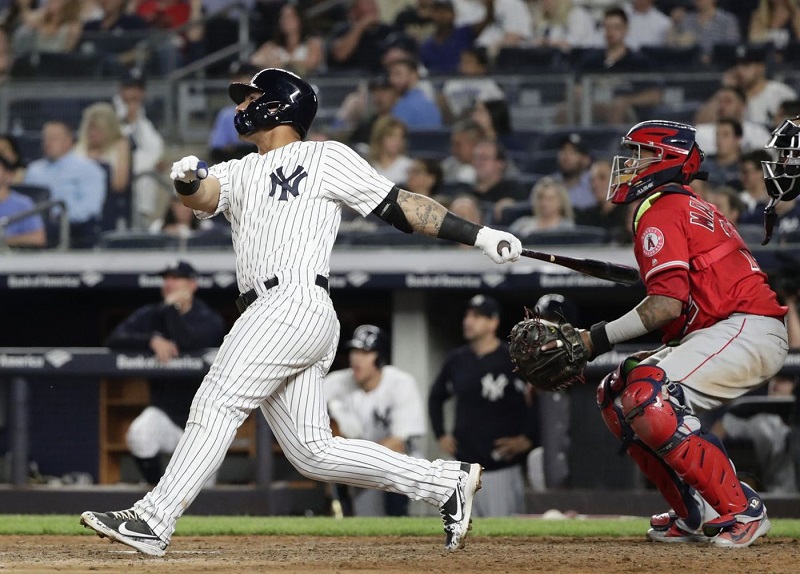 It's Torres' world, and we're just …
After enduring yet another travel nightmare and coming off back-to-back stinging losses to the Rangers, the Yankees were happy to be back home on Friday night, and even more exited to see their perennial Bronx punching bag in the other dugout. They entered 2018 with a 28-10 record against the Angels at the new Yankee Stadium (including the postseason), their best record versus any AL team at the ballpark.
Gleyber Torres made sure that the Yankees would remain the only team in MLB without a three-game losing streak, delivering his bazillionth historic, clutch performance in their 2-1 victory. With the win, the Yankees also improved to 9-3 in one-run games, the best record in MLB, and put them halfway to last year's one-run win total (when they were 18-26).
Torres wouldn't have been able to extend his assault on the record books without a gutty performance from Luis Severino. The Yankees ace grinded through six innings, holding the Angels to one run despite putting eight runners on base, including a career-high-tying four walks. Still, even lacking his best stuff, we get to update our favorite chart:
Most Starts with 1 R or Fewer Allowed Since 2017

Luis Severino 22
Max Scherzer 20
Justin Verlander 20

— Katie Sharp (@ktsharp) May 26, 2018
Aaron Judge also helped keep the Angels in check with a run-saving assist to nail Kole Calhoun at home plate in the third inning, his second assist to home this season. The last Yankee right-fielder with multiple assists to home in a season was Ichiro Suzuki, who had three in 2013. The throw was measured at 100.5 mph by Statcast, the fastest throw by a position player this season.
Back to our hero, Mr. Torres, who added yet another chapter to his storybook rookie season. He sent the Yankee Stadium crowd into a frenzy when he crushed a tie-breaking solo home run in the seventh inning, his fourth game in a row going deep. You know the drill … to the bullet points! He is the:
Youngest player in AL history to homer in four straight games, and the fourth-youngest in MLB history. Only Miguel Cabrera (2004), Albert Pujols (2001) and Andruw Jones (1998) were younger than Torres.
Third Yankee second baseman to homer in four straight games, joining Hall-of-Famers Tony Lazzeri (1936) and Joe Gordon (1940).
Third player in MLB history to homer in four straight games while batting ninth in the order. The others were White Sox catcher Jim Essian in 1977 and Phillies pitcher Ken Brett in 1973.
It was also Torres' fifth career go-ahead homer, all of them coming since May 4; in that span, over the past three weeks, all other Yankees combined to hit five go-ahead homers.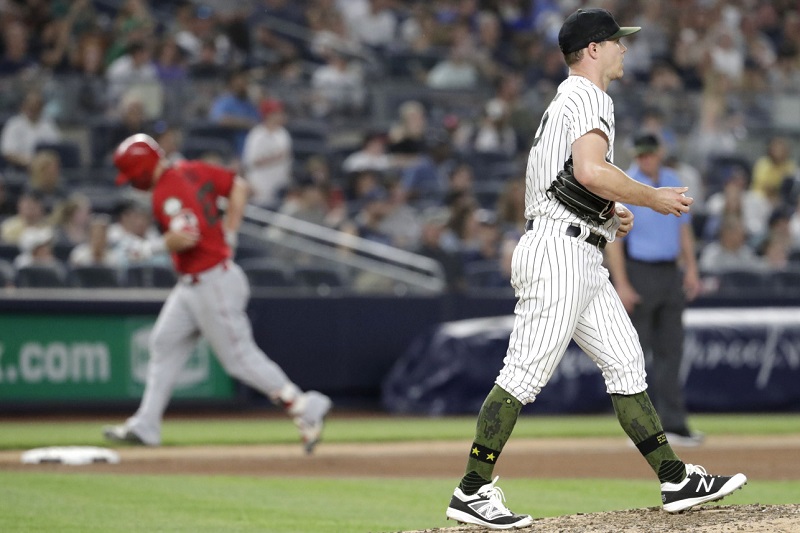 Very dark skies in the Bronx
One day after one of the season's most exhilarating wins, the Yankees crashed back to Earth with one of their biggest duds of the season. They jumped out to a 4-1 lead after two innings, but it was all downhill from there, as the Angels outscored them 10-0 the rest of the way. It's the third time this year they've coughed up at least 11 runs in a game; last year they did that only twice the entire season.
This was not only an embarrassing loss, but also a rare one for the Yankees: it's just the second time in the last 15 seasons that they blew of lead of at least three runs and ending up losing by seven or more runs. The other two instances were a 14-7 loss to the White Sox on June 29, 2012 and a 13-4 loss to the A's on August 3, 2004.
Sonny Gray delivered another brutal outing, increasing his ERA to 5.98 overall (third-worst among MLB qualified pitchers) and a miserable 7.22 at home (worst in MLB). We've detailed here his struggles to get ahead early in counts, but there's another potentially bigger issue that continues to plague Gray this season and again played a large role in his awful performance on Saturday — his massive struggles against right-handed batters.
Fifteen of the 21 Angels batters he faced hit from the right side, and they went 7-for-13 with two doubles, a homer, and four singles. The Angels righties pummeled him, as the nine balls they hit fair had an average exit velocity of 98.3 mph.
For the season, he's allowed a .312/.395/.533 line and .397 wOBA to righties, basically turning every right-handed batter he faces into Jose Abreu (.398 wOBA this season). His OPS, OBP and Slugging Percentage allowed to righties each rank among the five worst in MLB for right-handed pitchers. [For reference, lefties are hitting .240/.348/.323 with a .306 wOBA against Gray.]
Much of that right-handed damage on Saturday was done by Mike Trout, who authored his own historic performance. He went 5-for-5 with three doubles, a homer and a single. He's the first visiting centerfielder ever with four extra-base hits at Yankee Stadium (old or new). After Saturday's game, Trout's slugging percentage in the Bronx was .819, the highest by any player (min. 70 PA) at Yankee Stadium (old or new).
The game started out on a positive note, with Brett Gardner and Aaron Judge smacking homers back-to-back in the bottom of the first inning. For Gardner, it was his 12th career leadoff homer, the seventh-most in franchise history (Derek Jeter is first with 29). For Judge, it was his 70th career homer, a milestone he reached quicker (231 games) than any other player in MLB history (Ryan Howard is second, 233 games).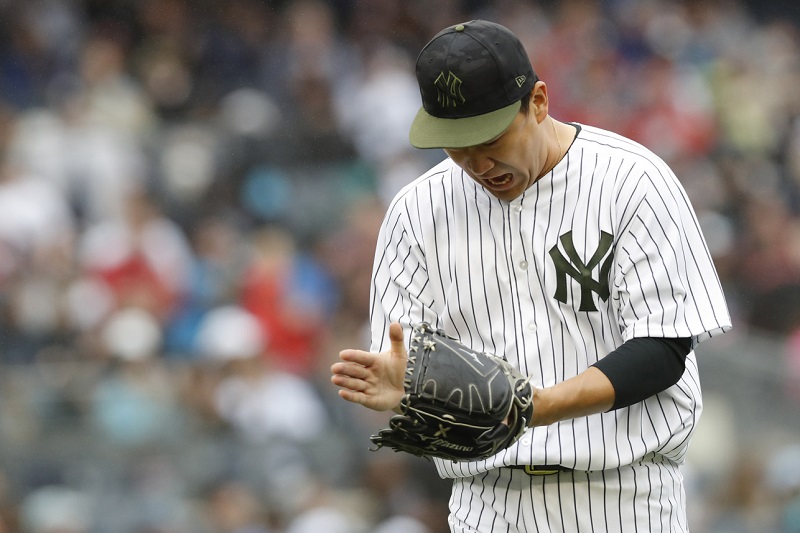 This is heaven for Tanaka
The Yankees rebounded from their Saturday night disaster with a 3-1 win on Sunday afternoon, taking the series behind justenough offense and a dominant pitching performance from Masahiro Tanaka.
They scored all three runs in third inning, and the only hit in that frame was a leadoff single by Aaron Judge. We actually should call it a leadoff missile — the baseball left his bat with an exit velocity of 119.9 mph, the hardest-hit ball in play this season. Since the start of last season, there have been six balls hit with an exit velo of 119-plus mph in MLB — Judge has five of them and Giancarlo Stanton has the other one.
Tanaka produced his own bounceback performance, holding the Angels to one run on three hits in six innings. He struck out eight and the only mistake he made was a fourth-inning home run by Andrelton Simmons. He consistently froze the Angels batters, painting the corners and changing eye levels, getting a season-best 20 called strikes on the 60 pitches that the Angels took.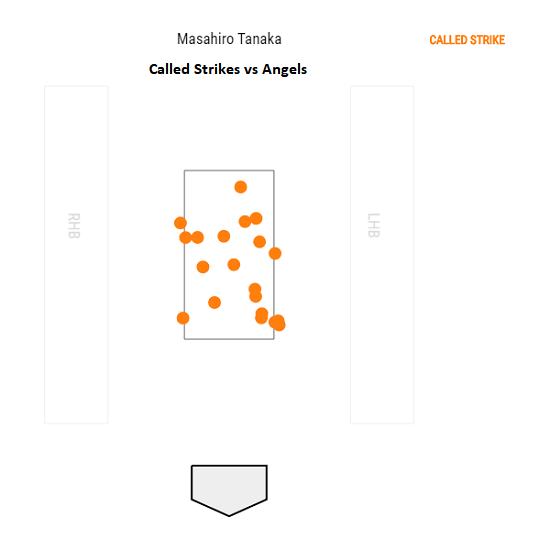 If only the Yankees played in the AL West … After Sunday's brilliant outing, Tanaka improved to 6-0 with a 1.59 ERA in six career starts against the Angels. That's the third-lowest ERA against them among active MLB pitchers (min. 5 starts), and the second-lowest against them by any pitcher in Yankees history (min. 3 starts), behind Mel Stottlemyre (1.49 ERA over 27 starts).