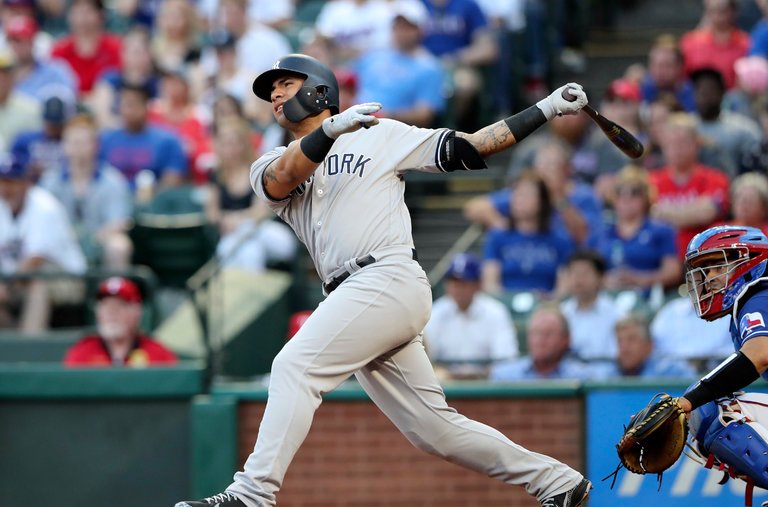 "I feel sorry for the baseballs"
The Yankees opened their series in Texas in historic fashion, as the offense went bonkers and put on an insane power-hitting show in a 10-5 win over the Rangers.
The final tally was five homers and five doubles, and when combined with the offensive explosions from their previous two games in Kansas City, produced these staggering stats:
First time in franchise history that they hit at least four homers in three straight games.
First team since the 1963 Twins with four or more home runs in three straight road games, and the first team since the 1961 Braves to do that on the same road trip. Those two teams, by the way, featured three of the top-25 home run hitters of all-time: Hall-of-Famers Harmon Killebrew (Twins), Eddie Mathews (Braves) and Hank Aaron (Braves).
First time in franchise history that the Yankees recorded at least eight extra-base hits in three straight games.
Only three other teams have done that in baseball history: 1935 Senators, 1999 Indians, 2003 Red Sox. And the best thing we can say about those three clubs is … I'll just leave you with this clip:
And finally, putting it all together for our Obscure Yankeemetric of the Series: Yankees are the first team in MLB history (or at least since 1908) with at least eight extra-base hits, including four homers, in back-to-back-back games.
And that might not have even been the best #FunFact from this game
Bartolo Colon faced Eddie Murray in his MLB debut.

Eddie Murray was elected to the Hall of Fame 15 years ago!

— Katie Sharp (@ktsharp) May 22, 2018
Gleyber Torres kicked off the dinger party with a 418-foot blast to left-center field, but he was just getting warmed up at that point, as he went deep (425 feet deep, to be exact) again in the sixth for his first career multi-homer game.
He became the second-youngest (21 years, 159 days) Yankee ever to hit two or more homers in a game, sandwiched between two hackers named Mickey Mantle (20 years, 296 days on August 11, 1952) and Joe DiMaggio (21 years, 212 days on June 24, 1936). And he's also the third-youngest second baseman with a multi-homer game, trailing Harmon Killebrew (1956) and Bobby Doerr (1939).
Aaron Hicks capped off the homer parade with a two-run shot in the ninth inning. Combined with their five-homer outburst on Saturday in Kansas City, it was their second five-homer game in three days. That last time they pulled off that feat on the road was June 28, 1939 in both games of a doubleheader at Philadelphia's Shibe Park against the A's.
Doomed by Domingo
For the second night in a row the Yankees were handicapped by a mediocre starting pitching performance, but on Tuesday they couldn't match Monday's record-breaking offensive fireworks, and suffered a 6-4 loss to the Rangers.
The hole that Domingo German dug was simply too deep even for this peak 2018 version of the Bronx Bombers, as he allowed six runs before getting pulled in the fourth inning. The wheels came off for him in the second frame, during which the Rangers lead swelled from 3-0 to 5-0 without getting a hit, thanks to three wild pitches, two walks and a plunking. German is first Yankee starter to have three wild pitches in an inning since Roger Clemens on September 8, 2002 against the Tigers.
His final line is something you probably couldn't even re-create in a video game: 3 2/3 innings, six runs, three walks, four hits, three wild pitches, two homers, hit batter. It also forced us to give out a second Obscure Yankeemetric of the Series.
German is the first Yankee pitcher ever to throw three wild pitches and allow two homers while facing no more than 20 batters in a game. And when you add in the six earned runs he coughed up … only one other pitcher in MLB history has managed to do all that in outing of 20 or fewer batters faced: Senators righty Jim Duckworth against the Twins on August 29, 1963. Duckworth (-3.4 career WAR in 267 innings) is probably not a guy you want to be mentioned in the same sentence as.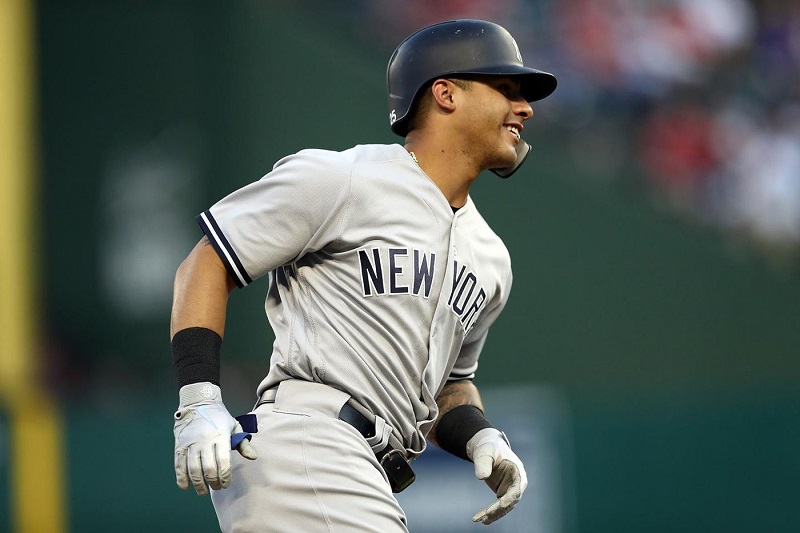 The offense did try to rally, spearheaded by a third-inning home run off the bat of Gleyber Torres. At 399 feet, it was somehow the shortest of the seven homers he'd hit in his career through Tuesday. Following his two-homer spectacle on Monday, it still produced another batch of #GleyberGood fun facts.
He was the youngest Yankee to homer in back-to-back games since a 20-year-old Mickey Mantle in July 1952. Even more impressive, at 21 years and 160 days old, he was the youngest player in franchise history with at least three homers in a two-game span, and also the youngest in MLB history to do that as a second baseman.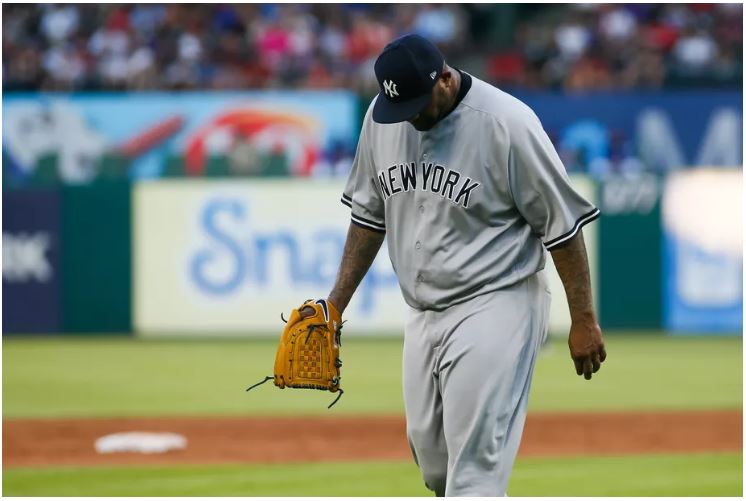 #TooManyHomers
It was deja vu all over again for the Yankees, who for the second straight night suffered from an awful starting pitching performance and lost a slugfest to the Rangers, 12-10. This loss, however, was far more painful, as the Yankees blew 4-0 and 10-5 leads and were on the verge of winning their ninth series in a row.
It was the first time in a decade they suffered such a heart-breaking loss, in which they coughed up multiple leads of at least four runs in the same game. The last time it happened was a 10-9 loss on May 27, 2008 against the Orioles.
Didi Gregorius put the Yankees up early with a two-run blast off Rangers southpaw Doug Fister in the opening frame. It was his first homer since April 27, snapping a 75 at-bat homerless streak. That should have been a good omen for this Yankees team, which, prior to Wednesday's game, led the majors with a 24-3 record when scoring first.
But CC Sabathia couldn't hold the 4-0 lead, coughing up five runs in the bottom of the fourth, with four of those runs scored via homers by lefties Ronald Guzman and Nomar Mazara. It was just the second time in his career that two lefty batters went deep against Sabathia in the same inning — Johnny Damon and Casey Kotchman homered in the third inning of a 5-1 win by the Rays on August 12, 2011.
The Yankees rallied from that mini-implosion, erupting for six runs in the fifth, and the big blow was a three-run homer by Gleyber Torres. Onto the bullet-point recap for the scorching-hot rookie! At 21 years and 161 days old, he is the ….
Youngest Yankee ever to homer in back-to-back-to-back games.
Youngest in MLB to pull off the feat since a 20-year-old Giancarlo (Mike) Stanton for the Marlins in September 2010.
Third-youngest AL player to go deep in three consecutive games; only guys younger than Torres were Babe Ruth in 1916 (21 years, 128 days) and Ted Williams in 1939 (21 years, 0 days).
It was also the Yankees' third homer of the night, as they established a new franchise record with their fifth straight game hitting at least three home runs. Incredibly, all five games have been away from the Bronx. They are just the fourth team in MLB history to hit three or more homers in five straight road games, joining the 2017 Cardinals, 1996 A's and 1996 Orioles.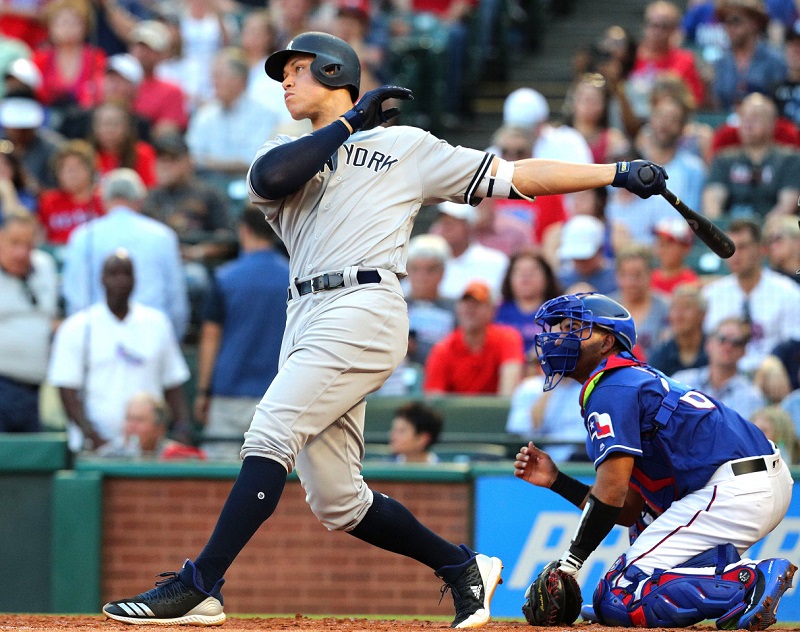 The home run derby continued a couple batters later when Aaron Judge destroyed a 92-mph fastball, sending it 471 feet and way over the center-field wall for the third-longest homer of his career. He is the only MLB player with three homers of at least 470 feet since the start of last season.
And that gave the Yankees 21 homers in their last five games, matching the Major-League record for the most homers in a five-game span, set by the 1977 Red Sox and 1999 Reds (Aaron Boone had three homers during that streak!).
Alas, all those homers were for naught as the Yankees still lost despite putting up double-digit runs and hitting a quartet of longballs. Howevahhhhhhh …
If you need something to feel good about, and you're into weird coincidences, there's this stat: The last time the Yankees lost a game in which they scored at least 10 runs and hit at least four homers was a 12-10 loss to the Rangers in Texas on August 23, 1998. That season turned out okay, right?