After a tough loss in the first game of the series, the Yankees have bounced back with two shutout wins over the Astros in Houston. They've held the Astros scoreless in their last 22 offensive innings. Luis Severino and Giancarlo Stanton were the stars of the show in Wednesday night's 4-0 win. The Yankees have won 11 of their last 12 games. They're good, folks.
NSFW Severino
Is Luis Severino getting better? It sure seems that way. Wednesday night's complete game shutout against the Astros was a power pitching masterclass. Strikeouts, grounders, swings and misses, weak contact … Severino did it all, including hit 100 mph on the radar gun with pitch No. 102. Lordy. He needed 110 mostly low stress pitches to complete the shutout, and Monday's off-day means Severino will get an extra of rest before his next start. Perfect.
The Astros did not have a runner reach second base until the seventh inning, when Yuli Gurriel and Josh Reddick opened the inning with back-to-back singles. That was, by far, the biggest jam Severino faced on the night. Gleyber Torres made a nice diving catch behind second base to snare Alex Bregman's line drive for the first out, then Severino struck out Marwin Gonzalez and got pinch-hitter Brian McCann to ground out to first. Threat over.
For much of the night, Severino made it look effortless. It looked like he and Austin Romine were playing catch. Severino did leave some sliders up in the zone in the first two innings, but he corrected that, and the slider was diving down and out of the zone the rest of the game. And, of course, Severino was throwing 99 mph on the black.
Luis Severino, 99 mph Paint on his 94th Pitch. ?????

Wow. pic.twitter.com/jA2ilgN6kn

— Rob Friedman (@PitchingNinja) May 3, 2018
Goodness. Severino's final line: 9 IP, 5 H, 0 R, 1 BB, 10 K. At 24 years and 71 days, he's the youngest Yankee to throw a complete game shutout since Sterling Hitchcock shut out the Orioles at 24 years and 22 days in May 1995. It's the first complete game shutout by any Yankee since Masahiro Tanaka did the deed at Fenway Park last April. A few more numbers:
Severino threw a first pitch strike to 27 of 33 batters faced, or 82%. That is bonkers. The league average hovers around 60% each year. He was ahead in the count all night.
Twenty-two of those 33 batters put the ball in play and only six of those 22 hit the ball out of the infield on the fly. Severino's average exit velocity allowed was a 83.1 mph. As good as it gets.
Severino threw 60 fastballs and the average velocity was 98.3 mph. The average velocity! Good gravy. The slowest fastball Severino threw checked in at 96.2 mph.
I was a bit surprised Aaron Boone sent Severino back out for the ninth inning — his pitch count was sitting at 99 after eight innings — only because he's shown a tendency to have his relievers start the inning fresh rather than go batter-to-batter. I was pleasantly surprised when Severino went back out for the ninth. Exactly what I would've done as manager. Severino threw maybe a dozen stressful pitches all night and there was no indication he his stuff was slipping. What a game. What a pitcher.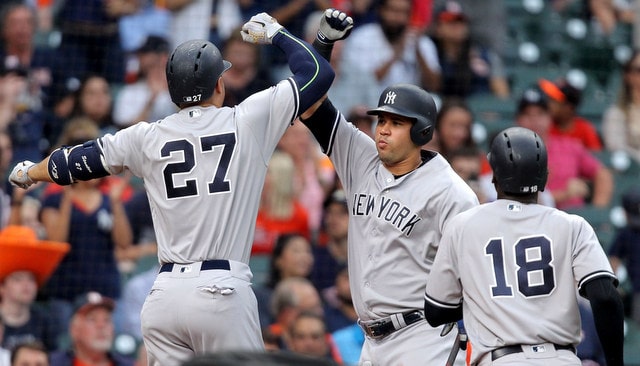 Stanton Smash(es)
Turns out all the Yankees had to do to hit a homer against Dallas Keuchel was wait 62.1 innings and acquire a dude who is coming off a top ten home run season all-time. Keuchel's success against the Yankees is well-documented. That's what made beating him up Game Five of the ALCS last year that much more satisfying. Even including Game Five, Keuchel went into Wednesday's game with a career 1.59 ERA against the Yankees. Geez.
Maybe Game Five of the ALCS was a turning point. The Yankees hit Keuchel hard that day (four runs in 4.2 innings), and on Wednesday night, it took them one inning to get on the board. Didi Gregorius poked a two-out single to left field — a nice piece of hitting, as announcers are fond of saying — then Giancarlo Stanton served a 2-0 sinker on the outer half into the right field seats for a two-run homer. Looked like a little bloop off the end of the bat too. It just carried and carried and carried.
Three innings later Stanton got Keuchel again, this time going down to golf a slider into the Crawford Boxes in left field. Two Yankee Stadium cheapies in Minute Maid Park. Neither was a no-doubter off the bat and both settled into the first row of seats. When players hit homers like that in Yankee Stadium, you can't help but shake your head. In Minute Maid Park, no one seems to care. Huh. Anyway, here are Giancarlo's two dingers:
That first homer checked in at 339 feet and is Stanton's shortest homer since Statcast became a thing in 2015. Can't even blame the short porch. Stanton vs. Keuchel as a Yankee: Two homers in three plate appearances. Every other Yankee in history vs. Keuchel: Zero homers in 262 plate appearances. Yeah. Charlie Morton and Justin Verlander worked Stanton over the last two games. It was ugly. The finesse southpaw got him on track. I'll take it.
Leftovers
Stanton was the offense this game. He added an insurance run with a two-out, two-strike ground rule double into the right field corner in the eighth inning. Giancarlo went 3-for-4 with two homers and a double. The rest of the Yankees went 6-for-32 (.188). He's had his struggles so far this season, no doubt about it, but Stanton is still an impact player, and he had a big impact Wednesday night. He took over the game offensively.
Two hits for Torres, who continues to look like a ten-year veteran. He also made that nice diving catch to help Severino out in the seventh inning. Gleyber is hitting .316/.366/.395 (105 wRC+) eleven games into his big league career. Aaron Hicks (bloop double), Aaron Judge (double), and Romine (pulled ground ball double) had the other hits. Gary Sanchez drew the only walk. Hicks also stole third base but was stranded in the sixth.
Tyler Austin left the game after making a diving stop to end the seventh inning. After the game Aaron Boone said Austin jammed his hip a little bit, but he's okay and is expected to be available tomorrow. That's good. Greg Bird is still a few weeks away and I'm not ready for Neil Walker or Adam Lind at first base full-time. Glad Austin is okay.
And finally, the Yankees are the first team to shut out the Astros in back-to-back games since the Rays did it in July 2013. Houston lost 111 games that season. The Yankees did it to the defending champs. Also, the Yankees have now allowed no more than three runs 11 times in their last 12 games. Seven times in those 12 games they allowed no more than one run. Hell yes.
Box Score, WPA Graph & Standings
ESPN has the box score and updated standings, and MLB has the video highlights. Here's our Bullpen Workload page and here's the win probability graph:

Source: FanGraphs
Up Next
The end of the series and the end of the road trip. The Yankees and Astros wrap up this four-game set Thursday afternoon. That's a 2pm ET getaway day start. Masahiro Tanaka and Lance McCullers Jr. will be on the mound. Win the game, win the series.