Good homestand. Great homestand, I'd say. After being delayed nearly three hours by rain, the Yankees picked up a 6-2 win over the Athletics on Sunday to close out the nine-game homestand. They went 7-2 on the homestand and have won 19 of their last 22 games overall. That'll play.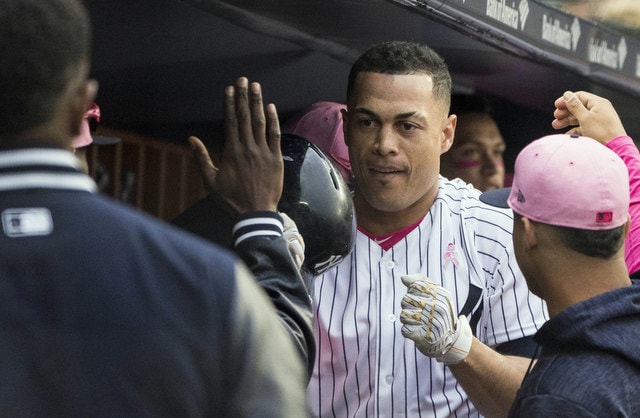 Three Early Runs
The Yankees have been playing from behind a little too much lately. They've been able to come back and win a bunch of times, and that's cool, but that's not a plan for sustainable success. Gotta start getting leads and playing from ahead, and the Yankees did that Sunday. They jumped on Brett Anderson for a quick 3-0 lead in the first inning.
The inning started with a Brett Gardner infield single the A's probably should've challenged. Looked like the throw might've beat Gardner. The call on the field was safe, so I guess they thought the replays were inconclusive at best. Whatever. Gardner reached, Aaron Judge followed with a double to right, and Didi Gregorius worked a walk to load the bases with no outs for lefty destroyer Giancarlo Stanton. The numbers going into Sunday:
Stanton vs. RHP: .185/.292/.311 (66 wRC+)
Stanton vs. LHP: .406/.444/1.094 (292 wRC+)
Anderson fell behind in the count 2-0 to Stanton and, sure enough, Giancarlo ripped a two-run single back up the middle. Aaron Hicks added another run with a two-out single later in the inning. The Yankees put three runs on the board in the first inning and forced Anderson to throw 33 pitches. Sadly, he settled down and kept the Yankees off the board until the fifth, when Stanton hit a solo homer.
Giancarlo went 3-for-3 with two singles and a homer against Anderson to further improve his numbers against left-handed pitchers. He added a double against right-hander Santiago Casilla later in the game, so his numbers against righties are going up too. After his slow start to the season — "slow" being a relative term here, because his numbers were never really awful — Stanton is up to .252/.339/.516 (127 wRC+) on the year. The big man's heating up.
Severino Grinds
An ace-like outing from Luis Severino, though not in the traditional sense. Severino hardly dominated the Athletics on Sunday. But, with less than his A+ stuff and command, he held a good hitting A's team to one run in six innings. Severino struck out seven despite getting only ten swings and misses among his 106 pitches. Three of the seven strikeouts were looking, so the whiffs were well-timed.
The A's put a runner on base against Severino in every inning but the second and sixth, and at one point spanning the fourth and fifth innings, five of ten Athletics reached base. Why didn't Severino allow a big inning? Because all five hits he allowed were singles, and only one of the five hits came with a runner in scoring position. Severino was able to bear down and escape nearly every jam. Just the one run allowed.
Severino's final line: 6 IP, 5 H, 1 R, 1 ER, 2 B, 7 K on those 106 pitches. Had Judge's throw not short-hopped Gary Sanchez at the plate, or if Sanchez had positioned himself a little differently, it might've been zero runs. The throw beat Jonathan Lucroy to the plate, but Gary couldn't handle the short hop. Alas. Nine starts into the season, Severino has a 2.14 ERA (1.98 FIP) with 30.8% strikeouts and 6.2% walks. Pretty, pretty great.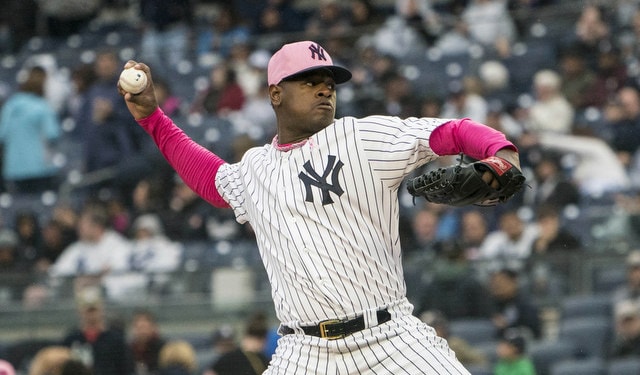 Leftovers
The Yankees added insurance runs in the seventh and eighth innings. Hicks beat out a potential inning-ending double play ball with the bases loaded in the seventh — two walks sandwiched around Stanton's double set that up — and Judge drove in Miguel Andujar in the eighth. Andujar singled and advanced to second on a wild pitch. Love those tack on runs.
Two hits apiece for Gardner, Judge, and Andujar. In fact, the 1-2-3-4 hitters went a combined 8-for-17 (.471) while the rest of the Yankees went 4-for-18 (.222). Gardner has reached base 14 times in his last five games. Told you good things were coming. Judge is up .311/.440/.601 (178 wRC+) on the season. Also, the 4-for-4 day puts Giancarlo at 999 career hits. Next one is No. 1,000.
All things considered, good game for the bullpen. Chasen Shreve allowed a garbage time homer and two infield singles in the ninth, thankfully in that order, and that was it. Three up, three down for Chad Green in seventh and three up, four down for Dellin Betances in the eighth. Betances got a visit from the trainer because he has a cut on his finger, but he stayed in the game and is apparently fine.
And finally, Stanton's home run was his tenth of the season. The Yankees are the fourth team in history with four 10+ homer guys within the first 40 games of the season. The list:
2018 Yankees: Stanton, Judge, Gregorius, Sanchez
2003 Rangers: Carl Everett, Juan Gonzalez, Rafael Palmeiro, Alex Rodriguez
2000 Blue Jays: Tony Batista, Jose Cruz Jr., Carlos Delgado, Raul Mondesi
1964 Twins: Bob Allison, Jimmie Hall, Harmon Killebrew, Tony Oliva
The Yankees have four dudes with 10+ homers. No other team even has three. Only six other teams even have two double-digit homer guys at the moment. I do love dingers, and I do #lovethisteam.
Box Score, WPA Graph & Standings
Head on over to ESPN for the box score, MLB for the video highlights, and ESPN for the updated standings. Here's our Bullpen Workload page and here's the win probability graph:

Source: FanGraphs
Up Next
The homestand is over and the Yankees are heading out on an eight-game road trip through Washington, Kansas City, and Texas. But first, an off-day. The Yankees will rest Monday before opening a quick two-game set against the Fightin' Harpers on Tuesday night. Masahiro Tanaka and Gio Gonzalez are the scheduled starting pitchers for that one.