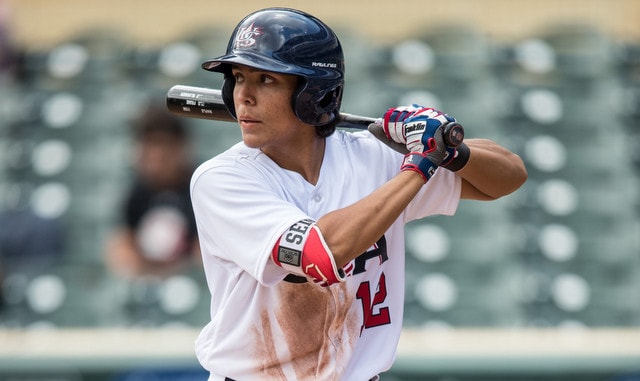 The Yankees develop catchers as well as any team in baseball and they went back to their wheelhouse with their first round pick in the 2018 draft. Monday night the Yankees selected Georgia high school backstop Anthony Seigler with the 23rd overall selection. Here's my write-up.
As luck would have it, Seigler was among the prospects attending the draft at the MLB Network studios. Here's the video of him being selected and introduced:
"It's a huge honor," said Seigler after being picked by the Yankees. I'm really blessed to be here and I'm really thankful to be able to put this jersey on and carry on a legacy. I just can't wait to get it started. I'm just ready to get out on the field and start playing, getting in the work."
Although the various scouting publications had Seigler outside the top 30 picks in their latest rankings —  Baseball America (subs. req'd), Keith Law (subs. req'd), and MLB.com ranked Seigler as the 41st, 43rd, and 46th best prospect in the draft class, respectively — he's been climbing draft boards in recent weeks. The latest mock drafts had him going in the 20-30 range.
Here's the scouting report from my write-up:
Seigler is one of the most unique players in the draft class. For starters, he's a switch-thrower with good velocity from both sides. He's also a switch-hitter who has performed well against elite competition in showcase events, though he's more of a doubles guy than a homers guy. Seigler knows the zone and projects as a high on-base hitter with good contact rates. Behind the plate, he's a good receiver with a strong arm, and he's a good enough athlete and runner that he's capable of playing other infield positions, including second base. Seigler, who is listed at 5-foot-11 and 200 lbs., is a very well-rounded prospect with a grinder mentality. The kid is tough as nails.
Catchers are always drafted higher than projected — it's an extremely difficult to position to fill, so teams jump on anyone who looks like they can do it long-term — and Seigler was the second backstop selected in the 2018 draft, behind only Georgia Tech's Joey Bart. Bart went to the Giants with the second overall pick.
Slot money for the 23rd overall pick is $2,815,900 and the signing deadline is Friday, July 6th. There are no signability concerns with Seigler, who is committed to Florida. He should sign fairly quickly. I imagine his bonus will be right around slot. Seigler's neither expected to command a big overslot bonus, nor is he expected to take a sweetheart deal well below slot.