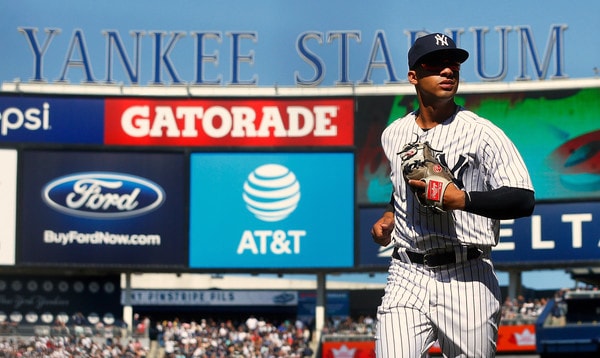 Baseball's annual amateur draft will begin Monday, which means all 30 teams are about to add many new players to their organizations. The draft is an exciting time. Thousands of young players will take a step toward achieving their dream of being a big league ballplayer. Only a handful will make it, of course. Even fewer will stick in MLB long-term.
The Yankees came into the season with one of the best farm systems in baseball, and already the system has undergone drastic change. Miguel Andujar, the No. 3 prospect on my preseason top 30 list, has graduated to the big leagues, and both Gleyber Torres (No. 1) and Domingo German (No. 15) will graduate soon. Nick Solak (No. 16), Taylor Widener (No. 22), and Jake Cave (No. 23) have been traded.
With the 2018 draft only a few days away, it's time for a check-up on the farm system. My annual pre-draft top 30 prospects list is, by far, my least favorite list because it's prone to small sample size noise and knee-jerk reactions. And there are rarely new players. The Yankees haven't made any notable trades since Opening Day, so there have been no new names added to the system. Boring!
So, with all that in mind, here is my updated list of the top 30 prospects in the farm system. Feel free to bookmark this post for future mocking purposes.
The Top Prospect
1. IF Gleyber Torres, MLB (Preseason: No. 1)
Torres will lose his prospect eligibility within a week. He is only 17 at-bats short of the 130 at-bat rookie limit. He is under the limit though, so he remains prospect eligible and on my list. Gleyber's already a star. I mean, he's only been up a little more than a month and that's nothing, but you can see it. He has the tools and the athleticism, and everything plays up because his approach is so advanced. Torres has somehow been better than advertised.
The Other Two Top Prospects
2. LHP Justus Sheffield, Triple-A (Preseason: No. 2)
3. OF Estevan Florial, High-A (Preseason: No. 4)
Baseball can be a real jerk sometimes. Case in point: Sheffield (shoulder) and Florial (wrist) have both spent time on the disabled list this season. Sheffield's shoulder problem was minor — as minor as a shoulder injury can be, anyway — and he returned to the mound after a quick two-week hiatus. Florial will be out until August after having hamate surgery. Sucks.
That said, Sheffield and Florial remain the best the farm system has to offer in the post-Gleyber world, and either guy would be the No. 1 prospect for several other clubs. Sheffield just got to Triple-A and is learning the ropes there. Florial wasn't hitting for much power before the injury and that's something the injury could explain. The tools are still there though.
The Big Arm Tier
4. RHP Albert Abreu, High-A (Preseason: No. 5)
5. RHP Jonathan Loaisiga, Double-A (Preseason: No. 17)
6. RHP Chance Adams, Triple-A (Preseason: No. 7)
7. RHP Dillon Tate, Double-A (Preseason: No. 8)
8. RHP Luis Medina, Extended Spring Training (Preseason: No. 9)
I'm not big on making sweeping changes to my top 30 prospects list two months into the season, though in Loaisiga's case, I decided to aggressively run him up the rankings because I so believe in his stuff. Mid-90s gas, out-pitch breaking ball, quality changeup, and he throws strikes. You just have to cross your fingers and hope he stays healthy. The injury history is not pretty — he missed time with a blister last month — but everything else is sooo good.
Abreu is just now starting to get back up to speed after having his appendix removed in Spring Training and starting the season on the disabled list. Adams is trying to get back on track after offseason elbow surgery and things are not going well right now. Would really like to see the 2016 Chance Adams soon. I'd even settle for 2017 Chance Adams at this point. Tate's been good but I'd really like to see some more strikeouts at some point. Medina is still in Tampa getting ready for the short season leagues.
The Adversity Tier
9. UTIL Tyler Wade, Triple-A (Preseason: No. 6)
10. SS Thairo Estrada, Triple-A (Preseason: No. 10)
11. RHP Freicer Perez, High-A (Preseason: No. 11)
12. RHP Matt Sauer, Extended Spring Training (Preseason: No. 12)
13. RHP Domingo Acevedo, Double-A (Preseason: No. 13)
14. RHP Clarke Schmidt, Rehab (Preseason: No. 14)
15. RHP Trevor Stephan, Double-A (Preseason: No. 21)
Almost everyone in this tier is dealing with or has dealt with some adversity this season. Sauer and Stephan haven't. Sauer, like Medina, is a teenager getting ready to join a short season affiliate in a few weeks, and Stephan has been very good so far this season.
Everyone else in this tier has dealt with something. Wade didn't hit a lick during his big league stint (again). Estrada literally got shot. Perez is on the disabled list with a mystery injury. Acevedo missed close to two months with a blister. Schmidt is still rehabbing from Tommy John surgery. Talented, all of them. But they all have some overcoming to do these next few weeks and months.
The In-Between Tier
16. RHP Domingo German, MLB (Preseason: No. 15)
17. SS Kyle Holder, Low-A (Preseason: No. 18)
18. 3B Dermis Garcia, Low-A (Preseason: No. 19)
19. RHP Garrett Whitlock, High-A (Preseason: Not Ranked)
20. SS Hoy Jun Park, High-A (Preseason: No. 20)
21. RHP Roansy Contreras, Extended Spring Training (Preseason: No. 24)
22. OF Billy McKinney, Triple-A (Preseason: No. 25)
23. OF Pablo Olivares, Low-A (Preseason: Not Ranked)
24. OF Isiah Gilliam, High-A (Preseason: No. 26)
25. SS Diego Castillo, High-A (Preseason: No. 27)
Why call this the in-between tier? Because I think the top 15 prospects in the farm system are pretty clear, and there's a small army of lower level guys who could slot into the back of the top 30 list. These ten players slot in nicely between the top 15 and all those lower level guys.
Anyway, Whitlock and Olivares are new additions to the top 30. Whitlock has added a four-seamer and upped his velocity since last year's draft, and Olivares is making the jump from my not top 30 prospects list into the actual top 30 list. None of the other guys in this tier have given me much of a reason to move them up or down the list in a meaningful way. Like I said, I'm not big on overhauling a prospect list two months into the season.
The Sixth Tier
26. RHP Deivi Garcia, Extended Spring Training (Preseason: No. 28)
27. SS Oswaldo Cabrera, Low-A (Preseason: No. 29)
28. RHP Nick Nelson, High-A (Preseason: Not Ranked)
29. RHP Alex Vargas, Low-A (Preseason: No. 30)
30. RHP Rony Garcia, Low-A (Preseason: Not Ranked)
Garcia is another preseason not top 30 guy who jumps into the top 30 and will likely be bumped out of the post-draft list. Such is life. Nelson's fastball/curveball combination is really good and his command seems to be coming along. I wanted to find a spot for him in the preseason top 30 list but just couldn't do it. The Yankees have about ten other lower level arms who could easily slot into these last few spots. They are not short of interesting pitchers.
The Extra Two
31. RHP Cody Carroll, Triple-A (Preseason: Not Ranked)
32. RHP Juan De Paula, Extended Spring Training (Preseason: Not Ranked)
Gleyber is 17 at-bats short of the rookie limit and German is one inning short of the 50-inning rookie limit, so they're going to graduate this coming week. Once that happens, Carroll and De Paula will shift up and into the top 30. Carroll still has to iron out his command, but an upper-90s fastball with a slider and a splitter will play in relief. De Paula's one of those many lower level pitchers the Yankees have. Others considered here include RHP Nick Green, RHP Mike King, RHP Nick Martinez, RHP Glenn Otto, LHP Josh Rogers, OF Canaan Smith, and RHP Erik Swanson.
The Yankees have several highly regarded prospects slated to come stateside this year, most notably Ezequiel Duran and 2017 bonus babies Everson Pereira and Ronny Rojas. I've gotten burned ranking Dominican Summer League kids in the past, so now I wait until they play for one of the domestic affiliates. Just a personal preference. Duran, Pereira, and Rojas should play in rookie ball this summer and all three will factor into the top 30 list down the road. Not now though.
* * *
With Torres and Andujar graduating, plus the natural attrition associated with a pitching heavy system, the farm system will be in worse shape after the season than it is now. Not a doubt about it. Nothing the 2018 draft can do to save the system's ranking. And that's fine. Losing top prospects like Gleyber and Andujar to graduation is a good thing! Give me talented young players on the MLB roster over a great farm system every day of the week.