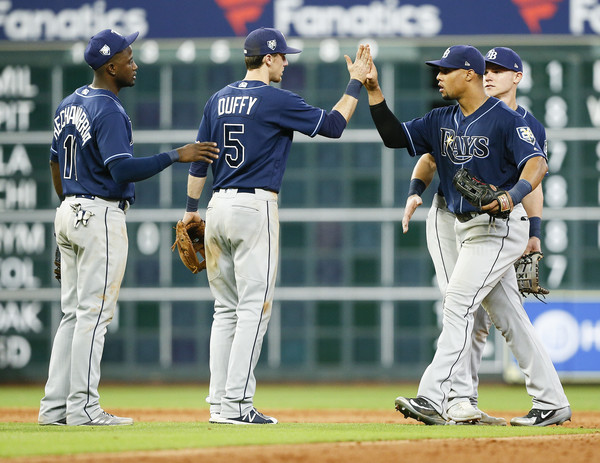 For the first time this season, the Yankees will play in Tropicana Field. They're in Tampa for three games this weekend.
The Last Time They Met
It seems like just yesterday that the Yankees hosted the Rays, but that's not quite true; in fact, it was last week. The Rays visited the Bronx last weekend, and the good guys took three out of four by a combined score of 14 to 7. A few notes from the series:
Jonathan Loaisiga made his big league debut in the second game of the series, and was incredibly impressive in doing so. He tossed 5 scoreless innings and allowed seven total base-runners, while striking out 6.
Kevin Cash, the Rays manager, compared Loaisiga to Mariano Rivera after the game – and that's equal parts wonderful and insane.
Luis Severino, not to be outdone, was even better the following day, pitching to the following line – 8.0 IP, 3 H, 0 R, 2 BB, 9 K. That represents the second-best start of his career by Game Score.
Didi Gregorius had a big series, going 6-for-11 with a triple and a home run, and that may well have been the jump-start to awakening from his slumber.
Check out Katie's Yankeemetrics post for more fun facts.
Injury Report
Chris Archer is still on the disabled list with a strained abdominal muscle, and is slated for a bullpen session today – which means he's still a couple of weeks away, and that's without any setbacks. Starting pitcher Jake Faria is out until August with an oblique injury, and pitching prospects Jose De Leon, Anthony Banda, and Brent Honeywell are all out for the season due to Tommy John Surgery, as well.
On the position player side of things, Christian Arroyo and Daniel Robertson are both on the disabled list. Neither is expected to be out long, but their return dates remain TBD.
Their Story So Far
The Rays are 34-40 with a -17 run differential, and have spent much of the season jockeying for third place in the division with the Blue Jays. They're quite a bit better at home, though, with a 15-16 record and a +15 run differential, so they've got that going for them.
They are still using an "opener" in lieu of a traditional starter in a sizable portion of their games, with Blake Snell and Nate Eovaldi serving as the only true starting pitchers on the roster right now. The opener tends to hand the ball over to a long reliever after the first or second inning, which results in some intriguing box scores. It has been a mixed bag, but it is difficult to fault the Rays for trying something new when they have five MLB or MLB-ready starting pitchers on the disabled list.
The Lineup We Might See
Despite the injuries to Arroyo and Robertson, the Rays offense is just about at full-strength, as Kevin Kiermaier has returned from the DL and prospects Jake Bauers and Willy Adames garnered promotions. We'll probably see something along these lines:
Kevin Kiermaier, CF – .135/.211/.192, 0 HR, 1 SB, 15 OPS+
Matt Duffy, 3B – .317/.360/.439, 4 HR, 4 SB, 125 OPS+
Jake Bauers, 1B – .250/.379/.458, 1 HR, 0 SB, 136 OPS+
Wilson Ramos, C – .288/.337/.447, 9 HR, 0 SB, 119 OPS+
C.J. Cron, DH – .237/.316/.452, 16 HR, 1 SB, 114 OPS+
Joey Wendle, 2B – .272/.316/.364, 2 HR, 6 SB, 92 OPS+
Willy Adames, SS – .182/.229/.273, 1 HR, 0 SB, 41 OPS+
Mallex Smith, LF – .276/.341/.360, 0 HR, 13 SB, 99 OPS+
Johnny Field, RF – .224/.260/.401, 6 HR, 4 SB, 83 OPS+
Carlos Gomez (.191/.264/332) and Adeiny Hechavarria (.285/.312/.354) will find their way into the lineup, as well.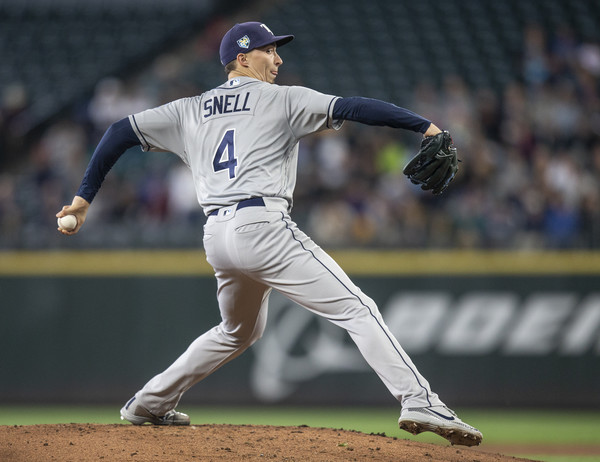 The Starting (Opening) Pitchers We Will See
Friday (7:10 PM EST): LHP CC Sabathia vs. RHP Ryne Stanek
Stanek has opened six games this season, pitching to the following line: 9.0 IP, 3 H, 2 R, 3 BB, 9 K. That's … surprisingly good. Of course, he has only completed the second inning once (and has maxed-out at 40 total pitches), so the Rays will lean heavily on the bullpen once he leaves the game. He opened against the Yankees last Saturday, and he threw a scoreless 1.1 innings. The Yankees won that game 4-1.
Stanek is a flamethrower, featuring a high-90s four-seamer, a high-80s splitter, and a high-80s slider. Those two breaking balls are legitimate swing and miss offerings, too.
Last outing (vs. HOU on 6/19) – 1.0 IP, 0 H, 0 R, 0 BB, 1 K
Saturday (4:10 PM EST): RHP Sonny Gray vs. RHP Wilmer Font
The Rays are Font's third organization this season, and it's not too difficult to understand why when you see his 7.56 ERA with the Dodgers and A's. However, he has been quite good for the Rays, pitching to a 2.20 ERA (184 ERA+) in 16.1 IP; he's also being stretched-out to be an actual starter, with his pitch counts climbing by 15-plus pitches in each of his last three outings. He's only pitched into the fifth inning once, but it stands to reason that he can go deeper into the game if needed.
Font throws five pitches – a mid-90s four-seamer, a mid-90s sinker, a mid-80s change-up, a mid-80s slider, and a mid-70s curve. It's a starter's arsenal and he only recently turned 28, so the Rays might've found something here.
Last outing (vs. NYY on 6/17) – 4.1 IP, 4 H, 1 R, 1 BB, 5 K
Sunday (1:10 PM EST): RHP Domingo German vs. LHP Blake Snell
The Yankees roughed Snell up last week, scoring four runs in five innings and putting nine runners on-base. Snell – who was taken one pick after Dante Bichette Jr. back in 2011 – has otherwise been one of the best starters in baseball this year. And he has a 0.96 ERA at Tropicana Field.
Last outing (vs. HOU on 6/19) – 7.0 IP, 3 H, 1 R, 7 BB, 6 K
The Bullpen
The Rays currently employ a closer-by-committee, with Sergio Romo (5.46 ERA), Jose Alvarado (3.00 ERA), and Chaz Roe (2.79 ERA) seeing most of the ninth inning action. They also have a trio of long relievers in Austin Pruitt, Matt Andriese, and Ryan Yarbrough – at least one of which will come in to relieve Stanek today – and one of the best stories in baseball in Jonny Venters.
Who (Or What) To Watch
I'm excited to see how Domingo German follows up on his terrific outing against the Mariners, as well as the prospect of a pitchers duel between him and Snell. And the Rays in general fascinate me, with their aggressive bullpen-ing and high-risk approach on the bases.