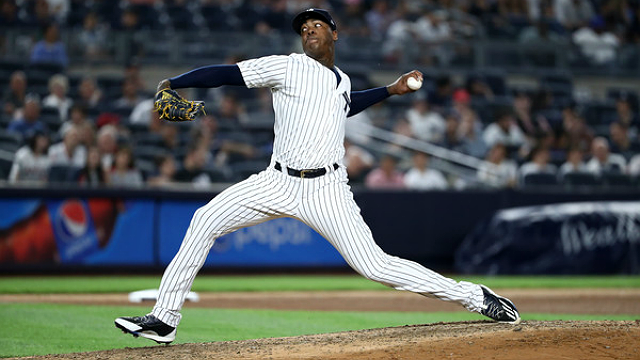 After enduring the worst season of his career last year, Aroldis Chapman is back to doing Aroldis Chapman things on the mound this year. He has a 1.29 ERA. He threw a pitch 104.8 mph last week. He's striking out nearly two batters an inning and looking dang near flawless while doing so.
But at age 30, Chapman actually has changed in one noticeable way: His slider.
Watch it dive out of the zone here.
And here, too.
You can't teach an old dog new tricks and for Chapman, that's mostly true. Since 2015, he's thrown 77.6 percent fastballs, 12th highest among qualified relievers. He's thrown 76.9 percent this year. He's still going to pump in fastball after fastball for the most part and be pretty darn effective doing so. He's gone to a sinker a little bit more, but it's still a lot of velocity.
However, he's used his slider more in 2018 (22.9 percent) than he had in each of the last three seasons despite throwing it 1.7 mph slower than in 2017 (For reference, his four-seamer is 1.0 mph slower this year). There's something different there.
Furthermore, it's been much more effective. Chapman has struck out 23 batters on the slider, one more than all of 2017 despite throwing it 55 fewer times. He's got a whiff percentage of 60 percent with the pitch, his best mark since 2012. Batters are hitting just .161 against it with just one extra-base hit (Maikel Franco's homer on Monday).
So how exactly has the pitch changed?
First, it's moving a lot less vertically. Throughout his career, he's received between 3.19 and 4.94 inches of vertical break on the slider. This year? Just 0.95 inches.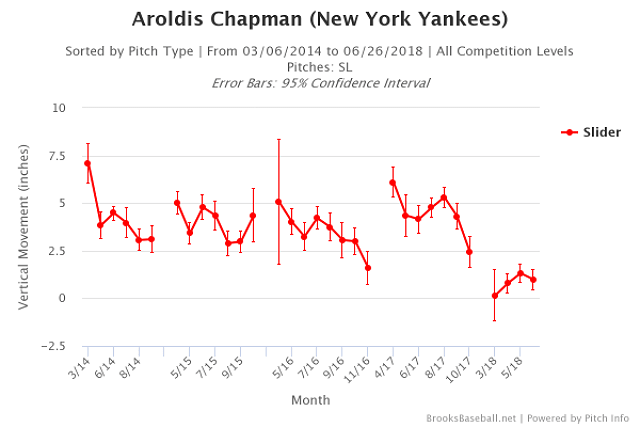 Secondly, he's gotten it to move more horizontally. He hadn't averaged more than -4.91 inches since 2010, but now he's up to -6.00 inches of break. This thing is moving!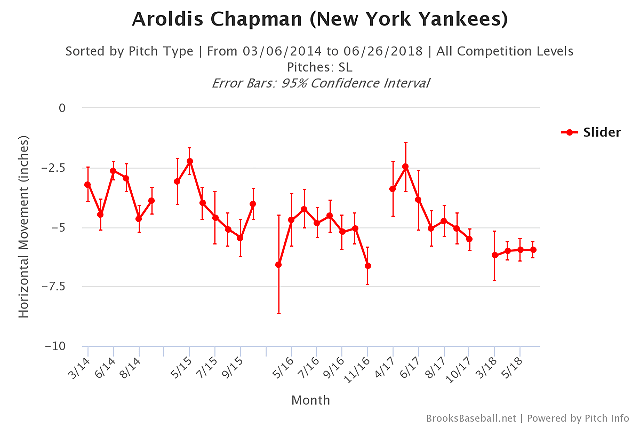 If you want to compare it to last year, here you go. Check out the first strikeout in this clip below. The slider dives down much more than the ones bookending this post.
Of course, he's gotten
crazy movement on it
 in the past. But, as I mentioned before, he's also used it a tad bit more. He relied on it heavily in March and April, going to it nearly 30 percent of the time. Since then, his slider usage is more in line with the last couple of seasons. He also seems to use the slider more for longer outings.
But the slider has had an interesting effect on hitters. Not only is it producing more swings and misses, it's a worm-killer. On the off-chance a hitter makes contact with the Chapman's slider, they've been pounding it into the ground, as shown by the average launch angle. This is where the pitch really differs from previous seasons.

In the short term, these developments mean nothing but a few marginal swings and misses. Chapman's bread is still buttered with his fastball and that won't change until hitters can catch up to it on a regular basis. Hitters aren't going to go up looking slider because Chapman simply doesn't throw it enough nor is it potentially as lethal as his fastball. Furthermore, part of the slider's effectiveness is no doubt because of its infrequent use.
However, as his fastball continues its gradual decline in both velocity and effectiveness, Chapman will need to change as a pitcher. That moment won't be this year and likely won't be next year, but it should come by the end of this contract — presuming he doesn't opt out. He's already on the wrong side of 30, after all.
When the moment comes, he'll need to do more than exchange his four-seamer for a sinker/two-seamer and the development of his slider will be key. Perhaps he'll revive his long-forgotten curveball and changeup from his days as a starter. I'd bet on him moving to a more slider-heavy approach and if any of his results from this season are sustainable, it could give his career extra life.
For now, the slider is a secondary, barely even necessary, tool. It's a nice pitch to have in your back pocket, particularly now that it is more effective than it's been in Chapman's stay in the Bronx. No hitter is going to see it coming when they're prepping for 100+ mph cheese and that's how he can sneak the slider by hitters, even if it's over the middle of the plate.
Still, every pitcher needs something in terms of secondary pitches and if an improved slider indicates an evolution for Chapman, then perhaps the strides he's made in 2018 are here to stay.