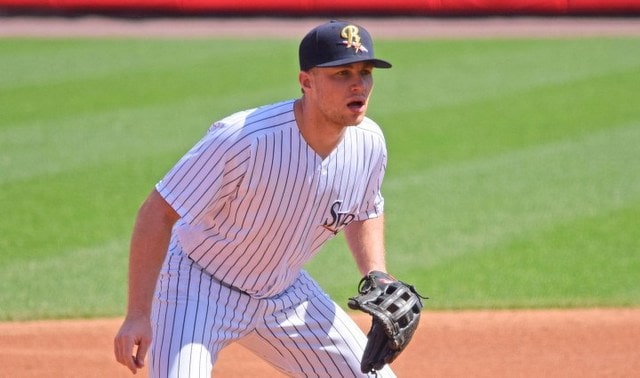 Brandon Drury is a Major League caliber ballplayer stuck in Triple-A. The Yankees acquired him to be their starting third baseman, he opened the season as their starting third baseman, then he went down with migraines and blurry vision and got Wally Pipp'd by Miguel Andujar. Drury has been stuck with Triple-A Scranton ever since.
"I don't belong here at all," said Drury to Marc Carig (subs. req'd) recently. "… I use that kind of frustration for myself every day, to make me better. I do believe that through all this stuff I've been dealing with, it's going to make me a much better player in the end. Keeping that thought and that process in my head is what keeps me going."
Drury is doing everything he needs to do in Triple-A. He's hitting .313/.442/.445 (162 wRC+) with nearly as many walks (17.4%) as strikeouts (22.5%) in 34 games — his RailRiders record 32-game on-base streak ended yesterday — and, last night, he started at first base for the first time in six years. Scranton manager Bobby Mitchell told DJ Eberle that Drury at first base is "something we're going to try to do periodically"  in case the Yankees need him there.
"It can definitely help," said Aaron Boone to Brendan Kuty yesterday when asked about Drury playing first base. "Versatility has been something that Brandon has done throughout his career, obviously played a lot of second the last couple of years. So I think adding some versatility to his game certainly puts him in a better position to be able to help our club again at some point."
Drury told Carig his migraines and blurry vision are a thing of the past — he is still receiving treatment, apparently, but he can actually see now — and Carig says teams are already asking Drury in trades, which isn't surprising. He's shown promise throughout his career, he's still only 25, and he's under team control through 2021. (Nineteen more days in the minors pushes his free agency back a year, based on my unofficial math.)
The Yankees are, not surprisingly, not in a rush to trade Drury. Is he available in the right deal? Of course. And with Andujar playing so well in the Bronx, it's easy to see Drury eventually being dealt in a package for a starting pitcher. The way I see, the Yankees have four options with Drury at the moment.
Trade him. Always on the table.
Keep him in Triple-A. Suboptimal for Drury, but definitely an option for the Yankees.
Put him on the MLB bench. Can't Drury do Tyler Austin's job with added versatility?
Play him everyday in MLB. Not sure where, exactly. Send Greg Bird down and play Drury at first?
Replacing Austin with Drury seems like a swell idea. Austin was great when the Yankees needed him in April. They wouldn't own baseball's best record right now without him. Austin hasn't hit much lately though — he has a .140/.167/.298 (18 wRC+) line with 28 strikeouts and one walk in 60 plate appearances since May 1st — and as a right-handed platoon first baseman, his usefulness is limited.
Drury could do the same right-handed platoon first base job as Austin while adding the ability to play third base and, in a pinch, second base as well. Seems like an obvious move, right? The problem is playing time. The Yankees already have Neil Walker, a switch-hitter who can play the three non-shortstop infield positions, on the bench and no real way to get him into the lineup. Drury would be in the same exact situation.
As for calling Drury up and playing him at first base everyday, it's an option, but I am nowhere near ready to move on from Bird, even temporarily. I don't think he should be hitting third, but I don't think he should go to Triple-A either. Want him to hit big league pitching? Okay, well he needs to play and face big league pitching. Move him down to the sixth or seventh spot, but keep him in the lineup. I'm not ready for the Brandon Drury, Starting First Baseman era.
I'm certain Drury would rather be a part-time player in the big leagues than a full-time player in Triple-A (the minors suck, man), but the Yankees have to take a big picture view here. Andujar's play makes Drury a trade chip — I won't do it, but I think you could make the argument they should sell high on Andujar and keep Drury long-term — and letting him play everyday in Triple-A is a better way to showcase him than playing him sparingly in the Bronx.
Also, if Drury is going to come up and replace Austin as a bench dude, at some point he needs to play other positions to prepare for that role. He'd played third base exclusively this season up until that start at first base yesterday. More time at first and more time at second — maybe even more time in the corner outfield spots, where Drury has played in the past — may be in the cards. The Yankees resisted playing Drury elsewhere earlier this year. It seems they're finally coming around on the idea.
Keeping Drury in Triple-A is not a permanent solution. This isn't a video game where you can sign all the best free agents and stash dudes in the minors. There are real world consequences here. Drury is 25 and he's proven all he can at the Triple-A level. He has to play in the big leagues and be challenged to develop further. The Yankees said they believe Drury has more to give than what he's shown in his career to date. Well, how does he ever get to that next level while spinning his wheels in Triple-A?
For Drury, sitting in Triple-A stinks. It's not close to the best thing for his career at this point. In a vacuum, he deserves to be in the big leagues and playing everyday. This isn't a vacuum though, and Andujar has shown these last few weeks he deserves the third base job even moreso than Drury, so he gets it. It's not like Drury is stuck behind Walker or Jayson Nix, you know? The Yankees aren't prioritizing an aging veteran at third base.
For the Yankees, keeping Drury in Triple-A is the best thing right now. It allows him to play every single day, it allows other teams to scout him in advance of the trade deadline, and allows him to stay ready in case there's an injury or other type of opening in the Bronx. The "too many good players" thing isn't really a problem, but it does create some less-than-ideal situations, and it certainly has for Drury.