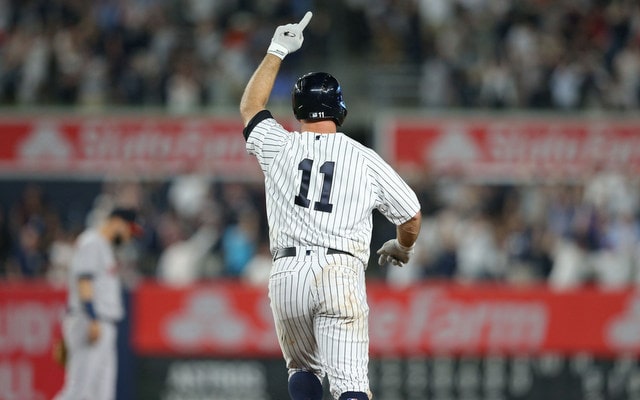 With approximately 40% of the 2018 season in the books, Brett Gardner has once again been a catalyst atop the lineup for the Yankees. He's hitting .262/.357/.394 (109 wRC+) with five homers, six steals, and lots of walks (11.9%) so far this year. He's had some huge hits too. Add in excellent defense and this is a very typical Brett Gardner season.
The Yankees have the best winning percentage in baseball thanks in part to Gardner — "He's a savage up there at the top (of the lineup)," said Aaron Boone to Bryan Hoch over the weekend — and, for them to get back to the World Series, he's going to have to continue to be a spark plug from the leadoff spot. Gardner's importance to the 2018 Yankees is obvious.
Because getting ahead of ourselves is what we do around here, I want to look past 2018 and discuss Gardner's future with the Yankees beyond this season. He'll turn 35 in August and this is the final guaranteed year on his contract. His contract terms:
2018: $11.5M salary
2019: $12.5M club option ($2M buyout)
The 2019 club option is net $10.5M decision because of the buyout. Gardner has made it very clear in recent seasons that he wants to remain with the Yankees — "(I) wouldn't really want to play anywhere else," he said to Brendan Kuty earlier this week — though it is not entirely up to him. Realistically, the Yankees will have four options with Gardner after the season.
1. Pick up the option and keep him. Nice and simple. Age-related decline is a risk, for sure, but it's a one-year deal, plus Gardner is playing well this season and he's a clubhouse leader. The Yankees love Gardner and his value to the team transcends what he does on the field. That $10.5M in new money may seem pricey for a 35-year-old low power corner outfielder, but who cares? The Yankees have lots of money and they're resetting their luxury tax rate this year.
2. Pick up the option and trade him. The Pirates did that this past offseason with Andrew McCutchen. They didn't want to keep him but they didn't want to lose him for nothing either, so they exercised the option and traded him. Keep in mind Gardner will pick up 10-and-5 rights later this month, giving him full no-trade protection. Once that happens, he'll be able to put a stop to the whole "pick up the option and trade him" thing.
3. Decline the option and let Gardner walk. Pay him the $2M buyout, thank him for eleven years in pinstripes, and move on. Clint Frazier is waiting to be turned loose in Triple-A, after all. The Yankees have made difficult decisions like this before — remember when they let Hideki Matsui walk days after he won World Series MVP? — and they'll make them again. Letting a 35-year-old walk so you can play the highly regarded 24-year-old is the natural order of things.
4. Tear up the option and work out a new contract. Gardner's option is a $10.5M decision, and, during the offseason from hell this past winter, only three free agent outfielders received at least $10M guaranteed: Jay Bruce (three years, $39M), Lorenzo Cain (five years, $80M), and J.D. Martinez (five years, $110M). Yeesh. As good as he is now and as good as he's been throughout his career, is 35-year-old Brett Gardner getting $10.5M in free agency? Probably not.
The Yankees could pass on the option and offer Gardner a new one-year contract at what, maybe $8M? That only saves $2.5M, but it is $2.5M in real money, and that's a lot of money! They could also approach Gardner with a two-year contract, or a one-year deal with an option. Say two years and $14M? Or one year at $8M with an $8M option for 2020? Point is, the Yankees could pass on the option and try to bring Gardner back at a lower salary.
* * *
"'I've been honest about not ever wanting to get traded, wanting to stay here, and thankfully I've been very fortunate to spend eleven seasons here and it's a special team and I've gotten to know a lot of special people," Gardner said to Kuty. "So hopefully this isn't my last year here, but I think the way that I play on the field and trying to stay healthy for the whole season will dictate that."
This isn't a decision that has to be made yet, of course. Gardner is a core Yankee and an important part of the team, and he's one of the guys who will be counted on to get the Yankees to the World Series. The option decision and Gardner's future is something that will wait until after the season. We still have five or so months of information to gather. What if Gardner falls off a cliff in the second half? That could make the option decision easy.
I know this much: The Yankees love Gardner. Always have, dating back to his days as a prospect. They love what he does on the field and they love what he brings in the clubhouse. The current free agent climate might say Gardner is not worth the $10.5M in new money, but it wouldn't surprise me at all if the Yankees value him at that price internally. The Yankees did haggle with Derek Jeter a few years ago, so declining the option and working out a new deal to save a few bucks is certainly on the table, but it seems clear the Yankees really value Gardner.
There are still 99 games to be played this season (plus the postseason!), so we'll see how things play out and where the Yankees and Gardner sit after the season. Right now, on June 14th, I think the smart money is on Gardner manning left field come 2019. How that happens (pick up the option, new contract, etc.) remains to be seen. Gardner wants to remain with the Yankees, and to me, his future in pinstripes seems secure.