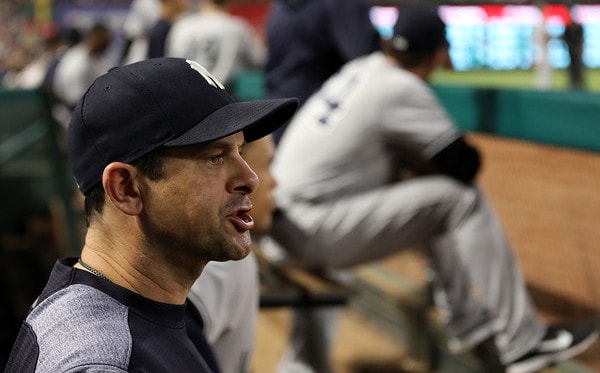 The Yankees are in their third city (and second country) in as many days. They've gone from Baltimore to Detroit to Toronto in the last 50 hours or so, and gosh, that sucks. At least this is only a two-game series and the Yankees will be back home in New York soon enough.
Anyway, the Yankees lost Jordan Montgomery to Tommy John surgery earlier today, which is a major bummer. The Yankees were always likely to trade for rotation help at the deadline, so this doesn't really change anything, but that doesn't soften the blow. Montgomery's pretty good and now he's not coming back. Go win a game for him. Here are tonight's lineup:
New York Yankees
1. LF Brett Gardner
2. RF Giancarlo Stanton
3. 1B Greg Bird
4. C Gary Sanchez
5. SS Didi Gregorius
6. CF Aaron Hicks
7. 3B Miguel Andujar
8. DH Tyler Austin
9. 2B Gleyber Torres
LHP CC Sabathia
Toronto Blue Jays
1. LF Teoscar Hernandez
2. 3B Yangervis Solarte
3. 1B Justin Smoak
4. DH Kendrys Morales
5. CF Kevin Pillar
6. C Russell Martin
7. RF Randal Grichuk
8. SS Aledmys Diaz
9. 2B Devon Travis
RHP Marco Estrada
It is a lovely day in Toronto and I imagine the Rogers Centre roof will be open. Tonight's game will begin at 7:07pm ET and YES will have the broadcast. Enjoy the game.
Schedule Update: Common sense has prevailed. The Yankees and Blue Jays will not play ESPN's Sunday Night Baseball game on July 8th. They'll play at 1pm ET as orginally scheduled. ESPN flexed the Yankees-Blue Jays game into the Sunday Night Baseball slot after the Yankees agreed to play a doubleheader in Baltimore on July 9th. The Yankees would've had to play three games in about 25 hours had the game not been moved back to 1pm ET.